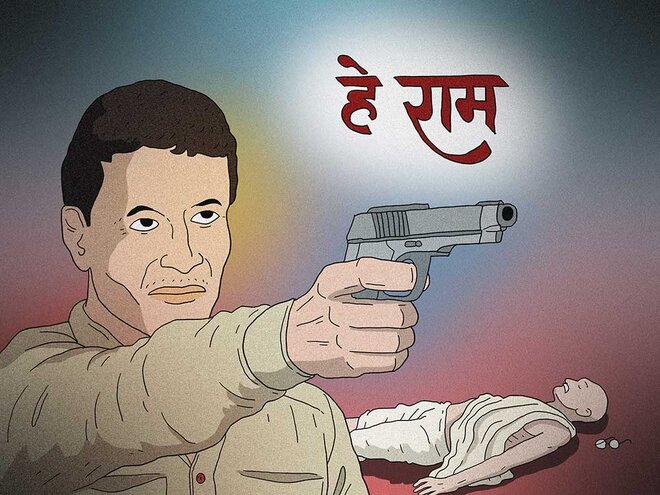 Where were you when you heard that Kennedy had been shot?
This used to be a standard opening gambit at cocktail parties until too many people started getting shot. In fact, at the time, I was on the road, literally, just near India Gate in New Delhi, trying to get a taxi to take me to the airport. There were lots of taxis, but nobody would stop. When one did stop, I asked the driver what was the great rush about. 'Haven't you heard?" he said, "Kennedy has been shot," as if Kennedy was his brother-in-law and he was going to his funeral. Kennedy 'ko mari goli'. Where were you when you heard that Mahatma Gandhi had been shot?
I was a thousand feet beneath Harrods of Knightsbridge, the famous department store of London, in an underground train going from Piccadilly to my college in Kensington. After an early lunch, I was dozing in the train when a man got into the compartment and opened his afternoon paper. The headline said, "Gandhi Assassinated" in bold two-inch high letters and there was a big picture of his.
I came out at the next stop and bought a newspaper. The story said that Gandhi had been killed by a man called Gode but I knew he must have been Godse, not Gode, as I had heard the name mentioned in Pune, where he edited a paper. I may have even seen him.
I spotted a friend coming out of the station and told him what had happened. "My God!" he said, "What are we coming to." He was from Delhi and explained to me where Birla House was, but he still couldn't believe what had happened, and kept on saying, "My God", until he almost broke down.
We decided to drop everything and visit India House, where we would get more news. The place was crowded but the crowd was mostly Indian, with a sprinkling of Englishmen, and, of course, the usual quota of old English women, whose husbands had perhaps worked in India, and were still nostalgic about the place. An old lady asked us whether there would be trouble in India. Another wanted to know whether we would ask the British to return. The Indians were, of course, shell-shocked. They just couldn't believe it. Gandhi, of all people, shot at a public meeting? But the headlines said it all, and so did the BBC, calling him Mr. Gandy, as if he was a Scotsman born in Dundee.
Suddenly out of the blue, as we were leaving India House, a friend suggested that we should go on a 24-hour fast, as Gandhi himself would have done, had someone been shot at his meeting. Fasting, in London, at the height of winter? It was a crazy idea, but the killing itself was a crazy act, so why not go through it?
There was about twenty of us, including three ladies, but none of us had ever seen Gandhi, let alone met him, though one girl, who was related to a socialist leader who had gone underground during the Quit India years, remembered seeing the old man from a distance in her home town, but she was very young then and had no idea who Gandhi was.
We were really very serious about the fast. We ate and drank nothing during those hours, partly because there was nothing much to eat. We just sat there, huddled in some ancient decrepit eiderdowns, for it was bitterly cold, and we must have looked like Zombies. Nobody spoke, and though nobody actually cried, many must have been close to tears.
In the morning, we got up and went home, taking morning papers with us. I do not now recall what I did. Maybe I went straight to my college, but it was too early, and the old ladies were still busy cleaning up the place. In the canteen, a girl brought me a cup of tea, and didn't take money from me. For most of us, it was the longest night — and the cruellest!
This story first appeared in February 2010.