Harsha Upadhyaya
Vice President & Fund Manager
UTI Mutual Fund
Harsha Upadhyaya brings to the table experience of almost 14 years in the areas of funds management, equity research, business analysis and finance. This engineering graduate and MBA holder is also a certified financial analyst (CFA).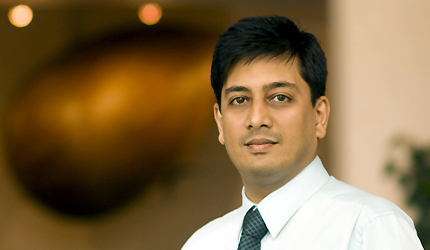 Upadhyaya began his career with Essar Steel as an engineer. In 1996, he started a three-year stint with UTI as an equity analyst. He then worked as a research analyst in various broking houses. He also gained valuable experience in the areas of business analysis and finance working at Reliance Industries and Reliance Energy. His current stint with UTI Mutual Fund began in April 2006.
What would you say is the cause of this current market rally?
In terms of valuations, we were close to historical lows. Panic and pessimism were at their peak across the globe. Everywhere people were looking at downgrades. Money was not flowing into corporates. But a few incremental positives in the U.S. financial system and economy were what lifted sentiment and caused people to relook their outlook. For instance, Citigroup came out with guidance stating that in January and February 2009, they did not make any further losses. That caused people to be fairly certain that it's unlikely that any big bank is going to go down. Sure, there will be problems, but no longer will it be a distress case. Also, some of the U.S. economic indicators surprised on the positive side. These were the factors that probably triggered the initial leg of the rally.
In India, the rally was mainly caused by FII (Foreign Institutional Investor) liquidity inflows. I remember in the first week of March this year, South Korea and India were more or less in the same position in terms of year-to-date FII inflows. Both countries were negative at over $2 billion. The situation began to change sooner for them, than it did in India. The reason for the delay was probably the potential event risk — which were the Lok Sabha elections. Now, not only do we have a stable coalition, but also a smaller one without too many parties. So people are of the view that this government should remain in power for at least five years. This continuity will enable the government to go ahead with a number of policy reforms. So I think that is when the outlook for equity has changed.
Having said all this, I still think investors need to be cautious to see that valuations don't run ahead of fundamentals because it will take time for the numbers to change. We have seen some good developments in auto and cement and some segments of the industry, but it has not taken place across the entire corporate sector yet.
Did you manage to benefit from this rally?
Yes, to a large extent. I had reduced cash levels considerably before the run up. I have marginally booked profits in the post election rally. If the valuations don't run ahead of fundamentals sharply, then I would hold on to the equity positions.
Going by the point you made earlier, is it just sentiment that is driving the market? After all, there has been no recovery in corporate earnings and net profit margins are yet to come back in line.
It is not just sentiment. At such low valuations of 8.5x to 9x 1-year forward, at least some money will flow into equity. Because at such levels, the probability of losing money is low, so investors would start by allocating at least small portions of their portfolio to equity. Such calls actually started happening at around 2,500-2,600 Nifty levels. Then the perception was that the fourth quarter results would be really bad. But in actuality, the numbers never turned out to be that bad.
They were either neutral or slightly better than expected. The fourth quarter results were not as bad as third quarter earnings. Now of course, the focus is on the government and the kind of policies they will come out with now that the Left is no longer part of the coalition. So in that respect, it is more of hope and one will have to see the follow-up action. If it works well, the market will be able to sustain these valuations.
What is your take on the valuations, as on May 28, 2009?
The earnings numbers will probably get upgraded in the second half of this financial year. When we speak to corporates and analysts, everyone is betting on a recovery at that time. So by then, investors will have more confidence in the numbers. Roughly, on the Sensex basket basis, consensus earnings estimate is currently at Rs 900 EPS for FY10. At market lows, we were close to historically low valuations in the range of about 9x. Now we have moved from that band to about 14x to 15x, which is not expensive, but not too attractive either. So it will be liquidity that will drive the market in the immediate short term.
If money keeps coming into the country, we will be able to sustain these valuations. Or, if the corporate numbers continue to be good then too we will be in a position to sustain them.
Currently, we are in the middle of the range in terms of valuations. But, once it is beyond 18x or 20x earnings, then it could be viewed as expensive.
Do you think economic reforms will now be back on track with the government in place?
This time there are no glaring differences visible within the coalition partners in terms of the policy roadmap. There will be continuity in terms of overall policy framework, which is a positive. Disinvestment on a selective basis could take place. I am not sure about privatisation, but selling of minority stakes could happen. All this is definitely contributing to the positive undertone in the market.
Do you think the infrastructure theme has run out of steam?
On a pure valuation basis, infrastructure is looking a little stretched after the recent sharp upmove. But with a stable government in place, there will be a renewed thrust on infrastructure creation in the country. Steps taken on the policy front are expected to be favourable towards infrastructure. So from that perspective, rich valuations can continue for some time. We have to wait and see how the policy impetus will impact these companies. If the corporate numbers follow through, these valuations can be sustained. Because we have seen even higher valuations in the last bull run.
What is your take on infotech with the rupee appreciating and the recession in the West?
I have been underweight on this sector for a while. Earlier, my reason for the underweight stance was the turmoil in the U.S. financial system, since most of the sector's revenues are linked to that segment. Of late though, the situation has been some what looking up in the U.S. The sector is now facing a new problem of an appreciating rupee. So we continue to be underweight on the sector and will probably stay that way for some more time.
What are you betting on right now?
Banking and Infrastructure.
Why banking?
Declining/soft interest rate scenario augurs well for the sector. With expectations of economic recovery in the second half of the fiscal, credit growth could improve and the asset quality concerns may subside. Positive policy initiatives could help some of the banks unlock value of their subsidiaries.
In the first quarter of 2009, I was overweight on banking. My entire call at that time was based on valuations. They were close to historically valuations that they touched. Whether it was ICICI Bank, HDFC Bank or SBI, the story was the same. The exposure to ICICI Bank in UTI Opportunities Fund was increased significantly at around Rs 270 per share. That was my second-biggest holding and it helped.
The capital goods sector took a beating last year. Where do you see it heading now?
The power-related capital goods sector will continue to be a long-term growth story. The companies in this segment continue to have good visibility. But those closely linked to industrial activity, like a boiler manufacturer or a process industry equipment manufacturer, will take some more time to recover.
It is unlikely that fresh capital investments will take place in the Indian industry immediately. So those companies will find the going tough for a few more quarters.
You earlier said that the numbers have improved for auto and cement. Can you give us your view on these two sectors? We are selectively positive on auto sector.
We are quite positive on Hero Honda and continue to hold it. The two-wheeler industry is growing at a reasonable rate and Hero Honda is gaining market share. We do not see any reason why there should be any change on that front. There is steady cash flow generation and robust growth. Valuations too are reasonable.
We also hold Tata Motors in the derivatives segment. Our call was that since credit was easing up everywhere, the Tata Group, with their brand name, would be in a position to restructure their loans, which has incidentally come true now.
Cement continues to surprise on the positive side. The sector has witnessed reasonable volume growth and pricing power. This scenario could further improve with expected renewed thrust on infrastructure creation in the country. That may also lessen concerns of over-capacity in the industry.
As a fund manager what is your view on cash?
We do not take cash calls on a regular basis. Last year was a different story and an extreme scenario which warranted such a move into cash. Conditions were bad across the entire globe and the market plummeted. It was also a high inflation environment. In such a scenario, it was difficult to expect capital appreciation in any stock. Last year there were just three stocks in the BSE 100 basket which delivered positive returns: Hindustan Unilever, Hero Honda and Glaxo. So in such a situation, the fund manager will first move to a defensive portfolio. If further capital protection is required, then the cash levels are increased.
This year, which asset class do you expect to outperform — equity, gold or debt?
For 2009 at least, equity will be the asset class to look at. Maybe towards the end of the year gold will bounce back.
We are positive on gold as an inflation hedge and a safe haven. But if you look at the currency movements, the rupee appreciation is eating into the gold price increase in dollar terms.
In the short-term we do not expect gold to perform as well as it did earlier. There is some amount of risk appetite that has come into the equity market. So obviously, money will not move into gold in the immediate short term. Also, we have seen retail demand from India and China dipping in the first quarter of 2009. So in the next quarter or so, I do not think gold will perform too well.
But then I really want to state that one should not expect huge returns from gold. For instance, in our Wealth Builder Series II, where we invest in Gold ETF and equity, the allocation to gold is mainly to reduce risk in terms of volatility of returns. So when we feel that the valuations from equity are rich, then we move into gold. So, such a fund will give you returns somewhere between a diversified equity fund and a gold ETF.
This interview was carried in the June 2009 issue of the Wealth Insight magazine