Madhusudan Kela's story has all the makings of a modern-day inspiration. He grew up in Kurud, a village in Chattisgarh, and cycled 30 kms to attend college. Armed with a bachelor's degree in Commerce, he came to Mumbai, not knowing anything about finance or investments. In spite of his education in Hindi medium, Kela ambitiously applied to various management schools.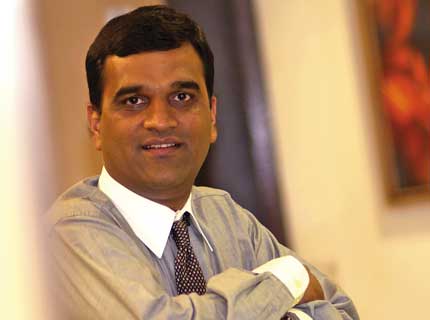 He struggled through the group discussions and interviews, but convinced the admissions committee at Somaiya Institute of Management Studies that he was capable of satisfying the institute's academic standards. Kela finished his Master of Management Studies in 1991. With determination, grit and a passion for the markets, Kela has managed to become the head of equity at Reliance Capital Asset Management.
Do you think we are done with the bear market?
We looked at Japan's bull market which lasted for more than 25 years. During this bull run, there were significant corrections a couple of times. For instance, between 1973 and 1975, the Japanese stock market corrected by more than 50 per cent and this correction lasted for 18 months.
It is our belief that this may be a large correction in India's long-term bull market.
How important is global sentiment in affecting Indian equity?
India being one of the largest economies in the world, global events impact us in two crucial ways. First being the amount of money which can flow into India, and second being export opportunities for the country. Hence, global fundamentals as well as sentiment play a crucial role in the Indian equities market.
However, if you take a larger time frame of seven to eight years, it's clear that Indian markets have outperformed their global peers in spite of these shorter term uncertainties.
What makes you bullish on India?
The main factors driving the India bull story are a large domestic market, favourable demographics, latent demand for goods and infrastructure, and the opportunity for off-shoring services.
None of the above has changed meaningfully to doubt the India story. Hence, our longer term view remains very strong.
Even dealing with the latest crisis, our central bank and regulators have done a fascinating job. For instance, out of 1,000 banks operating in Russia, 500 of them may collapse simply because of this crisis. While even remotely there is no such problem in India.
The other important factors are our democracy, freedom of press and the conservative nature of the country itself. The very fact that we are not leveraged, both as a country and as well as individuals, makes us stand out in this crisis.

What are the reasons for money finding its way to India?
During the last 12 months, people have lost fortunes. And the risk appetite for emerging markets in general has reduced.
But fundamentally speaking, the growth story of emerging markets, from a longer term point of view, still remains intact. So, while India, China and Brazil are contributing significantly to the world GDP growth, they are not getting their fair share of equity allocation. As soon as the risk appetite emerges, we will see money flowing back to these countries.
Don't forget that there is still plenty of cash waiting to be deployed in the right investment opportunity in the world.
For a temporary period of time, money may chase safety, but eventually it will chase returns.
Which was the most defining moment of the recent credit crisis of 2008?
The most defining moment for me was the collapse of Lehman Brothers. A 150-year old institution collapsing sent panic across the globe. Prior to that, we got more than $100 billion of foreign money which led to extreme overvaluation of various asset classes. The collapse of Lehman Brothers and other major institutions changed the entire situation.
How did your fund house deal with their portfolios during this crisis?
We have been strong believers in high growth companies. This is what enabled us to deliver good returns in the bull market. It is not our intention to change our investment style, nor can you change it for such a large amount of money — Rs 40,000 crore equity corpus — overnight.
To the extent possible, to hedge the risk in our portfolios, we created a disproportionate amount of cash which has worked very well during the last 12 months.  The difficult job, however, is to deploy this cash in the right ideas and generate returns from here on.
You obviously have learnt a lot from this crisis. Which were the most valuable learnings?
1.    You can never take your eye of the ball, as it is more than a full time profession.
2.    You can never be emotional about your investments.
3.    You can never live in your past glories and whatever successes you have attained in the past.
4.    Luck always plays an important role in one's investment career. 
You say one must never be emotional about their investments. How do you stay unemotional when the price of a stock you hold keeps going up and the story is still good?
Let me explain. If a particular stock is worth Rs 100 and it goes to Rs 300, you can always make a case that the stock is overvalued. But as we have seen in the past, that same stock can go to even Rs 1,000 or Rs 5,000. This was clearly demonstrated in the tech boom as well as the boom which we saw in 2008.
You need to be an astrologer to catch the peak or to sell it at Rs 5,000. But if you are truly a value investor, then you would have got out at Rs 300 itself.
When I say that you have to be unemotional, what I mean is that you have to keep evaluating the stock price vis-à-vis  the market, not get into the story trap and not fall in love with any management style. By doing that, you may not be able to sell at Rs 5,000, but you will always exit at some decent price when the stock price is on the decline.
Investors have become disillusioned with stocks. Do you think equity is still a good investment?
This is a wrong question to ask a die-hard equity bull like me. I think equities have and will always be a superior investment opportunity when viewed over the longer time frame.
In order to generate superior returns even in the long term, you may have to cut your equity exposure significantly when the market goes ballistic — for example, the technology boom of 2001 or the latest boom of January 2008 — and increase exposure disproportionately when the market gets completely undervalued and when you see blood on the streets, like in October 2008.
It may appear theoretical and true only in hindsight to follow this to perfection, but that is what makes the equity gain very interesting. I believe that if you can do this job with even 50 per cent perfection, equities can deliver dream returns.
Just to illustrate, the top 100 stock gainers in the last bull run, which was from 2002 to 2008, delivered an average absolute return of more than 25,000 per cent!!!
So the basic principles of investment, like a balanced asset allocation, have not changed?
The principles of investing have not changed for the last 150 years and neither do I expect them to change in the next 150 years.
Investors must have a balanced asset allocation and believe in equity. Equities still give the best return from all asset classes.
What would you look for in recruiting a fund manager or analyst?
Apart from competence, I would look for commitment to the job, a passion for equity and a team player.
What are you reading right now?
Fooled by Randomness: The Hidden Role of Chance in Life and in the Markets, by Nassim Nicholas Taleb.
The Secret by Rhonda Byrne.
What attracted you to the stock market?
I grew up in a small village called Kurud in Chattisgarh but always had disproportionate larger dreams for my life. That is what brought me to Bombay where I discovered a nice place — the stock market — to fulfil my dreams.
The stock market is one of the few places where there is no limitation to growth. You don't have to be of any pedigree or belong to the families of Tata or Birla. At the same time, it is intellectually stimulating as you are in contact with very intelligent and motivated people.
Of course, I don't need to make a mention about the financial possibilities in the stock market.
Can you tell us something about your background before you joined Reliance?
As I mentioned earlier, I came from a small village, did my schooling in a vernacular medium and struggled very hard to get into a good management programme.
After my MBA, I joined CIFCO as an equity research analyst and I knew that this was exactly what I wanted to do all my life — work in the stock market.
Later, I worked at Motilal Oswal and I derived a lot of learning from that institution. Subsequently, I worked at UBS and Peregrine Securities, all on the sell side.
During these 10 years, I realised that selling your idea for a fraction of brokerage was not good business. Fortunately, and by the grace of God, in 2001, I finally got what I was looking for — an opportunity to work with the Reliance group, invest and be responsible for it.
During my tenure, the small equity corpus of Rs 12 crore ballooned to more than Rs 40,000 crore at the peak of the bull run.
It seems my dreams have really been fulfilled.