The Tata Group is going to issue debt securities again after a gap of four months. Slated for the coming weeks, the issue is expected to be led by Tata Motors.
While in the past, Tata Motors has looked at ways to replace its high cost short-term liabilities with low-cost long-term funds, this time the company is expected to raise around Rs 3800 crore to part fund its Jaguar Land Rover (JLR) acquisition.
It will offer NCDs (non-convertible debentures) of multiple tenures like two, four, five and seven years with interest being paid quarterly. The interest carried by the two-year NCD is expected to be 8 per cent, the four and five year ones carry a 8.5 per cent interest rate and the seven year one carries 8 per cent rate.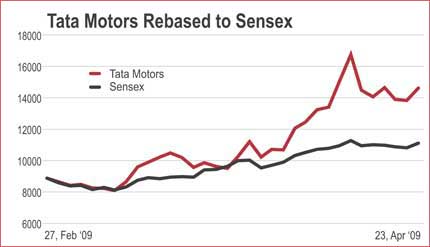 These NCDs are expected to be issued in the month of May and may be open to both retail and institutional investors.
The proposed NCDs will have a full guarantee from the State Bank of India (SBI). It is noteworthy that, after a long time, a company is coming out with a bond issue backed by a guarantee from a bank. This guarantee is not only good for the investors, but will also benefit SBI who will take its fee of 25 basis points in the two year NCD and 1 per cent in the higher tenures. Tata Motors too will benefit as the SBI guarantee enhances the credit rating and allows the company to raise funds much more cheaply.
Other corporate entities are eyeing the same thing too. According to Money Control website, Future Group is looking to collect Rs 500 crore by issuing NCDs backed by a bank guarantee.