Taurus Mutual Fund can deliver dazzling results in environments hospitable to its aggressive style. But when its bold approach falls from favour, look out below! Since these funds take huge stock specific bets, their fortunes fluctuate with the price movements of these stocks.

Look what happened on October 16, 2007, the Sensex closed at 19,051 but slid to 17,998 in just two days (October 18). Within 48 hours, four funds from Taurus Mutual Fund saw their NAVs fall from anywhere between 9.38 and 7.91 per cent. Taurus Discovery Fund fell by 9.38 per cent that time but was the third best performer in 2007 (100.71%). Despite being one of the worst in 2006 (10.42%).
Though the fund house has been around for over a decade and amongst the first few private sector mutual funds, it has never made a mark. Overall, this AMC has been known for its aggressive and volatile funds which delivered poorly. Taurus Starshare, its first fund launched in 1994, returned a little less than 10 per cent per annum since launch (as on September 25, 2008). 
Now there seems to be a change of guard. The AMC appointed a new Chief Executive Officer (Waqar Naqvi), Chief Operating Officer (Sanjay Parikh) and fixed income fund manager Kumar Nathani (ex-SBI Mutual Fund).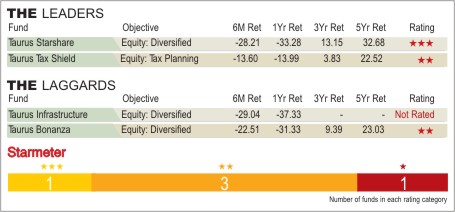 Explanation of the data tables and graphs
This review appeared in the October 2008 Issue of Mutual Fund Insight.