This year, Punjab National Bank decided to exit from the AMC. The reason cited being the lack of performance by the fund house. As a result, Principal Pnb Mutual Fund changed to Principal Mutual Fund.

Though it has been around for a while, its AUM is not that high. Despite a broad collection of equity funds, the performance of the schemes has not been impressive. The exceptions are Principal Tax Savings and Principal Child Benefit, a hybrid fund.
Principal Mutual Fund has a complicated parentage. After being set up by IDBI in 1994, Principal Financial Services Inc (USA) became a deemed sponsor by acquiring 50 per cent stake in IDBI-Principal AMC.
The year 2003 was interesting. Principal bought out IDBI's entire 50 per cent stake in June that year. The AMC also filed a proposal with SEBI to acquire the management of all funds managed by Sun F&C.
The very next year (2004) another change took place; the AMC was renamed Principal Pnb Asset Management Co. Pvt. Ltd. (in association with Vijaya Bank). This was the outcome of Punjab National Bank and Vijaya Bank becoming equity shareholders of the AMC.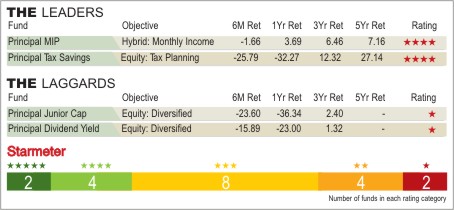 Explanation of the data tables and graphs