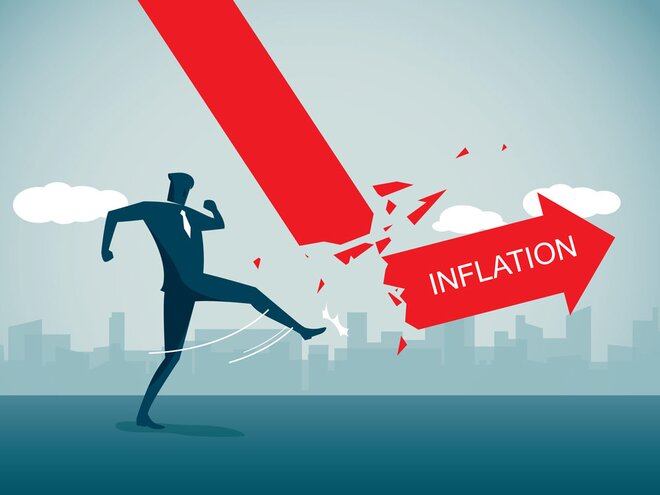 Inflation has been the talk of the town for the last few months as both wholesale and consumer price inflation have skyrocketed. One of the major questions that investors have been asking is, "Whether my investments are protected from inflation?". Unfortunately, many still consider fixed deposits to be a good investment option to beat inflation.
To check whether this is true, we compared investment in an index fund and fixed deposit for the year 2011 with the same amount of Rs 1,00,000. As the interest rates differ in fixed deposits, we also made comparisons with two versions of fixed deposits; one with interest rates as of 2011, and the other with current rates. The results were quite obvious.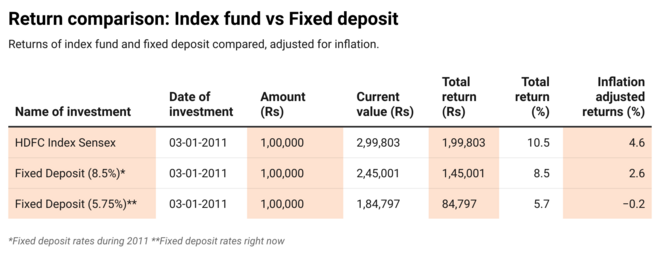 While fixed deposits with interest rates as of 2011 (8.5%) managed to give a positive return to investors after adjusting for inflation, the same is not the case for fixed deposits with the current interest rate (5.75%). These returns do not account for the taxation, once we include them, then even the 2.6 per cent return given by fixed deposits will go far lower. Although central banks all over the world have been trying to control inflation, we cannot deny its gradual increase over the years. Equity investments are better equipped to beat inflation in the long-term.
How can you monitor effectively whether your investments are beating the inflation or not? You can use the 'My Investments' tool on our website to add your investments; be it stocks, mutual funds, bonds, or fixed deposits. Plus, you can check inflation-adjusted returns for your investments and know if your investments have been able to beat the inflation. Using this feature, you can also track your returns over a period of time and compare them with major indices, fixed deposits, and PPF returns.
Also read:
The inflation monster is destroying your wealth every year!
How to use our 'My Investments' tool