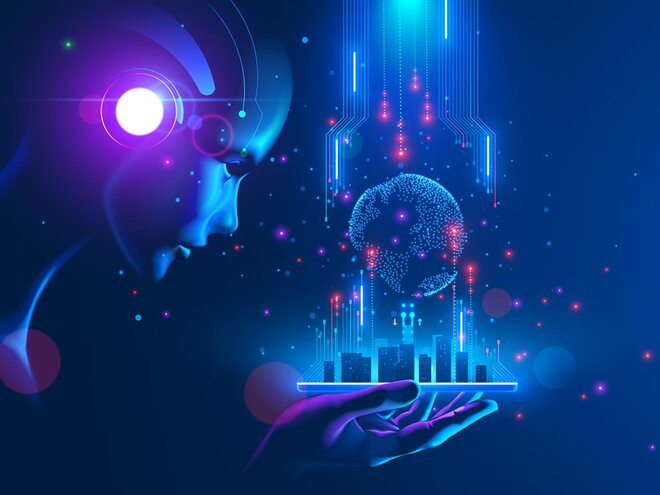 Give me a lever long enough and a fulcrum on which to place it, and I shall move the world.
- Archimedes
Digital transformation or disruption, whatever you call it, is that lever and a grossly underpenetrated domestic market, practically in any segment, is that fulcrum. A case in point is the broking industry.
In the early part of the last decade, the sector looked ripe for disruption, given the abysmally low coverage of demat accounts. While traditional brokers who charge a percentage fee on the transaction value have existed for years, the advent of tech-driven discount brokers who charge a flat transaction-based fee, irrespective of the volume and the trade size, has disrupted the space. Their lever is the asset-light, scalable, technology-driven digital medium, which provides a seamless, superfast and hassle-free customer experience. The benefits of cost savings, in turn, are passed over in the form of zero transaction fee (delivery trades), as well as a flat fee (intra-day).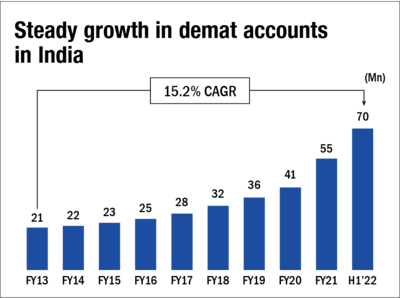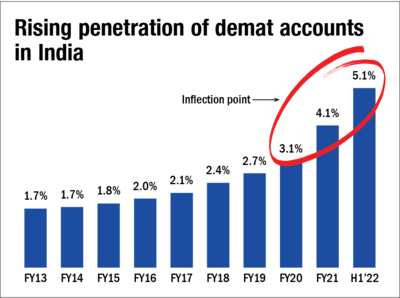 The results of these disruptions have started gaining prominence since FY2020 following a spate of sweeping developments in the financial-services space. These include demonetisation, tax reforms, a rise of fintech, falling internet tariff, the deeper penetration of financial products and services in tier II and tier III cities, and a rise in millennials. Digital brokers started outpacing the competition by a wide gap.
Angel One: Profiting from the digital
Angel One bears testimony to how a traditional broker, founded in 1996, was early to catch the whiff of digitalisation in 2015 before going digital the whole hog in April 2019. In other words, it did not opt for expanding its branches but rather opted for 100 per cent customer acquisition, onboarding, trade execution and advisory through the digital route. It was supplemented with a flat-fee structure. To add pace to this transformation and enhance customer experience, the company started using artificial intelligence (AI) and machine learning at an extensive scale. Following a data-science-driven approach and micro-targeting various segments of diverse audiences have become the practice. A digitally focused talent pool has been beefed up.
A host of its digital platforms available on the mobile app, web, advisory and partner tie-ups provide a seamless experience at extremely competitive rates (Rs 0 for equity delivery; Rs 20 per order for intraday, F&O, currencies and commodities) and supported by actionable intelligence. For instance, its robo-advisory product claims to have outperformed the key indices by 2.3 times in the last 24 months.
As a result of these transformational initiatives, Angel's NSE active client base and rank have significantly improved in the last two years.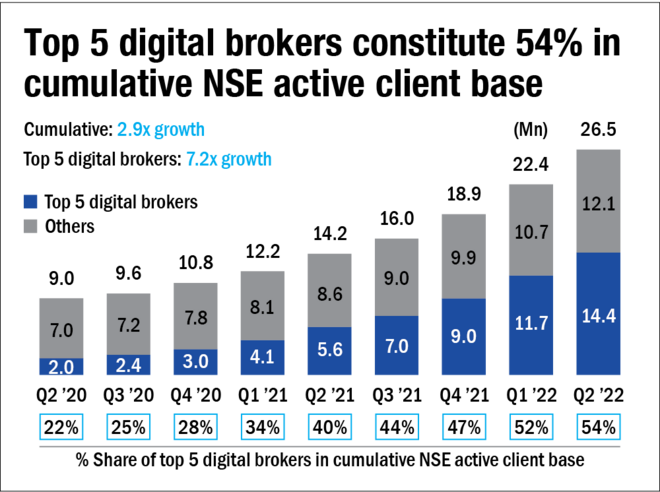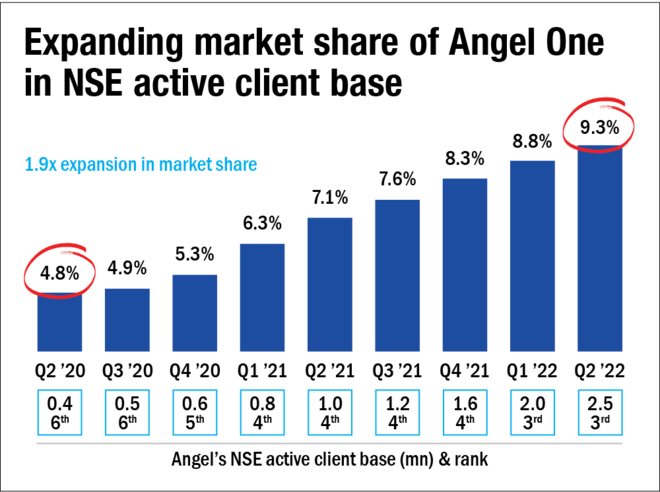 In terms of the retail ADTO (average daily turnover), Angel's overall equity market share has increased from 4.7 per cent in Q2 FY20 to 21.2 per cent in Q2 FY22. Its futures and options market share has jumped from 4.4 to 21.3 per cent during the same period.
This has been driven by strong growth in client activities across cash and future & options segments. In the former, the ADTO has jumped from Rs 2,700 crore in Q2 FY20 to 5,000 crore in Q2 FY22. The number of trades has increased from 4.6 crore to 11.3 crore. In the latter, the ADTO has increased from Rs 29,000 crore to Rs 5,64,200 crore and number of trades from 1.1 crore to 16.9 crore during the same period.
Its app installs have grown at a staggering pace during this interval.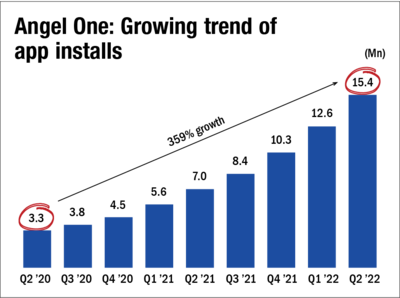 All these transformational initiatives resulted in a trebling of revenue, a 5.4 times growth in its operating profits, a 17 percentage-point improvement in operating margins and a 6.6 times increase in PAT in Q2 FY2022 on a quarterly run-rate basis as compared to two years ago.
Going forward, Angel has set its eyes on becoming the largest retail-broking house in India. Working in line with this objective, it has recently recruited 11 members, including the chief technology officer, principal architect, etc., for its digital team. Most of these new recruits have rich international experience in US technology majors. It is also looking at opening up additional revenue sources and has applied to SEBI for setting up an AMC.
This transformational digital broker appears to be a promising investment. But don't forget to research it thoroughly before investing in it.