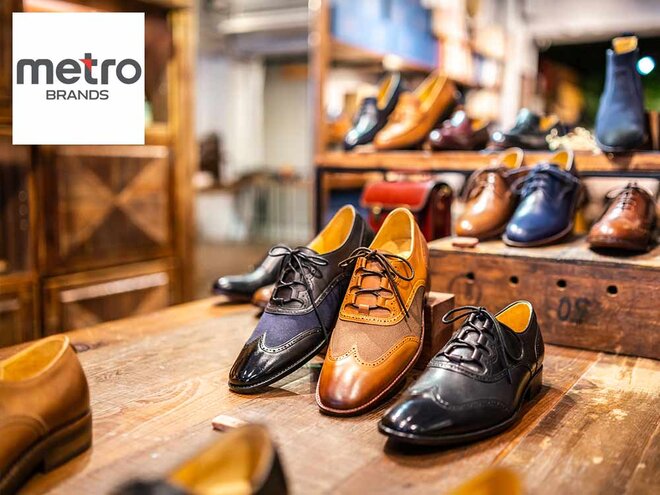 Incorporated in 1977, Metro Brands is involved in retailing footwear for men, women and kids. With a wide range of casual and formal footwear, the company caters to customers across the economy (Rs 501 to Rs 1,000), mid (Rs 1,001 to Rs 3,000) and premium (more than Rs 3,001) segments. The company is backed by famous Indian investor Rakesh Jhunjhunwala who, through his wife (Rekha Jhunjhunwala), will hold a 13.9 per cent stake in the company post-IPO.
For retailing, the company follows the 'company-owned and company-operated' (COCO) model. It sells products under its in-house brands, including Metro, Mochi, Walkway, Da Vinchi and J. Fontini, as well as certain third-party brands, such as Crocs, Skechers, Clarks, Florsheim and Fitflop. As on September 30, 2021, the company operated 598 stores across 136 cities in India. The company and its subsidiary Metmill also operate stores in major departmental stores across India.
As per a CRISIL report, the retail footwear segment is expected to grow at around 21 per cent CAGR during FY21-FY25 to reach Rs 1.4 lakh crore. The growth will be mostly driven by rising disposable incomes of Indian consumers, an increase in the number of the working-age group, nuclearisation of families and changing consumer attitudes towards branded products.
Strengths
Pan-India presence: The company has 598 stores in 136 cities across 30 states and union territories. It operates both multi-brand outlets and exclusive-brand outlets. Of its FY21 revenue, its stores from the south, west, north and east accounted for 31.7 per cent, 30 per cent, 21.9 per cent and 16.4 per cent, respectively.
Asset-light operating model: Metro Brands outsources all its products. Besides, its stores are taken on lease. So, the company can focus on its core business of retailing. It has long-standing relationships with its vendors (some vendors have been associated with the company for over 20 years). These vendors exclusively supply designs to the company.
Strong financial position: The company has a strong financial position. Its gross margin and EBITDA margin, averaged over FY19-21, have been 55.2 per cent and 25.5 per cent, respectively. The company is practically debt-free, with the debt-to-equity ratio being less than 0.1 since FY19.
Risks/weaknesses
Higher competition from online retailers: The presence of e-commerce platforms has increased competition. Retailers with an online-only presence can provide quality products at lower prices.
Small online presence: As the company sells only about 7 per cent (as of FY21) of its products through online channels, a decrease in footfall at its stores can have an adverse impact. In FY21, owing to the pandemic, revenue from its operations fell by 37.8 per cent.
Dependence on third-party manufacturing: While an asset-light model is a big advantage for retailers, it puts them at the risk of disruption in their vendors' manufacturing facilities. The company does not have any long-term supply arrangements with its vendors and procures products through purchase orders. If any vendor fails to make timely delivery of products, then it would affect the company's inventory levels, thereby leaving a negative impact on its business operations.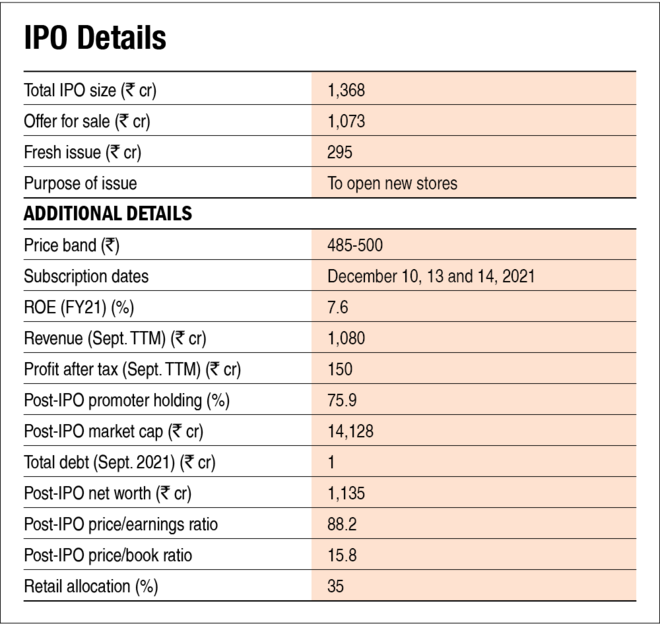 Also read about Metro Brands IPO: How good is it? to learn how we evaluate the company on various metrics.
Disclaimer: The authors may be an applicant in this Initial Public Offering