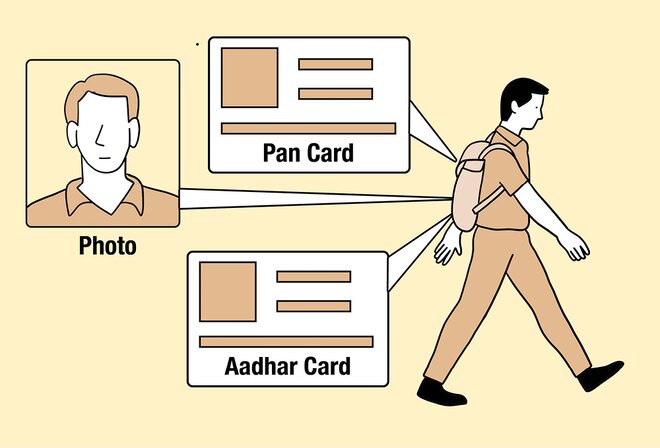 Wondering where and how to make a start? Well, the easiest way is to click here to complete all formalities and make your first investment in a matter of minutes!
But if you'd like to be better informed before starting your investment journey, here we go.
Mutual Fund KYC
It is a one-time activity similar to KYC of bank accounts that aims to verify the identity of an investor. It seeks to ensure that the investments are made in the name of a real person and is used as a measure by financial institutions to curb black money. The KYC process is free and just requires your passport-sized photograph, PAN and Aadhaar Card. It can be done in any of the following ways:
Offline KYC: You can download the KYC Form which is available on websites of all the fund houses (AMCs), Association of Mutual Funds of India (AMFI: the mutual fund industry's trade body), and registrar and transfer agents (RTAs: firms that help AMCs with record maintenance) such as CAMS and Karvy. You have to fill the form and submit it to your fund house's office or any RTA. It generally takes three to four working days post which you can start investing in mutual funds.
Online KYC: You can also get your KYC done in five minutes by filling an online form on the website of AMCs or intermediaries as mentioned above for offline KYC. You need to provide your registered mobile number and Aadhaar number for verification via OTP. Details are matched with your PAN Card for further confirmation. Your in-person verification (IPV) is done via video call, where you have to show your original identity and address proof. Once the verification is done, you are all set to invest in mutual funds.
Click here to complete your KYC online and make your first investment right away.
Buying a mutual fund
There are two routes of investing in a mutual fund -
Regular route: With the help of a broker or a distributor who completes the transaction on your behalf.
Direct route: Do it by yourself. If you are net savvy, do-it-yourself kind of person, you should try investing online without the help of a broker or distributor. You can buy the mutual fund directly from the fund house's website or via various online platforms that facilitate buying and selling of mutual funds. Payments can be made online by using net banking or UPI to complete the transaction.
Both are exactly similar except that the latter charges a lower expense ratio (lower by around 0.75%-1% per annum in the case of equity funds). In other words, your returns in the direct plans are higher than regular plans by that much per cent. Wondering how that happens?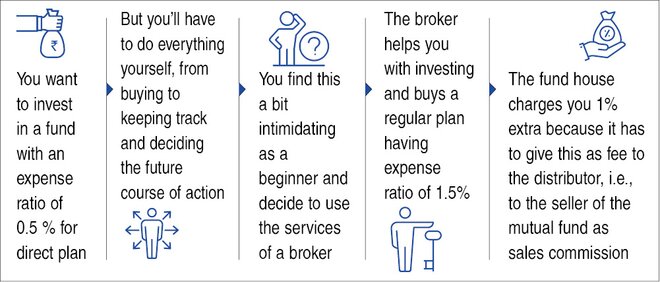 If you find it unnerving to take complete control as of now, it may not be a bad idea to invest through a distributor in a regular plan, even at the expense of paying a bit more. And as you gain more knowledge and confidence over time, you can later switch to the direct plans and start investing yourself. The distributors take care of everything from KYC to investing. But the only word of caution here is to stick to your investment plan and not get persuaded by any other investment option they may offer you as they have their own interests attached to it.
Growth vs. IDCW: Now within both regular and direct variants of each mutual fund scheme, you may also get to choose between two options -
IDCW plan: In IDCW (Income Distribution cum Capital Withdrawal) plans, fund houses pay out some portion of the gains made to the unitholders. The quantum of payout and timing is as per the choice of the AMC. Also, the amount paid out is subject to income tax as financially, it's exactly as if you have withdrawn that money from the fund.
Growth plan: In Growth option, there are no periodic payouts made at the behest of the AMC. Your money remains fully invested until you decide to redeem it, in part or in full.
So which one is better? We suggest you keep it simple and always opt for the Growth option. It is more tax-efficient and gives you more control over when and how much you redeem.
Your claim to ownership
In an offline world, we get paper receipts for almost everything, which serves as proof of payment. However, in the digital era, a confirmation SMS or an e-mail is sufficient for that purpose, as it happens in the case of online banking or online bill payment. Similarly, when you buy a mutual fund, you get a unique folio number (just like a bank account number), and a confirmation email and/or SMS specifying the units allotted is sent within five business days of the initial investment transaction on your registered e-mail address and/or mobile number.
Some best practices
Always add a nominee
It will hardly take two minutes but would enable smooth transmission of assets in the case of an unfortunate event. The nominated person is entitled to the mutual fund units in case the investor passes away. Without nomination, only the investor's legal heir(s) can have a claim after proving their legal heirship, which can be a tedious process.
Provide your email address while making an investment
Providing an email address will enable your fund company to correspond with you and digitally send updates, periodic account statements, fund fact sheets, etc. For certain kinds of transactions that you do on their websites, they may also carry out user verification by sending an OTP on your registered mobile number and/or email address.
Additionally, resources like CAS provided by RTAs aggregate your fund investments across all AMCs based on the provided email address (read more about CAS in the next chapter). So make sure you fill up your email address while making a mutual fund investment.