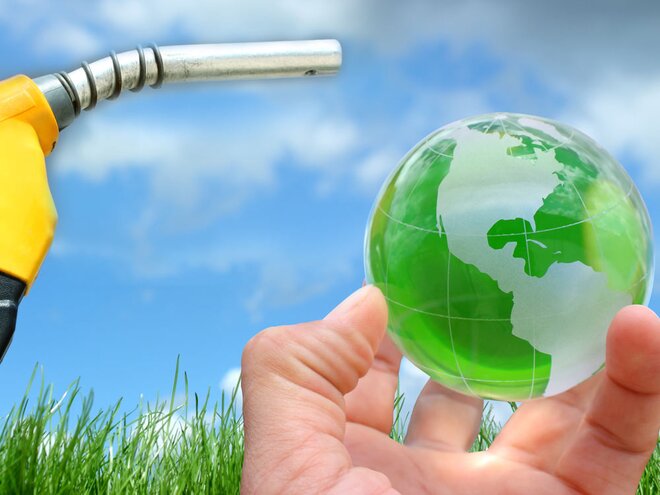 Ethanol (chemical name: ethyl alcohol), a biofuel, has been a part of the government's energy agenda for over two decades now. Of its several uses (chemical and pharma products), this organic chemical compound, which is produced from feedstock (sugarcane, sugar, molasses, maize and damaged food grains, etc.), also blends with petrol and power vehicles.
The attractiveness of ethanol blending with petrol program stems from:
A reduction of import dependence on fossils (estimated annual savings of Rs 30,000 crore on full implementation)
Lower emission through E20 fuel (20 per cent ethanol, 80 per cent petrol), which reduces hydrocarbon effluents by 20 per cent (carbon monoxide by 30-50 per cent)
Additional income source and employment for farmers
Ethanol is also a better-quality fuel due to its high-octane number, which enhances engine efficiency considerably, even though it has less calorific value than that of petrol
While the blending policy has been there since 2002-2003, the average blending with petrol ranged between 0.1-1.5 per cent till 2013-2014. However, a series of policy interventions by the government since 2014 has resulted in ethanol gaining more prominence in the energy mix since 2013-2014.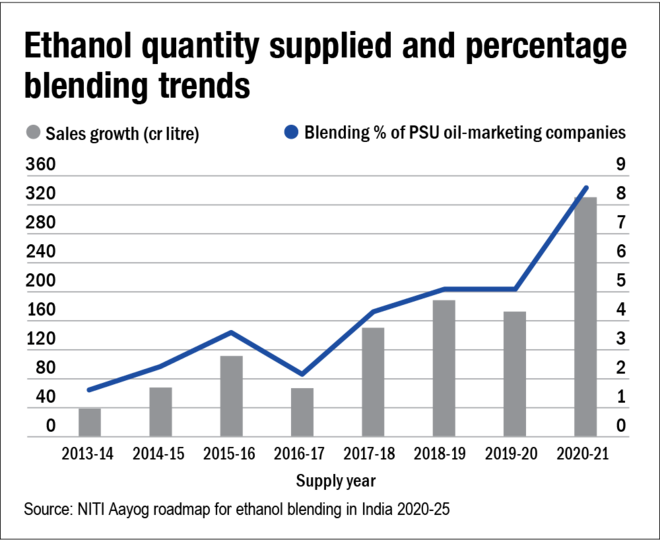 Encouraged by the progress of ethanol blending in petrol and its value proposition, in January 2021, the government advanced the target year for achieving 20 per cent ethanol blending (E20) in petrol from 2030 to 2025. To set the ball rolling towards this target, 10 per cent blending needs to be achieved by April 2022 and a phased roll-out for 20 per cent blending must commence from April 2023.
To meet this ambitious government target, the total ethanol capacity is required to be augmented by three times the capacity as of FY2021.
As can be seen in table 'Ethanol demand projection', the requirement of ethanol blending, which was 332 crore litres in FY21, is expected to expand three times to 1,016 crore litres by FY26. This is expected to result in significant capacity expansion by ethanol manufacturers. Estimates peg this outlay to be of a magnitude of Rs 100,000 crore over the next few years.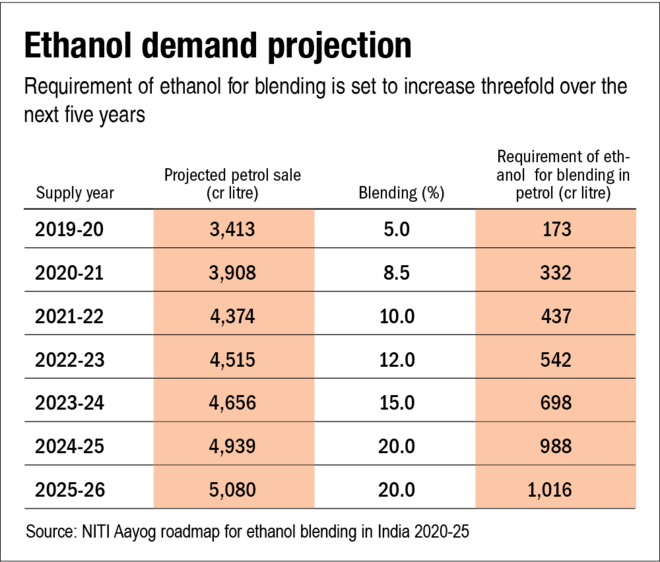 Praj Industries: A key beneficiary
Praj Industries, headquartered in Pune and founded 37 years ago by Pramod Chaudhari, is at the forefront of bio-based engineering and farm-to-fuel technology solutions. It commands a leadership position with a market share of 60 per cent. Praj's technologies are used to produce about 8 per cent of the total ethanol production in the world.
One of the few companies in the world, it develops second-generation ethanol technology by using agri-residue like rice and wheat straw, cane trash, corncobs and stover, cotton stalk, bagasse, empty fruit bunches, etc. Its diverse product portfolio comprises bio-energy plants, zero liquid discharge plants, critical process equipment and skids for oil and gas industries, breweries and high-purity water systems. Biotechnology plants based on its technologies are deployed in more than 100 countries at more than 1,000 sites.
The Indian ethanol market opportunity presents an addressable opportunity of Rs 14,000-15,000 crore over the next few years. It is now experiencing a doubling of inquiries and the order backlog is swelling (see the chart 'Praj Industries: Surging order book and intake).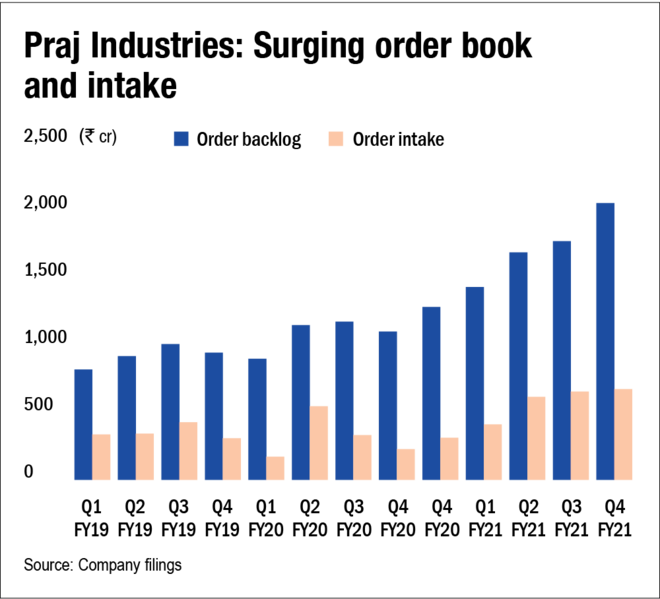 Praj ended Q1FY2022 with its highest ever order backlog and order intake. With the industry tailwinds intact, the company is likely to improve its five-year performance of a revenue CAGR of 12.6 per cent and PAT of 16.1 per cent. With zero leverage, low capital-expenditure requirements and cash and equivalents, its balance sheet is strong. Faster conversion of a brimming order book into revenue is likely to translate into higher profitability aided by operating leverage. This is likely to improve its return on equity significantly. Higher growth rates and a marked improvement in the return ratios justify the high valuation of 54 times on a trailing 12-month basis.
In this era of ESG (environmental, social and governance), this engineering expert can prove to be a promising investment that ticks all the boxes and believes in transforming the fuel to fuel the transformation. However, don't forget to do your own due diligence before investing in this stock.