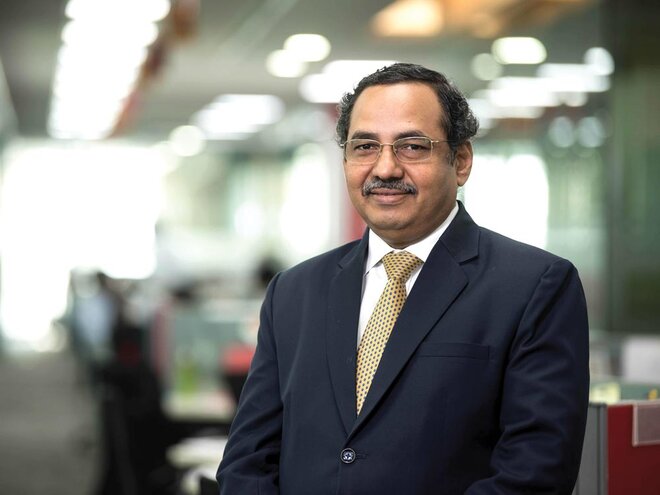 Revision of expense slabs by the regulator, the push towards passives, and the anticipated entry of several new AMCs translate into a greater focus on cost. Do you believe there is potential to drive the costs (expense ratios) down substantially from the current levels while still running the business profitably?
As it is known, in mutual fund schemes, expenses for active management have been coming down, as described and defined by SEBI. In fact, in the last few years, major reforms have been undertaken by SEBI, working closely with AMFI, to bring down the expenses linking to the size of the fund. In fact, this has given a roadmap for further bringing down expenses linking to the size of funds in each category. I feel this is sufficient enough to bridge the gap between passively managed funds and smart beta, ETF kind of products. The gap between actively managed funds and these will become very narrow.
At the same time, the fund-management industry will continue to drive the scale and the size. The new players coming in will only add to the overall growth of the industry and further help in expanding the market. Therefore, while on one side, the benefit to the customer will accrue, both on the product offering, coming at a relatively reasonable cost, the AMC profitability would also come due to the operating leverage that comes on account of scale and size. So, large established players would probably have some advantage in the whole process.
How is the increasing proliferation of direct plans and the new age platforms changing the dynamics between the three key stakeholders - the investors, the distributors, and the manufacturers (AMCs)?
Among all the stakeholders, investors of course will stand to benefit on one side. At the same time, they will also need some hand-holding to deal with this kind of platform to ensure that their portfolios are reviewed properly and suitable adjustments are made in the portfolio, taking into account the emerging trends.
I am a little concerned about how investors will be able to carry out such an important exercise while managing their portfolio without any help from professionals. Therefore, while this segment will continue to attract some investor attention and also informed investors will use this route for investing their money, as the investment size becomes relatively larger, I would not be surprised if such investors look for investment advice.
I also believe that a large component of Indian investment could be handled by distributors as it happens in any other industry, given the fact that beyond a point money has to be managed carefully. Therefore, I believe in the co-existence of all models. In addition, due to the under-penetration of mutual funds, and with a large section of the population yet to come under the fold of formal investing tools, there will be a need for the right guidance from trained professionals, both in terms of basic awareness as well as portfolio construction.

The precipitous fall in interest rates has spelt big trouble for regular income seekers. Do you think the fund industry can better serve this investor segment and in a cost-effective manner? What's your big idea to solve the investors' income problem?
It is a fact that interest rates have come down quite sharply and that's posing a challenge for fixed-income-oriented investors, not just in India but even globally. We must also accept that the high-interest-rate regime in India which we are used to may or may not get repeated in the coming years. So, structurally it looks like interest rates will remain in a narrow range but on the lower end of the bracket.
That being the case, investors will have to look for assets that can give the power of compounding and also have a facility that can help them to take some money out every month from the investments. Therefore, hybrid funds such as balanced advantage funds or regular savings funds, which invest in equity up to a certain extent and the rest in fixed income, provide a greater experience when invested in for the longer term.
Lastly, since these schemes are subject to market volatility, therefore they may not give regular income in the form of dividends, but they can be structured or stitched with a monthly withdrawal feature. This can be equivalent to what otherwise one would have got from banks. I think such a mechanism if one is able to use, then you get two benefits - a portion of your investment comes back at a regular interval by way of systematic withdrawal and at the same time, one gets the advantage of staying invested for the long term in a scheme that also has exposure to equity, providing the power of compounding.
Many people these days take to equity investing by owning the stocks directly. Innovations like Small Case are further catalysing this trend. What implications do you see on the businesses of mutual funds? Can they pose a challenge to the growth story you would envision for the fund industry?
In the last one year, direct equity has no doubt helped the equity market to have a larger participation come from retail and first-time investors in India. I see this as an opportunity for mutual funds. As the market volatility increases and it starts reflecting in their individual portfolios, they will realise the importance of the mutual fund way of managing money. Mutual funds have a diversified nature and also serve the purpose of long-term, goal-based investing.
Right now, I presume all the investments that are happening in equity may not be long term in nature but they are also a combination of an intuitive way of buying and also some investment opportunities one would have taken based on advice coming from various platforms. But such investors have only seen a one-side up market. They have not gone through a volatile period. Historically, those who have gone through a volatile period are also those who have understood the power of mutual funds, which in my view, the new set of investors will begin to realise when the market turns volatile. Therefore, I don't see it as a challenge. I see it as an opportunity to get migrated to mutual funds.
Rapid-fire questions:
Investment guru/manager you admire the most: Late Chandrakant Sampat
Business leader you'd like to emulate: Deepak Parekh
The most rewarding financial investment you've ever made: Talking purely finance, then equity. Personally, the causes I am associated with have brought in a lot of satisfaction.
Money mantra you swear by: Time in the market is more important than timing the market.
If not a money manager, you'd be: An agriculturist