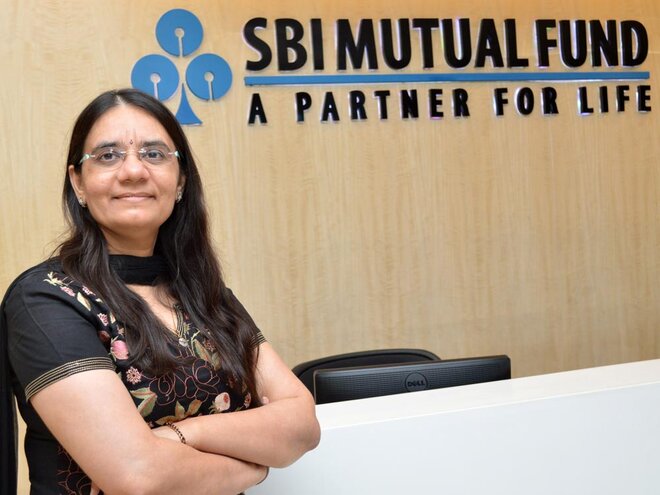 Over the past one year, as the markets have witnessed a massive rally, both SBI Bluechip and SBI Magnum Midcap have delivered superior returns. We speak to Sohini Andani, who manages these funds at SBI. She shares with us her thoughts on market valuations, impact of the second COVID wave, momentum investing, among other things. She also shares the philosophy she follows for managing her funds.
As an investor, tell us about yourself and the key tenets that influence your thinking.
I joined the markets in 1995 at a time when I had not even completed my studies. My interest in stocks goes back to my college days when our college professor used to bring annual reports to the classroom and asked us to analyse them. That evoked my interest in stocks and the way businesses were run. At KRChoksey, where I started my journey into stock markets, it was a very good learning experience interacting with Kisanbhai, who himself was a very good long-term investor, apart from providing research to a very broad set of clients.
So, very early in my career, I started looking at portfolios, how they were built and how businesses were selected. It helped me cultivate a long-term approach to investing and a belief in the power of compounding. That played a big part in how I think about stocks and explore the possibility of a long-term compounding story in any business that I have invested in. Once you find such stories, you simply remain invested in them for five to 10 years or more and continue to reap the benefits. So, I think that is one tenet that I developed very early in my investing journey.
Another very important focus area for me is capital allocation - how promoters are allocating capital, how wise their decisions are and whether they generate returns in excess of their cost of capital. Only those businesses that can generate returns in excess of their cost of capital over a long period can create value for the investor in the long term. That is a belief that came in quite early and it has stayed on. And I would say that that consciousness has been of great help in the way I have been investing.
Do you recall some key lessons or incidents that have had a big impact on your career right from your days with Choksey? For instance, you were a technology analyst at the time of the IT boom. Tell us about your experience of analysing IT companies in those heady times when valuations were into orbit.
I started analysing the technology sector a little later in my career at a time after it had already reached its peak. Obviously, there was a lot of interest in the sector, given a very strong momentum it had seen around the Y2K era. I saw the subsequent burst and what happened to the companies that people believed would keep trading at P/E multiples of 100 times or even more. However, we used to look at companies and wonder what kind of sustainable growth rates are built into the valuations and what kind of capabilities were required to scale these businesses for the companies to grow at that kind of growth rate. It was very clear that for majority of the companies, it would be difficult to justify the valuations at which they were trading. Inevitably, a lot of those IT companies are not even in existence today.
The big learning was how easily investors can extrapolate current growth rate that a company was reporting to be sustained for a very long period of time without focusing on the drivers for the same.
I think that in any sector, a bubble occurs when people look at earnings too far ahead and lose sight of what's happening in the short term. Thus, an important lesson is to see whether the company can stay in the business over the long term in the first place to reap the benefits of the positive changes happening in the sector. This is extremely critical when you are making investment decisions at a time when that sector is booming. So, we need to check whether the organisation has the capability in terms of financial bandwidth, management bandwidth and a sustainable business model which generates cash flows to keep growing.
How difficult is it not to get carried away when you pass through such phases? There would be stocks where the fundamentals don't support the valuations but they keep going on and by avoiding them, you keep underperforming for a long period of time.
Yes, it is difficult not to be carried away when there is strong momentum. But I think I have erred more on the side of missing opportunities than being carried away too much because I have always found it very difficult to chase the momentum. Sometimes even when the momentum is for the right reason, probably I missed the rally in that case. I think I have experienced more incidents of such opportunity losses than being carried away too much by the markets and valuations.
But obviously, when the momentum is very strong and one is not participating, it's painful. But I think more important is to figure out whether you are ignoring a big fundamental change that is happening. Taking that call is much more important.
The second wave hit the country hard. How worried are you about its impact on the economy and the markets?
It is a constantly evolving scenario and since all of us have not faced these kinds of scenarios in our careers of the last 20-25 years, I think it is difficult to envisage how things will eventually shape up. So, we have to keep evolving in terms of how we structure our portfolios, what scenarios we build and this can keep changing from time to time.
As far as the second wave and its impact are concerned, it's been very painful because of the loss of human life. A lot of human capital has been lost because this time we have seen a lot of fatalities among young people or those in the working-age group. It's been very sad.
When one compares the first with the second wave, the duration of the second wave looks to be shorter, despite it being deadlier. Also in the first wave, we had a central lockdown for a very long period of time. But in the second wave, lockdowns have been region- and cityspecific. Thus, the overall impact on the economy in the second wave is less than what it was in the first wave. But obviously, when the markets went through the first phase, they had not really anticipated such a big second wave. So, to that extent, it's a negative surprise. Moreover, since the market had risen significantly after the first wave, from the earnings-outlook perspective, we see more cuts now as against those in the last two quarters when analysts were upgrading their growth expectations.
The other factor that has impacted the corporate sector during the second wave is inflation. While the profitability of companies was quite intact during the first phase, growth was subdued. In the second phase, however, growth is relatively less impacted as companies are delivering top-line growth. But cost pressures are taking away the profitability.
Also, this time, supply-side challenges are far less severe than what they had been last year. And as growth is taking a little bit of a back seat, inflation also is likely to come under control. The overall liquidity situation should remain comfortable in India, which will be supportive of growth, unless we see large outflows of the foreign capital which has come in the last 12 to 18 months.
We see a strong buy-and-hold orientation in your stockholding patterns. What helps you stay put in a stock through the ups and downs?
I have been a big believer in the power of compounding and long-term investing. The power of compounding can be understood by looking at HDFC Bank, for instance, which has grown at a rate of 15-20 per cent every year for the last 20 years. If you had invested at any point of time, you would have made returns out of it. When your investment works for you, you do not need to work so much. It is for the same reason that you see less churn in our portfolio because when you are churning the portfolio, you have to be correct on both the buy and sell calls and it has to make a material difference to the returns that you are looking at. So, I think when we invest in stocks that compound meaningfully over a long term period, we see less of a need to frequently change the portfolio. While we are not against churning the portfolio, one needs to find an idea that will deliver higher returns than what you are expecting on your existing holding over a long term. I am very happy to churn whenever I find an idea that can grow faster than the stock that I already own in the portfolio. The visibility of growth and the conviction in growth are very important while churning.
What kind of a role do valuations play in your stock selection?
Valuations are very important to me because you have to make returns and hence, you cannot be buying stocks at any price and expecting returns to be generated in the portfolio. The key thing that I look at is how the stock has been valued over the last 10 years and where it is trading vis-à-vis its average valuation for the last 10 years. If it is trading at a premium, whether the company's growth outlook over the next five years is much better vis-à-vis the last 10 years or not. Is the company going to generate a return on capital better than what it has done in the past five years? If the answers to these questions are yes, then premium valuations are probably justified. How the stock has traded for the last 10 years is an important parameter to look at because it captures different periods of a cycle and the 10-year average gives you a benchmark to evaluate whether it is currently overvalued or undervalued.
You are much overweight on the construction sector in comparison with your peers, particularly cement stocks. What makes you so bullish on them?
Yes, we have been positive on the sector. Firstly, the sector has seen very low growth for quite some time now because of the underinvestment of capital in infrastructure in the last 10 years. We have also not seen enough investment on the housing side either. Now, on the manufacturing side, infrastructure side and even on the housing side, the cycle seems to be improving and cement is the ingredient that goes to these sectors.
The other thing that is comforting is that most of these companies have quite comfortable balance sheets. There have been a lot of initiatives taken for cost-cutting and managing the cost structure with the aim of surviving in a bad cycle. This gives these businesses an inherent strength and when the cycle is good, they reap the benefit in terms of better profitability. Therefore, we have exposure to cement in our portfolio, which is more of a domestic commodity. The fundamentals are driven more by domestic growth, where we have slightly better visibility, vis-a-vis international commodities, where the volatility is much more.