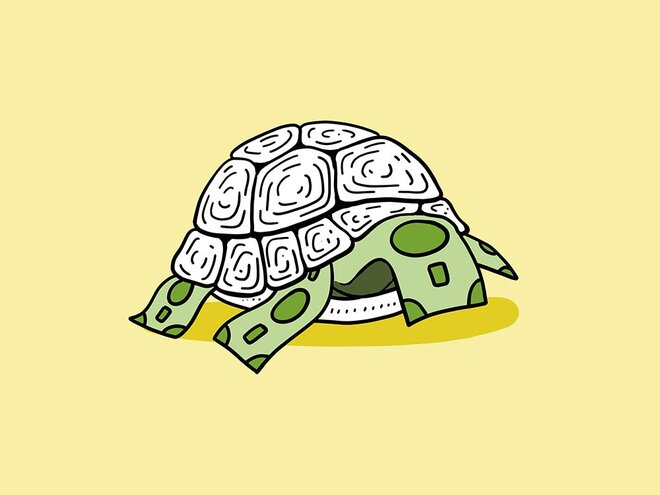 You must have heard of the phrases 'dumb money' and 'smart money' in the context of investing. However, in recent weeks, some Indian mutual fund investors seem to be struggling with slow money. I say 'some', but the number could be small or medium or large; there seems to be no way of knowing at the moment. People are getting their fund investments allotted several days after the money has gone from their bank accounts. As I'm writing this on the 11th, at least some transactions of some investors have still not been allotted despite the money being debited from their bank accounts on the 1st of February.
It so happens that a big change that has recently taken place in the mechanism of investing in mutual funds is that you get your units allotted only when the fund company actually gets your money in the scheme's bank account, ready to be used for investing. The NAV at which the units are allotted is obviously also of the day when the units are allotted.
Most people would imagine that this is obviously the correct procedure. However, the fact is that this has been enforced for all investors just a few days back, i.e., on January 31 this year. Before that, for investments below Rs 2 lakh, investors would get allotment on a given day's NAV provided their purchase request had been received before 3 pm.
If you think about the flow of the money, then it should seem strange that you can have investments in a fund before your money has reached the fund company. After all, if the money hasn't reached the fund and the NAV goes up, you will earn something. Where does that come from? The way mutual funds work, those unearned returns that you will get can only come from other investors who are already invested in the fund. And of course, the reverse is also true if the NAV falls instead of rises.
It so happened that by an unhappy coincidence, the change of rules for investments under Rs 2 lakh has coincided with some kind of a technical issue at the National Payments Corporation of India (NPCI), which runs the back-end systems for retail payments and settlement systems. Many investors are specially agitated because the equity markets, and thus NAVs, have been very volatile during this period. They feel that a day or two here and there could make a difference of many percentage points in the purchase NAVs they get.
While this is no doubt mathematically true, it does go against the spirit of long-term investing and in the final accounting will make negligible impact on the returns of those who are in long-running SIPs. Nonetheless, investors deserve an operating environment where they get what is promised and if there is a glitch anywhere, they must get timely and truthful information about what is wrong and when it will be fixed. This has been completely lacking in this current crisis. Moreover, money has gone out of people's bank accounts and it's there somewhere in the system. Investors must get an explanation as to what is happening.
In fact, this points to a curious aspect of the whole business. During this period, no normal user appears to have had any trouble with UPI, NEFT, IMPS, cheque clearance or any such settlement system, all of which are run by the NPCI. There are normal glitches for short periods of time but nothing remotely resembling the 10-day delays, with money vanished in some black hole that mutual fund investors are reporting!
What exactly is going on? Will someone who knows please explain this to investors? They deserve to know.