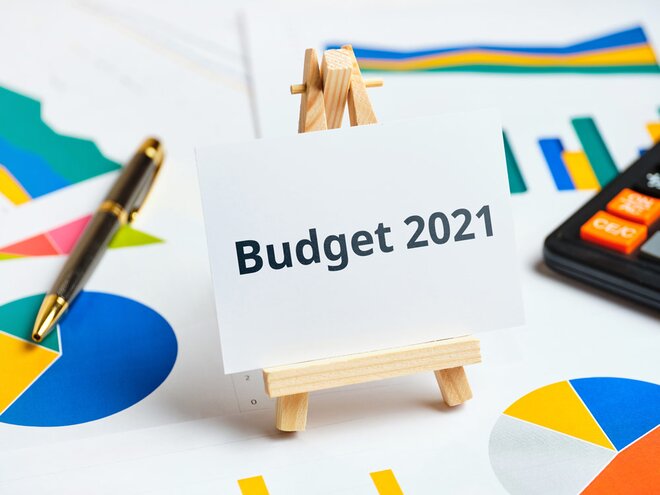 With the Union Budget for 2021-22, the government intends to provide possible remedies for the pandemic-battered economy. To give demand impetus to the real economy, the government has accelerated spending on asset creation. Sectors like infrastructure, cement, manufacturing, power, capital goods, etc., have gained focus. In fact, despite the economic slowdown, the government has managed to increase its capex spend to Rs 5.54 lakh crore - an increase of 34.5 per cent from the budget estimates of 2020-21. With COVID-19 having exposed the vulnerability of the Indian healthcare infrastructure, the government has focussed on healthcare spending as well. It, therefore, has increased the spend on health and well-being to Rs 2.24 lakh crore as against the estimate of Rs 94,452 crore in the last budget. Overall, without raising any new taxes, the government has managed to push for capex expenditure.
Let's look at some prominent sector-wise steps undertaken by the government in the Union Budget for 2021-22:
Agriculture

The agricultural-credit target enhanced to Rs 16.5 lakh crore in FY22.
1,000 more mandis will be integrated with e-NAM.
Auto

A voluntary vehicle-scrapping policy has been announced to phase out old and unfit vehicles. Vehicles would undergo fitness tests in automated fitness centres after 20 years in the case of personal vehicles and after 15 years in the case of commercial vehicles.
An Rs 18,000 crore scheme will be launched to support the augmentation of public bus-transport services. The scheme will facilitate the deployment of innovative PPP models, thereby paving the way for private-sector players to finance, acquire, operate and maintain over 20,000 buses.
Asset monetisation across sectors

The government intends to monetise assets under various public undertakings. For example, NHAI to transfer five operational road assets to InvIT; Railways to monetise dedicated freight corridor assets.
Financial

The FDI limit in the insurance sector raised from 49 per cent to 74 per cent.
The government will set up an Asset Reconstruction Company and Asset Management Company to consolidate and take over the existing stressed debt so as to relieve the books banks from the burden of NPAs.
PSBs to get recapitalisation of Rs 20,000 crore in 2021-22.
The government to privatise two public-sector banks and one government-owned insurance company. However, the names of these companies have not been revealed.
Interest deduction of Rs 1.5 lakh under affordable housing extended to one more year till March 31, 2022.
Healthcare

PM Atmanirbhar Swasth Bharat Yojana has been launched with an outlay of about Rs 64,180 crore over six years to develop capacities of primary-, secondary- and tertiary-care health systems, strengthen existing national institutions and create new institutions to cater to detection and cure of new and emerging diseases.
Jal Jeevan Mission (Urban) has been launched with the intent to ensure universal water supply in all 4,378 urban local bodies, as well as liquid waste management in 500 AMRUT cities. It will be implemented over a period of five years, with an outlay of Rs 2.87 lakh crore.
The Urban Swachh Bharat Mission 2.0 will be implemented with a total financial allocation of Rs 1.41 lakh crore over a period of five years during 2021-2026.
Infrastructure-financial sector

To provide long-term capital to infrastructure projects, the government will set up a development financial institution (DFI). The finance minister has provided an initial capital of Rs 20,000 crore and aims to have a lending portfolio of at least Rs 5 lakh crore in the three years.
Debt financing of InVITs and REITs by allowing FPIs.
Manufacturing

Production-Linked Incentive (PLI) schemes amounting to nearly Rs 1.97 lakh crore over the five years starting FY 2021-22 have been announced for 13 sectors to give impetus to domestic manufacturing.
Railway infra

The Western Dedicated Freight Corridor (DFC) and Eastern DFC are expected to be commissioned by June 2022.
Railway has been provided for Rs 1,10,055 crore of which, Rs 1,07,100 crore is for capital expenditure.
Roads and highway infra

By March 2022, the government will award road projects of 8,500 km and the completion of 11,000-km national highway corridors.
The Ministry of Road Transport and Highways has been provided for Rs 1,18,101 lakh crore of which, Rs 1,08,230 crore is for capital expenditure.
Power

To cut the monopoly of discoms, consumers will get alternatives to choose from among more than one discom.
To improve the financial condition of discoms, a reforms-based result-linked power-distribution-sector scheme will be launched, with an outlay of Rs 3 lakh crore over five years.
Ports, shipping, waterways

Major ports will be moved to a model wherein a private partner will manage these ports. For the purpose, seven projects worth more than Rs 2,000 crore will be offered by major ports on the public-private partnership mode in FY21-22.
A scheme to promote flagging of merchant ships in India will be launched by providing subsidy support to Indian shipping companies in global tenders floated by ministries and CPSEs.
Petroleum and natural gas

Ujjwala Scheme to be extended to cover 1 crore more beneficiaries.
100 more districts in the next three years to be added to the City Gas Distribution Network.
A gas-pipeline project in the Union Territory of J&K will be undertaken.
An independent gas transport system operator will be set up for the facilitation and coordination of the booking of common carrier capacity in all natural gas pipelines on a non-discriminatory open access basis.
Textiles

In addition to the PLI scheme, the government will establish seven textile parks over three years under the Mega Investment Textile Parks (MITRA) scheme.