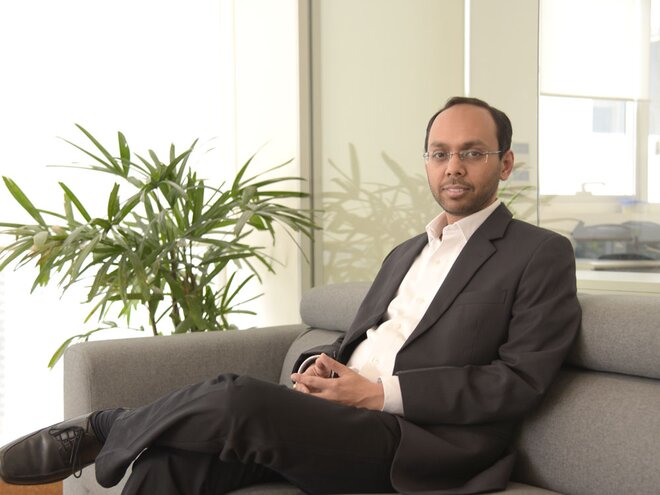 COVID-19 has not just disrupted the overall business environment, it has also made a clear distinction between businesses that are resilient and that are not. Surprisingly, the market has bounced back after a knee-jerk reaction to the pandemic outbreak. We speak to Vinay Paharia, CIO, Union Mutual Fund about the recent rally, about what he is doing to counter the effect of the pandemic on his portfolios, and where he is investing. He also shares the stock-selection philosophy of his fund house and his best investing lessons.
After the crash in March, the market has smartly recovered. What has caused this? Does the rally have legs?
The market (Nifty 50 Index) fell by 29 per cent in the first quarter of this calendar year (1QCY20) and subsequently also recovered around 20 per cent in the second quarter (2QCY20). However, it is still lower by about 11 per cent on a year-to-date basis. According to our internal estimates, we have reduced our Nifty 50 fair value for FY21 by about 8 per cent in 1QCY20 and further by about 2 per cent in 2QCY20. Thus, cumulatively since the pandemic spread, we have cut our fair-value estimates for Nifty 50 for FY21 onwards by about 10 per cent. Thus, the market has now corrected proportionately to a fall in its fair value. Thus, in our view, the recovery in markets from March 2020 levels is led by a deep undervaluation getting corrected.
Are we out of the woods yet as far as the uncertainty created by COVID-19 is concerned? How long can the after-effects of the pandemic linger?
We are definitely not out of the woods yet. The infection continues to increase. The size and scale of the impact of the pandemic on businesses and disruption of some industries have been unprecedented. It has been very difficult to estimate its impact on corporate values and that's the reason we have seen volatility of such a magnitude in the last six months. Till any vaccine or cure is found, we may have to live with the new normal in the post-pandemic world. The economy is gradually starting to open and gather pace, though we may continue to see some impact, which may only fade away gradually over the next six to 12 months.
What structural changes do you anticipate as a result of the pandemic? How are you positioning your portfolios to counter the disruption?
There are some structural changes which are visible due to the pandemic. The foremost amongst them is the acceptability of the concept of working from home. This can lead to a positive impact on industries like IT and telecom and a negative impact on the real estate sector. Another change we anticipate is a boost to online businesses. Thus, companies in e-commerce, online teaching, etc., may witness a permanent improvement in their business metrics. However, we need to remain alert to ongoing structural changes impacting our portfolio companies' businesses over the next six to 12 months.
We are overweight IT and telecom sectors, which are beneficiaries of some of the favourable trends evolving from the ongoing pandemic situation.
What's your outlook for the banking and finance sector? An economic slowdown can result in another wave of NPAs and defaults.
In our view, the ongoing pandemic can have a significant negative impact on banking and financial services sectors. Banks or NBFCs which have high touch business model, like microfinance or vehicle- finance companies, can be hurt due to inability to reach out to their customers for collection. Also, lenders to small and medium enterprises may witness higher credit costs as such enterprises have seen a deep impact on their cash flows and business outlook.
What's the stock-selection philosophy underpinning your equity funds?
Our philosophy is to invest in stocks which have a growing intrinsic value and buy them with a margin of safety. Stock selection starts with the overall universe, which for us is all stocks having a market cap in excess of a defined threshold. From this investment universe, we distil down stocks based on three filters - business, good management and reasonable valuation. We then arrive at a list of stocks, which we call as the fund-house universe.These are usually around 150 to 180 stocks. Right now, as we speak, it is at about 166 stocks. All the funds have to necessarily buy stocks from this fund-house universe.
Each stock in the fund-house universe is further segmented as either a growth company or a bargain company. Growth companies are characterised by fair values growing at a rate higher than nominal GDP over the forecast future five-year time horizon. Bargains are companies whose fair-value growth is lower than the nominal GDP growth in the forecast future five-year period. We buy bargains if they are available at a deep discount to their current fair value.
The USP of our process is the use of the fair-value approach to investing. In our view, the fair value of any company is driven by four factors: (1) earnings growth and its sustainability, (2) return on equity and its sustainability, (3) risk-free rate and (4) riskiness of cash flows. An interplay of all these factors helps us judge the fair value of each company in our fundhouse universe. The approach helps us to scientifically judge the risk-reward trade-off built in each opportunity.
How do you see mid and small caps performing over the medium term vis-a-vis their larger peers against the backdrop of a systemic disruption?
The main difference between a small/mid-cap company versus a large-cap company is the growth potential. However, while growth is higher in small/ mid caps, the risk is also higher and hence the need for deeper due diligence. In our view, a diversified portfolio of high-growth small/mid-cap companies can deliver relatively better returns, albeit with higher levels of risk, over their large-cap peers over a longer-term time horizon.
What are the characteristics of a resilient business that can weather all storms? How can one differentiate it from an average and a poor business?
A good business generates high returns on invested capital. These businesses need to have certain competitive advantages (moats), which can differentiate them from weak ones. These moats help such businesses protect themselves from competition and generate superior returns on capital sustainably over a long period of time. Some of these moats include superior R&D skills (healthcare and chemical companies), switching costs (banking and telecom companies), long and uncertain project gestation period (telecom), economies of scale (airlines, IT), brands (FMCG, automobiles), proprietary technology (capital goods), etc. Good management can also be a source of a strong competitive advantage.
Due to superior return on capital, such companies often have very low leverage on the balance sheet, are able to grow faster and exhibit superior financial ratios.
In bear markets, containing the downside well can make a difference to your returns. What tactics do you apply to avoid losing much in bear runs?
There are three strategies we adopt to reduce portfolio downside: (1) avoiding poor businesses, (2) avoiding companies run by poor managements and (3) having adequate portfolio diversification.
We need to avoid poor businesses in any type of market. To avoid them, we watch out for the certain red flags while investing. The first red flag is companies with leveraged balance sheets. We can take income-statement risk but we will avoid taking balance-sheet risk. The second red flag is a business that is facing or is prone to some sort of disruption. The third red flag is value trap. According to our investment process, a value trap is one where the fair value declines over a period of time.
We also avoid companies run by poor managements. We have an in-house checklist to help us in objectively identifying companies run by poor-quality managements.