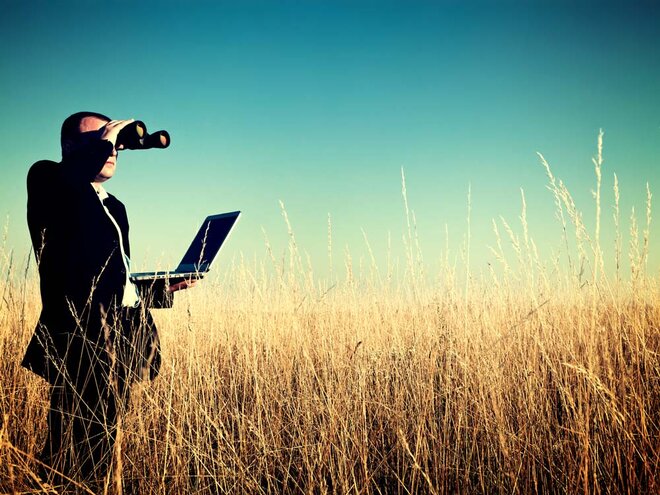 At Value Research, we often come across interesting ideas while doing mundane stuff. We got the idea for this story while going through our Twitter feed. There was a tweet that said, "The most reliable way an individual investor can beat the market is to buy an excellent company and hold it for more than five years." This statement really intrigued us. We wondered if this really happens. Even if a company is excellent, does it mean that you can buy its stock anytime, hold it for over five years and make money? What is an 'excellent' company anyway? Are there any exceptions to the statement given above? What if the exceptions are the norm, i.e., most 'excellent' companies don't live up to the statement?
What's an excellent company?
We wanted to understand the characteristics of an 'excellent' company. Now 'excellence' can mean different things to different people. So, the very first step of our quest began an argument within our team. After much discussion, we agreed that excellent companies have some basic characteristics. These include the following:
An easily recallable brand that its customers trust
A sustainable competitive advantage
Innovative offerings and reliable products or services
Prudent capital-allocation and robust corporate-governance standards
For investors looking at qualitative aspects and trying to judge whether a company is excellent or not can be challenging. After all, each company will have its own unique path and strategy to becoming excellent. That is why we wanted to find one quantifiable aspect that cuts across all the excellent companies. This was not an easy process.
We extended the period of our analysis to 20 years to find only such companies that have demonstrated extended period of fundamental performance. In order to arrive at the 'ultimate' parameter, we tried a number of popular metrics. First, we looked at companies with high earnings growth but such growth might not be sustainable for a long period of time. We also looked at companies that had low debt to equity. Having low debt can be beneficial to equity holders as it increases net profits. But a high debt doesn't automatically make a company a bad investment and vice-versa. Also, this parameter is not suitable for banking and finance companies. Finally, we decided upon one ratio that is the best indicator of the overall performance of the business and can be compared across companies irrespective of the nature of business and that is return on equity.
Why ROE?
ROE outlines the overall performance of the business and could serve as a metric for comparison across companies, irrespective of the nature of their business.
Here's what Warren Buffett said in Berkshire Hathaway's annual letter in 1992: "The best business to own is one that over an extended period can employ large amounts of incremental capital at very high rates of return. The worst business to own is one that must, or will, do the opposite - that is, consistently employ evergreater amounts of capital at very low rates of return..." Hence, Buffett's definition of an excellent business focuses on ROE.
ROE reveals how much profit a company earns in comparison to the shareholder equity present on the balance sheet. It is an indicator of the management's capital-allocation skills. Ideally, investors would want to invest in businesses that consistently increase their net profit on an ever-increasing base of equity.
The ROE criterion that we used is given below.
How we arrived at the excellent companies
In order to arrive at the list of our 92 excellent companies, we applied the following filters and criteria.
Time test (2,178 companies)
To make our analysis time-tested, we looked for companies having a longterm track record of over 20 years. This automatically weeded out the companies which failed the test of time. Conducting such a long-term analysis also helped us incorporate in our analysis important events such as the dot-com bubble in the early 2000s, the subprime crisis in 2008, the European debt crisis in 2012, and recent events like demonetisation in 2016 and GST implementation in 2017.
Consistency (105 companies)
Apart from the time test, we also tested the ability of companies to generate consistent returns on equity. Out of the last 20 years, we ensured that the selected companies have generated a return on equity of more than 15 per cent in at least 16 years (80 per cent of the time). We provided a relaxation of four years to incorporate cyclicality and other miscellaneous events like market bubbles, economic slowdown, etc.
Market cap (92 companies)
We also removed companies which have a market cap of less than Rs 500 crore. Companies which have remained small even after posting good financial performance may not have a scalable business or may have niche products with a limited market size.
Return measurement and categorisation
In order to categorise the 92 companies based on return similarities between them, we compared their five-year rolling returns with those of the Sensex. Here are the two categories discussed in this analysis:
Beating the market at least 95 per cent of times
Beating the market 75-95 percent of the times
The rolling returns have been calculated on a monthly basis. The highest trading price of the month has been taken as the starting point of the rolling returns. The lowest trading price of the month five years hence has been taken as the culminating point of a fiveyear bucket. This makes our approach conservative and hence more robust. For instance, if an investor bought a stock at the highest point of January 2000, the returns would be calculated based on the lowest trading price in January 2005.
Here are some insights into each category.
Beating the market at least 95 per cent of the times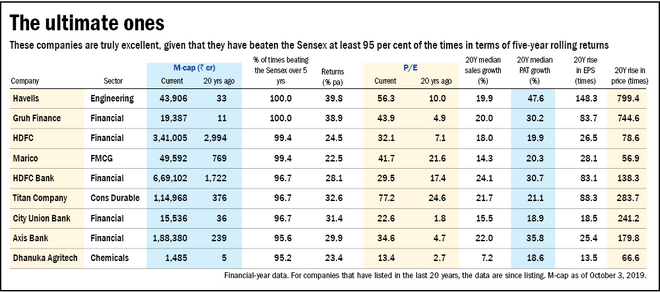 This ultimate set of companies managed to beat the five-year Sensex rolling returns more than 95 per cent of the times (see the table 'The ultimate ones'). More clearly, if you invested in any of these stocks in any given month over the last 20 years, even at their highest monthly trading prices, and thereafter sold them after five years at their lowest monthly prices, you would still be able to beat the Sensex at least 95 per cent of the times.
While analysing the distinctive factors of these companies, we found that they have a lethal combination of lower valuations, higher earnings growth and small size.
The effect of size: Twenty years ago, all the companies except for one in the table 'The ultimate ones' were small or mid cap. In fact, seven out of the nine companies were trading at a market cap of less than Rs 500 crore. Gruh Finance, one of the biggest wealth creators in the last 20 years, multiplied its market cap by 1,800 times, from Rs 11 crore in 2000 to Rs 19,387 crore.
Buy cheap, sell expensive: Buying a stock when it's not very expensive provides a margin of safety to the investor. Pricey valuations even for a marvellous business may ultimately result in subnormal returns. The set of top performers testifies to the fact as the median P/E for these companies stood at seven times 20 years ago. For example, the P/E of Dhanuka Agritech was just 2.7 times.
Return led by growth: The market may favour a stock by giving it higher valuations on various factors. However, in the long run, it is solely the earnings growth that determines returns. The median profit growth of top companies stood at an incredible 21 per cent. In fact, for a company like Havells, a major portion of its return came from its earnings getting multiplied by 148 times in the last 20 years, while its P/E getting re-rated by only 5.6 times.
Visionary promoters: Surprisingly, all our top companies were domestic companies led by Indian promoters/management. For example, Havells, led by its visionary promoter Qimat Rai Gupta, had a knack of acquiring a loss-making company and then turning it around. This is true as local businesses, although sometimes lacking capital, are better able to understand the complexities of domestic business and customers.
Focus on quality and not only quantity: In 1996, HDFC Bank was trading at a price-to-book of roughly 3.5 times, which was a pricey valuation during that time. At that time, Radhakishan Damani, one of India's ace investors and now the promoter of Avenue Supermart, was accumulating the stock. When a prominent player inthe market asked him why he was buying HDFC Bank when there were so many other options available at cheaper valuations, his reply was: "You can't stay on Peddar Road (one of Mumbai's most expensive areas) at Dharavi's (Mumbai's biggest slum) rates." He meant that quality stocks rarely trade cheap but would still give decent returns, which has the case with HDFC bank.
Beating the market 75-95 per cent of the times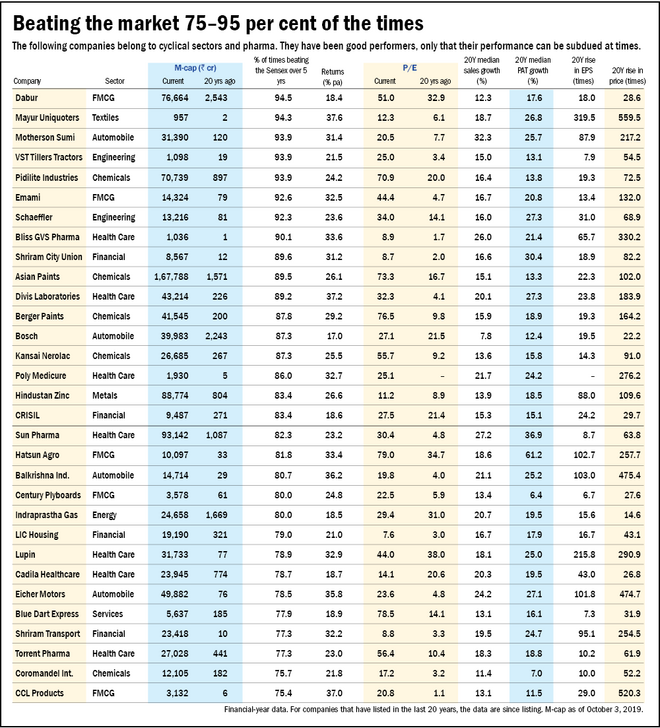 Next, we incorporated another set of excellent companies that beat the market more than 75 per cent of the times (see the table 'Beating the market 75-95 per cent of the times'). This list majorly comprised companies belonging tosectors like automobile, chemicals, FMCG and healthcare/pharma.
High returns but cyclical in nature: Companies operating in cyclical industries like automobiles and chemicals made a cut to this list. These companies have generated above-average returns for their investors but their returns witnessed more volatility because of their high dependence on economic and commodity cycles. Owing to natural slowdowns or commodity-price risk, they were not able to outperform the Sensex in some cases. However, their ability to weather downturns and generate sustainable returns remains unquestionable.
Pharma - Running into problems: The pharma sector witnessed its golden days in the mid-2000s with the entry into the US generic markets, thereby making investors rich with rapid growth in sales and profitability. However, recently, in the past few years, the law of averages has proved right once again as the US markets are getting fiercely competitive, with a pricing war kicking in and the USFDA (the US drugs regulator) putting restrictions on some of the major facilities of Indian pharma companies. The recent struggle, in turn, degraded their returns and made them underperform the market. Otherwise, they were consistent outperformers for long.