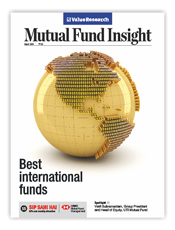 There are few types of mutual funds that are simultaneously so useful as well as so ignored by investors as international funds. With the tax disadvantage of these funds over domestic funds gone, it's time to fix this gap.
Read the cover story of the March 2019 issue of Mutual Fund Insight, Best International Funds, learn all about international funds and choose the ones that are best suited to you.
Of course, that's not all, just like every issue of Mutual Fund Insight, we have columns, interviews, news, data on all mutual funds, and your favourite, real-life investment success stories of Mutual Fund Insight readers.
Click here to buy a digital subscription (downloadable PDF + online reader) and start reading instantly. You can also pay extra and receive a printed version.