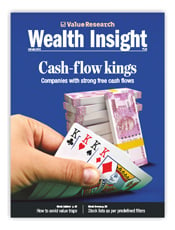 As investors, we pay too much attention to profits and too little to Free Cash Flow. Yet, FCF is a much sharper measure of a business' operational and financial health.
Read our deep dive into Free Cash Flows with the cover story of the February 2019 issue of Wealth Insight, 'Cash-Flow Kings '. Read all about using this parameter and our selection of cash-flow rich companies from differemt sectors across the Indian economy.
Of course, like every issue of Wealth Insight, we have columns, interviews, news to keep you updated, and a set of exclusive Stock Screens to help you find and track the investments that will generate the best returns!
Click here to buy a digital subscription (downloadable PDF + online reader) and start reading instantly. You can also pay extra and receive a printed version.