Value Research Stock Advisor has just released a new stock recommendation. You can click here to learn more about this premium service, and get immediate access to the live recommendations, plus new ones as soon as they are issued.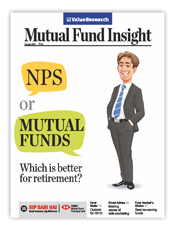 The new tax rules have made NPS withdrawals upon retirement tax-free. Does this make the National Pension System a better deal for retirement savings than mutual funds?
Read the cover story of the February 2019 issue of Mutual Fund Insight, NPS or Mutual Funds, to understand the ins and outs of the issue before you decide on this crucial question.
Of course, that's not all, just like every issue of Mutual Fund Insight, we have columns, interviews, news, data on all mutual funds, and your favourite, real-life investment success stories of Mutual Fund Insight readers.
Click here to buy a digital subscription (downloadable PDF + online reader) and start reading instantly. You can also pay extra and receive a printed version.