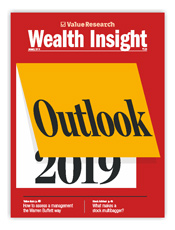 Greetings for a very happy and prosperous 2019. Will the coming be a happy one for investors? Read the new Wealth Insight to find what the answer is.
The cover story of the January 2019 issue of Wealth Insight is Outlook 2019, our analysis of what you can expect in 2019 as far as your equity investments are concerned, and what you can do to guard against the coming storm.
Apart from the cover story, like every other issue, we also have columns, interviews, news to keep you updated, and a set of exclusive Stock Screens to help you find and track the investments that will generate the best returns!
Click here to buy a digital subscription (downloadable PDF + online reader) and start reading instantly. You can also pay extra and receive a printed version.