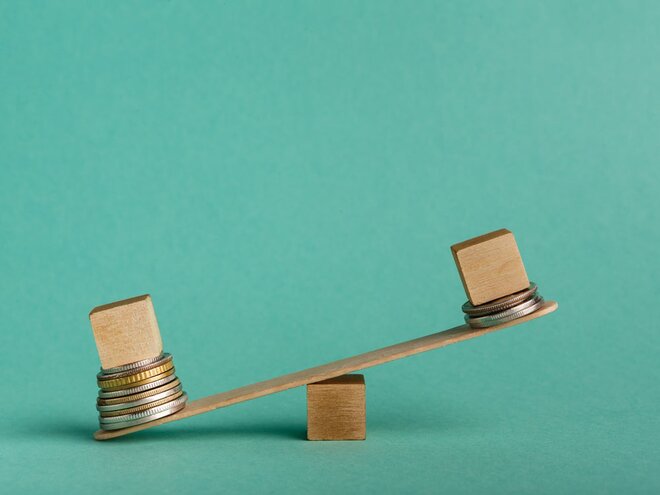 Sanjay (45) works as a project manager with an IT company and earns Rs 1.2 lakh per month. He lives in his own house with his parents who are financially independent, while his wife (41) is a homemaker. Sanjay has investments in fixed deposits, post-office monthly income scheme (POMIS), endowment insurance plans and mutual funds. His only major goal is to accumulate a sufficient corpus for his post-retirement years. Here is a financial plan for him.
Emergency fund
Maintaining an emergency fund equivalent to at least six months of expenses is a must. It acts as a cushion during difficult times and prevents your finances from getting derailed if some unforeseen, unavoidable expense occurs. Sanjay's monthly expenditure is Rs 51,000. And so he should maintain an emergency corpus of at least Rs 3 lakh. It should be kept in a combination of sweep-in fixed deposits and liquid funds. This will help him earn a higher return without compromising on liquidity. He can use a part of the money parked in his fixed deposits to create this emergency fund.
Action: Maintain an emergency corpus of Rs 3 lakh.
Health insurance
For health insurance, Sanjay depends solely on a Rs 14 lakh health cover provided by his employer, which also covers his wife and parents. The health plan provided by your employer ceases to exist when you switch jobs. It doesn't cover you or your family during the job-transition phase either. Moreover, there is no guarantee that a new employer would provide the same benefits.
Hence Sanjay should buy a separate health cover of Rs 3-5 lakh, covering him and his wife. A Rs 5 lakh cover would cost him around Rs 14,000-16,000 per annum. He should also buy a senior-citizen health-insurance plan for his parents.
Action: Buy health covers separate from the one provided by your employer.
Life insurance
Sanjay has three endowment policies from LIC. One is due to mature in few months and the other two will mature in 2023 and 2031. He estimates that the policy due in 2031 would fetch him around Rs 24 lakh, along with bonus. For the other two, he estimates the maturity amount to be Rs 1 lakh each. Sanjay bought these policies as investments.
It is never a good idea to buy insurance products with the intention of making an investment. Hybrid products like endowment plans, which are a mix of life insurance and investment, have a high cost and inadequate protection. They are not good as an investment either as they yield low returns.
Sanjay should consider surrendering his endowment policies and investing the proceeds in mutual funds for better returns. On a conservative basis, annualised long-term returns from equity funds stand at around 12 per cent. For the policy maturing in few months, surrender charges could be pretty high and surrendering it may not be beneficial.
Since his wife is financially dependent on him, Sanjay must buy a life cover. It should be a term plan with at least Rs 50 lakh as the sum assured. Unlike endowment plans, pure term plans come with only a death benefit. There is no survival benefit. Hence, they are cheaper. A term plan with a Rs 50 lakh cover should cost Sanjay around Rs 9,000-11,000 per annum.
Action: Consider moving your investment from endowment plans to mutual funds.
Retirement
Assuming an inflation rate of 8 per cent, Sanjay's monthly expenditure would swell to Rs 1.62 lakh by the time he retires in 2033. Assuming the same rate of inflation and a return of 9 per cent in his post-retirement years, he would need a corpus of Rs 4.96 crore to maintain the same lifestyle. Building a retirement corpus of Rs 4.96 crore should not be a problem for Sanjay, provided he makes the necessary changes to his financial plan.
First of all, he should move his money from fixed deposits (Rs 36 lakh) to equity funds. Fixed deposits yield low returns and are not tax efficient. Similarly, he should move his money from POMIS (Rs 3.5 lakh) to equity funds. There is no point in parking such a huge amount in fixed income when you will need it only after 15 years. Equity will help him earn higher returns over the long term.
But Sanjay should not invest the whole amount as a lump sum in equity funds. Instead it should be invested in a systematic manner through a systematic transfer plan (STP) over a period of two to three years. Investing systematically helps in reducing the risk of catching a market high. When you do an STP, both the source fund (a short-duration fund) and the target fund (an equity fund) should be from the same fund house.
Also, Sanjay has recently started investing Rs 32,000 every month in equity funds. He should increase this contribution by 10 per cent yearly. Taking these steps and assuming a 12 per cent return on equity funds, Sanjay can accumulate Rs 4.48 crore for his retirement. The balance should be easily manageable with his mandatory EPF contribution. Alternatively, he may start an additional SIP of Rs 6,500 in equity funds and increase it by 10 per cent yearly. Sanjay has a sufficient monthly surplus to start the additional SIP.
Action: Gradually move your money from fixed deposits to equity mutual funds.
Funds
Sanjay's mutual fund portfolio consists of five equity schemes, including a tax saver. All his funds are high-quality funds but he has chosen mostly large-cap funds. Since his retirement is 15 years away, investing in flexi-cap funds would be more beneficial. These funds invest in stocks of all sizes and hence can benefit from whichever market segment is doing well. On the other hand, large-cap schemes have to mandatorily invest at least 80 per cent in large-cap stocks.
Action: Invest in flexi-cap funds.
Keep in mind
1. Always maintain an emergency corpus, which should be equal to at least six months' expenditure.
2. Don't mix insurance and investment.
3. For life insurance, term plans are the best as they provide adequate insurance at a low cost. Avoid endowment and unit-linked plans.
4. Even if you have employer-provided health cover, buy an individual cover as well.
5. For long-term investments, go for equity. Investing in fixed income for the long term can seriously compromise your returns.
6. Don't invest a lump sum in equity. Instead, opt for STPs and transfer the lump sum over a period of time. The duration of your STP should be determined by how crucial the amount to be transferred is. But it shouldn't exceed three years.
7. In equity funds, flexi-cap funds are the best option as they can invest across all market caps and hence benefit from companies of all sizes.