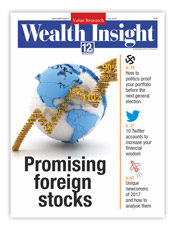 Investing in foreign stocks is one of the biggest opportunities that Indian investors miss. In our >Bumper 12th Anniversary Issue, read about 10 foreign stocks that you should buy, plus how to buy them.
For our anniversary issue, we have not just one cover story, but a package of four special cover stories:
Promising Foreign Stocks: It's high time that Indians started buying foreign equity as a matter of routine. Our team presents the stocks you could buy, plus how to do it, as well as the tax implications
10 Twitter accounts that will make you money wise: There's a lot of investing wisdom on Twitter but there's a lot of junk too. We've sifted through the pile and selected the best ones for you
How to politics-proof your portfolio before the next general election: With Lok Sabha elections scheduled for the next year, here is some advice from mutual fund CIOs and equity heads to deal with the volatility that will surely precede them
Unique newcomers of 2017 and how to analyse them: Their business models and how to analyse them
Value Research Stock Advisor: A journey well-begun, an introduction to our stock recommendation service
But of course, that's not all. Like every month, there's a lot more in this issue that will help your investments
First Page: Dhirendra Kumar discusses how the pace of change looks overwhelming for equity investors but there's still a way out
Interview: Neelesh Surana, CIO - Equity, Mirae Asset, says that 'Value should be hunted in growth- oriented businesses'
Market Compass:

Index Watch: The ten-year trail
Top 10 Large-cap Wealth Creators

Straight Talk: Anand Tandon worries about the state of oil investing
Of this and that: Sanjeev Pandiya talks about the ego of groups. Just like an individual's ego tries to preserve the individual, the collective ego has the group's preservation as its goal
Click here to buy a digital subscription (downloadable PDF + online reader) and start reading instantly. You can also pay extra and receive a printed version.