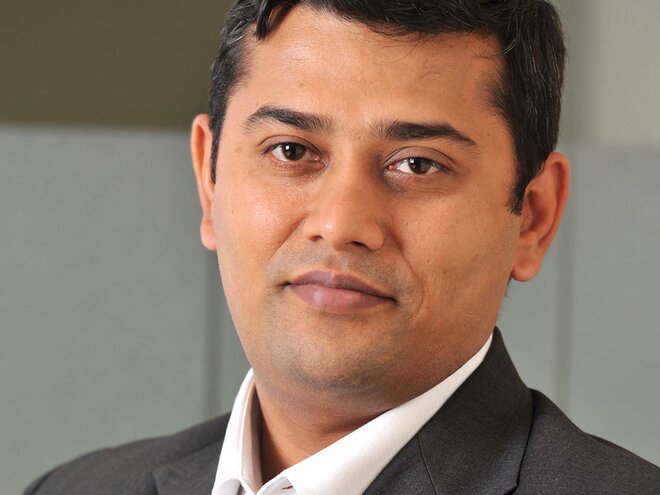 Hailing from the Gujarati community, Jinesh Gopani was brought up in an environment where 'stocks', 'markets' and 'profit' were common words. However, asset management is not about trading, it's about investing and holding stocks for the long haul, says the head of equity and fund manager of Axis Mutual Fund. Extremely quality conscious and a stickler for growth-at-reasonable-price investment philosophy, Gopani, in an interview with Kumar Shankar Roy shares why he picks stocks with a beta less than that of the market, how even a company that goes into BIFR can be a multi-bagger and why PSU banks have never been a good fit for his portfolios.
Since January 31, we have seen a small correction in the market. Have you aggressively bought stocks in the ensuing phase?
Frankly speaking, we are sitting on the sidelines. We feel the volatility is still high even now. There is too much news flow. We don't like a volatile market because too much of it is not good for the investor. We are sitting on 5 to 6 per cent cash and whatever new money is coming, we are investing it judiciously. We are not going all out.
Many investment managers have had exposure to PSU banking stocks, which have really dragged portfolios of late. Did you buy them?
PSU banks never fit into our criteria, barring one large bank. We look for strong management but in PSU banks, the management changes every three years. The second concern is governance. We have already seen the PNB fraud. We had never expected this type of fraud to occur. Thirdly, the return ratios of PSU banks show that it is becoming more and more tough for them to go beyond single digit RoE. If the cost of capital is 12 to 13 per cent and the RoE is 10 per cent, then you are actually losing money. Economic value gets eroded. Hence, most PSU banks never fit into our stock universe. We have stayed away from them and concentrated more on private sector banks.
PSU bank stocks are totally out of favour right now. But are there any sectors in the market that may be out of favour now but can be good contrarian plays?
Large-cap IT could be one. Growth is coming back and the management commentary seems incrementally positive. Large-cap IT is not very contrarian but has shades of contra.
Are corporate India's earnings reviving finally? Analysts are saying that the December-quarter results have shown green shoots.
We should understand that the December quarter in 2017 is compared with the demonetisation-affected quarter in 2016. The base was very low in the December 2016 quarter. Hence, the December 2017 quarter looks optically good. Having said all that, it is still better than the previous quarter. I would not say that it was very good for all companies. The March 2018 quarter will be an important one to watch out. Some companies are saying that sales did not come due to GST and some are saying they witnessed a sales spike due to GST. So, you need a stable environment to see what is really happening.
How would you describe your investment style?
It would be close to GARP, i.e., growth at a reasonable price. Valuation depends on how you value a company and what the tenure of your investment is. Our job is to identify great growth stories, and we do not mind paying a little more for them in the near term. If we believe that the stock can be a good compounding machine for five plus years, we don't mind if it is a little expensive at present.
How do you value a stock?
The ideal way to understand growth is in terms of turnover, profitability and return on equity. Ultimately, your current valuation is important. For example, if a company is growing at 20 per cent, can it grow at 30 per cent? Is there a market for it to grow at 30 per cent? If the company is delivering an RoE of 20 per cent and is available at 20 times earnings, then we have to ascribe a higher value to the growth. Price to earnings (P/E) and price to earnings to growth (PEG) are decent metrics. However, if the PEG exceeds a certain level, then we like to trim the stock in our portfolio.
How do you arrive at your investment universe?
For our core portfolio, which forms 80 to 90 per cent of our mutual fund schemes, our universe is around 300 to 350 stocks. The philosophy from day one has been to have a qualitative approach towards investing. A company's quality, management, governance, growth record and potential, business model and how secular the sector of the company is, return ratios as well as cash flow are studied. When we do screening based on these parameters, we arrive at our stock universe.
How is your investment philosophy different from others?
From my philosophy point of view, I like to buy quality businesses which are leaders in their space. They should also have a relatively better pricing power. The business should have the ability to generate strong cash flows now or after some years. Our forte has been to buy such companies and stay with them. So, we buy with an investment horizon of three to five years. We are conscious of not having 100 companies in our portfolios. So, we like to restrict ourselves to 30 to 35 stocks at best, which form the core portfolio of our schemes.
You look at a lot of data and qualitative factors as well. How do you strike a balance between the two?
When we run the screener, we find a lot of companies with hunger for growth. Good companies will always go for profitable and sustainable growth. They also know that ultimately they have to create wealth for themselves and their shareholders. Companies grow because of the opportunity in their sectors and GDP growth. Sectors like private banks, select NBFCs, consumption oriented firms, auto etc., are good proxies for GDP growth. You have to be with such stories for a longer period of time to reap the rewards.
In your funds, does stock weight take precedence over stock selection?
India has become an over researched market. Money is with everyone. The question really is how long you can hold onto a stock and how much conviction you have with that name from a portfolio perspective. If you distribute your money equally in stocks, it will not add up to a lot. But if I limit myself to 15 to 20 stocks and devote resources to stories I have more conviction about and if I am right in my assessment, then the gains will be strongly reflected. That is where the differential in terms of performance will appear going forward. Our simple thesis is that if you avoid bad stories, good stories will make money for you. It is more like driving your car at 60 km/hour and avoiding accidents. You will still reach your destination.
Will you shed light on your notable investment successes?
I will give you examples in the small, mid and large-cap space.
In the small-cap space, there was a Rs 700 crore market-cap firm in the consumer-durables segment. It had an impeccable management. Unfortunately, the company went into BIFR (Board for Industrial and Financial Reconstruction) for some reason. It took 10 years for the company to come out of BIFR. The good thing was that the company did not take any loan and tried to manage the situation from internal accruals. When it came out of BIFR, the market cap went from Rs 100 crore to Rs 700 crore and that is where we entered. We really liked its story. Today, the company boasts of a Rs 10,000 crore to Rs12,000 crore market-cap. It has been delivering average 25 per cent growth in both top line and bottom line and an extremely good RoE (70 per cent).
Another investment success was a two-wheeler company that we spotted. It had a market-cap of $1.5 billion when we invested in it in 2010. Today, the stock has a market value of $13 billion to $14 billion. We still own it in our portfolio. The company's brand name is so strong that the resale value of the product is also high. The brand name has helped the company boost its bike production from 5,000 a month to 80,000 a month. This is phenomenal. Luckily, the brand clicked very well with the young population. Because India is a young country, there is a lot of scope for this type of company to grow even further at 15 to 20 per cent.
On the large-cap side, two companies come to my mind. There are two private-sector retail banks. They have compounded at 20 to 25 per cent rate for the last eight and a half years. They continue to deliver and navigate the bad asset phase very well. Another great company, which our team had spotted, is a consumer durable focused NBFC. We bought that company when its market-cap was Rs 4,000 to Rs 5,000 crore and now it is almost around Rs 90,000 crore. Still, it is going very strong and it is one of the largest holdings in our portfolios.
What are the key lessons that you have learned in your career?
When I was on the sell side, I met with many fund managers. This gave me access to how they work. It was a great learning experience.
Over the last 15 to 16 years, one thing I have learnt is that it is only in the long-term that you create wealth for your investors. Long-term wealth is created only if you invest in quality companies, which try to grow year after year and get their businesses strategy right, without making any big mistake.
All these lessons helped me to understand that our view should be long term, instead of the short-term quarterly perspectives that many have. So, when I moved to the buy side, I started picking and choosing only a few investment stories, rather than trying to look at more. There is no point in looking at all the 3000 odd stocks that are listed. The investible universe is much smaller, 300 to 350 high quality stocks. We have established good relationships with the luminaries of these industries and we continue to learn a lot from them. At the end of the day, this helps you a lot and separates the men from the boys!
What about investment mistakes?
We have made some mistakes but we discovered them very fast. As a result, we exited them very quickly. Some EPC (engineering-procurement-construction) companies and restaurant firms are among them. We thought they had scalable businesses but they did not do well. In the asset management space, if your success ratio is 70 per cent, then you are in the game.