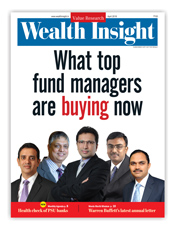 Stock investors love to find out what other investors are buying and selling while keeping their own moves secret.
So when those other investors are some of the biggest and most successful in the country, then it's not just exciting but also a great way of understanding the markets and enhancing your own returns. The cover story of the April 2018 issue of Wealth Insight is'What top fund managers are buying now', a unique analysis of the actual investments of what the biggest, most successful mutual funds and their fund managers are investing in.
Of course, like every month, there's a lot more in this issue that will help your investments.
First Page: Dhirendra Kumar shows how the old definitions of value investing need to be updated to today's markets
Special: Warren Buffett's latest letter to investors: Choice excerpts that you shouldn't miss
Interview: Jinesh Gopani, Head - Equity, Axis Mutual Fund: "PSU banks never fit into our criteria"
Market Compass:

The Pledging Tracker: Companies where pledged shares of promoters have risen or fallen the most
Crashing Big Time: Stocks that have crashed the most in the recent bear phase
Big Moves: In Small Cap Stocks
Index Watch: NSE PSU Bank

Straight Talk: Anand Tandon observes the alarm around the looming global trade war and gives us a refresher course in classical economics
Sanjeev Pandiya is a sceptic on 'shamonomics'. Read why over-reliance on macroeconomics is risky
Vis-a-vis: Bajaj Auto vs Eicher Motors
Analyst's Diary:

Slow and steady wins the race: Companies that have returned your full invested capital by way of dividends and earnings
On your mark, get set, invest: Here are some companies which are currently overvalued but worthy of investment at lower prices
Capping the capex: Here are some manufacturing companies that are growing without spending on new equipment and land
Making sense of IT companies: Industry-specific terminology that you need to know to analyse IT companies

Companies with moats: Our watchlist of companies that, being near-monopolies, have high chances of delivering consistent returns
Stock Screen: Read about these investment ideas that you can use now:

Quality stocks available cheap
Attractive blue chips
High dividend-yield stocks
Discount to book value
Reasonably priced growth stocks

Stock Analyst's Choice: Our regular scorecard of the stocks we've recommended since 2011 and their performance.
Click here to buy a digital subscription (downloadable PDF + online reader) and start reading instantly. You can also pay extra and receive a printed version.