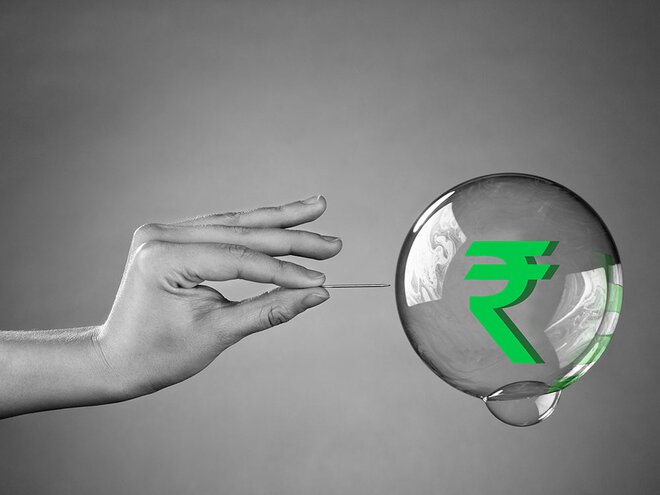 As in finding undervalued stocks, it is equally important to identify stocks that are overvalued. In the markets today, you can find hundreds of stocks that are currently trading far ahead of their underlying business fundamentals. A large number of these stocks have reported losses in the past couple of years; some have even reported cumulative net losses in the last decade but are still in high demand. Our objective is to call out all such stocks.
With this purpose in mind, we looked at companies that have reported cumulative losses in the last 10 years but the market-cap has not seen a commensurate fall. Additionally, we applied the following filters:
Market-cap should be more than Rs 50 crore.
The company should have reported a net loss in the last financial year.
As you can see in the table, many of these companies have negative average ROE and are financially unstable as per their Altman Z-Score, which measures how solvent a company is.
For instance, making the list is tile manufacturer Nitco, which saw a cumulative loss of Rs 620 crore in the last 10 years, while its market-cap fell by Rs 233 crore during this period. Nitco incurred a loss of Rs 32 crore in the last financial year and has a Z-Score of 0.18 - dangerously low by any standards.
Also making the cut is public sector firm State Trading Corporation, which imports commodities. STC reported cumulative losses of Rs 2,744 crore in the last 10 years while its market-cap has fallen by Rs 1,627 crore during this period. It incurred losses in the last financial year and is financially unstable.
The list, acts as a ready reference of companies that you should stay away from.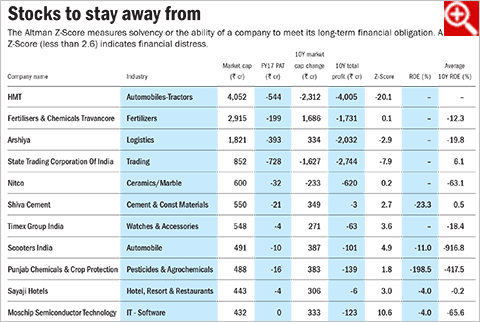 This story was originally published in the March 2018 issue of Wealth Insight.