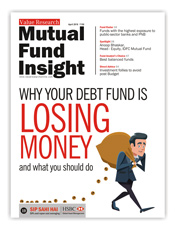 In recent times, while all the attention about shaky returns has gone to equity funds, it's debt funds investors who have had the bigger surprise. After all, equity investors expect, or should expect, the occasional shock. However, debt fund investors generally expect a smooth journey to peredictable returns.
In 'Why your debt fund is losing money and what you should do', the cover story of the April 2018 issue of Mutual Fund Insight, read all about everything that has been worrying the debt investor.
Of course, that's not all in the issue--there's a lot more that will help you become a more successful mutual fund investor
First Page: Dhirendra Kumar discusses common assumptions about risk and volatility that equity and debt funds expose you to
Spotlight: Anoop Bhaskar, Chief Investment Officer of IDFC Mutual Fund, describes on how he put the AMC's equity funds on the high performance track
Back to Basics: Why diamonds--and the alternative investment funds based on them--can never be profitable investments
Fund Reporter: All the fund news of the month
Value Research Online: Budget 2018 reintroduced capital gains tax on long term equity investments, along with a somewhat complex grandfathering exemption of investments made before the budget was presented. However, for those who are tracking their portfolios on our free portfolio manager, the tax calculations are simple. Read how to use this great new feature.
Category Watch: Hybrid Equity-Oriented Funds (balanced funds) are the most appropriate for most beginner investors, and many advanced ones too. Here's a thorough introduction to the category and how you you can use these funds.
Fund Analyst Choice: Seven Hybrid Equity-Oriented Funds chosen by our analysts
Top-Rated Funds: Funds that are rated five star by us
The Plan: 33-year old Rajat and his wife are well-placed for now, but need to replan their investments to meet their goals.
Ask Value Research: Our team answers savings and investment queries from readers
Direct Advice: Aarati Krishnan points out that making year-to-year changes to one's investments in response to the Union Budget is not a great idea
Of This & That: Sanjeev Pandiya explains that the huge amount of carry-trade money sitting in the Indian financial system makes it fragile
How I did it: S Ramjee, who has a banking background, began investing in mutual funds when the industry had just started. It's been a very profitable journey for him.
Scoreboard: India's most comprehensive mutual fund scorecard. Key performance numbers and investment details for each fund
The issue is now on news stands. You can also subscribe to the printed version, or buy a digital subscription (PDF + online reader) instantly.