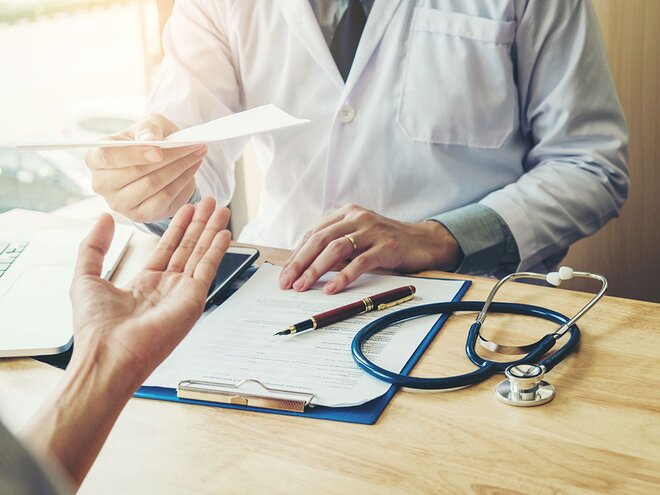 Note: This article has no recommendation to either buy or avoid this IPO. Instead, we have presented all the relevant information based on which you can make your own decision.
About the company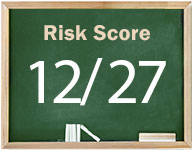 Aster DM Healthcare runs hospitals, retail pharmacies and clinics. Hospitals usually provide four types of services: primary, secondary, tertiary and quaternary. Primary and secondary services are basic healthcare services, whereas tertiary and quaternary are advanced services, with the latter being a premium service. Aster, through its network of hospitals, mostly provides secondary and tertiary healthcare services.
Aster DM Healthcare was founded and promoted by Dr Azad Moopen as a single doctor clinic in 1987. It is a leading healthcare provider with its 19 hospitals, 98 clinics and 206 retail pharmacies as on September 30, 2017. Hospitals accounts for 49 per cent of revenue, followed by clinics accounting for 26 per and retail pharmacies accounting for 25 per cent. Region-wise, Gulf countries contributed 81 percent to its revenues, while the Indian operations made up the remaining 19 per cent.
Concerns
Aster's operations in the UAE have been overly dependent on government authorities and formed 56 per cent of the total trade receivables outstanding (as on March 31, 2016).
In FY17, the company wrote off part of its receivables by entering into a one-time settlement with the authorities, which resulted in a Rs 180 crore loss. Over the past three years, it has made provisions on a part of receivables totalling Rs 502 crore. Though the company has reduced its reliance on government departments in FY17, this issue in recoverability of receivables has led to downgrading of its ratings of bank facilities.
The company also relies on insurance companies for the bulk of its revenues. For the six months ending September 30, 2017, the insurance companies contributed 51 per cent to its revenues. The company gets the bulk of its customers from partnerships with insurance companies, which makes it vulnerable to pricing pressure if the insurance companies also faces the same. It also operates through a complex corporate structure, with its international operations being carried of by a Mauritius-based company. Any change in the laws related to the foreign ownership of assets in Arab and Gulf countries may impact Aster's operations adversely.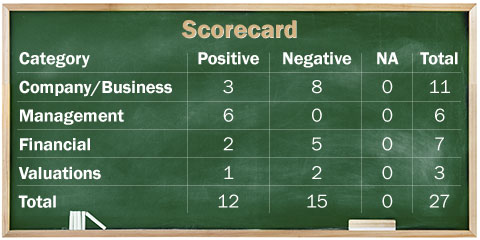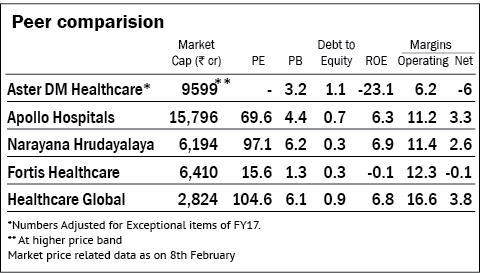 Where is the money going?
Fresh issue: Rs 725 crore
Towards payment of debt: Rs 564 crore
Purchase of medical equipment: Rs 110 crore
General corporate purposes: Rs 51 crore
Offer for sale: Rs 255 crore
Additional details
Offer period: February 12-15
Price band: Rs 190-180 per share
Revenue (FY17): Rs 5,932 crore
Adjusted Profit after tax (FY17): Rs (307) crore
Post-IPO valuation: Rs 9,599-9,094 crore
Post-IPO, effective promoter holding will fall from 37% currently to 32%.
Company/Business
1. Are the company's earnings before tax more than Rs 50 crore in the last 12 months?
No, the company suffered a loss before tax of Rs 307 crore in FY17.
2. Will the company be able to scale up its business?
Yes, the government of Dubai has made health insurance compulsory, which will benefit the company as more customers would look for quality healthcare services. Also, the emergence of medical tourism to India will benefit the Indian healthcare industry as a whole, and the company plans to capture this opportunity by setting up hospitals here.
3. Does the company have recognisable brand/s truly valued by its customers?
No, since the company is mainly present in Arab and Gulf countries and has concentrated presence in southern India, its brand is not much visible elsewhere.
4. Does the company have high repeat customer usage?
Yes, the cardiac and neurological services it provides warrants regular customer appointments which leads to repeat customer usage of its services.
5. Does the company have a credible moat?
No, the company operates in a price-sensitive environment with many private and public players. Also, the various government incentives to set up a hospital leads to rising competition.
6. Is the company sufficiently robust to major regulatory or geopolitical risks?
No, the healthcare services form an essential part of government plans and to maintain its affordability, the government continuously regulates it. This involves scrutiny of private hospitals for improper practise on regular basis. Also, any adverse change in the employment of NRIs in Arab countries can affect its international operations adversely.
7. Is the business immune to easy replication by new players?
No, the company provides healthcare services which are dependent on a doctors' skill. It can be replicated by new players (doctors), but in the long run, brand and expertise play a crucial role.
8. Is the company's product able to withstand substitution or outdation risk?
No, the demand for healthcare services will always exist. The differentiating factor for hospitals will be in terms of their service, competence and the choices they provide to consumers.
9. Are the company's customers devoid of significant bargaining power?
No, the customers have a choice to go to cheaper hospitals or government clinics instead of Aster's hospital.
10. Are the company's suppliers devoid of significant bargaining power?
Yes, Aster is not dependent on a particular supplier for medical equipments, which leaves the suppliers with limited or no bargaining power.
11. Is the level of competition the company faces relatively low?
No, the company faces a high level of competition from public and private hospitals, and other clinics.
Management
12. Do any of the founders still hold at least a 5 per cent stake in the company? Or do promoters totally hold more than 25 per cent stake?
Yes, the founder promoter, along with his family, holds 37 per cent share in the company through Union Investment Private Limited. Post issue, their effective holding would be 32 per cent.
13. Do the top three managers have more than 15 years of combined leadership at the company?
Yes, the top managers have a combined experience of more than 15 years.
14. Is the management trustworthy? Is it transparent in its disclosures, which are consistent with SEBI guidelines?
Yes. However in the past, SEBI and RBI have penalised its subsidiary Malabar Institute of Medical Sciences for non-compliance of laws related to issuance and allotment of equity shares and non-disclosure of transfer of shares.
15. Is the company free of litigation in court or with the regulator that casts doubts on the intention of the management?
Yes. However there are three cases related to non-maintenance of proper sales records for which the company has responded with confirmation of irregularities.
16. Is the company's accounting policy stable?
Yes However, in FY15, the auditor has qualified its opinion on some of its subsidiaries accounts for non-maintenance of proper accounting records. Also, some prior period expenses were debited from that year's income statement.
17. Is the company free of promoter pledging of its shares?
Yes, the promoter holding is not pledged.
Financial
18. Did the company generate current and five-year average return on equity of more than 15 per cent and return on capital of more than 18 per cent?
No, its five year average RoE stands at 4.7 per cent, while its average RoCE stands at 11.4 per cent. Its current RoE is a negative 23.1 percent, while ROCE stands at 1.1 per cent.
19. Was the company's operating cash flow positive during the previous year and at least four out of the last five years?
Yes, the company's operating cash flows were positive in all five years.
20. Did the company increase its revenue by 10 per cent CAGR in the last four years?
Yes, its revenues increased by a CAGR of 33 per cent in the last four four years.
21. Is the company's net debt-to-equity ratio less than one or is its interest coverage ratio more than two?
No, its net debt-to-equity stands at 1.3 as on September 30, 2017. Its interest coverage stands at 0.3.
22. Is the company free from reliance on huge working capital for its day to day affairs?
No, the dependence on insurance companies for customers and keeping inventories for its pharmacy stores will make the company invest in working capital all the time.
23. Can the company run its business without relying on external funding in the next three years?
No, the company plans to increase its presence in India by establishing hospitals, which would warrant need of external funding.
24. Have the company's short-term borrowings remained stable or declined (not increased by greater than 15 per cent)?
No, its short-term borrowings increased by 42 per cent in FY17 and 102 per cent in FY16. As on September 30, 2017, it stood at Rs 721 crore.
Stock/Valuation
25. Does the stock offer operating earnings yield of more than 8 per cent on its enterprise value?
No, the operating yield of the company is just 0.4 per cent on post-IPO fully diluted basis.
26. Is the stock's price-to-earnings less than its peers' median level?
No, for the six months ending September 2017 as well as FY17, the company had negative profits after taxes. Median PE of its peers stood at 83.3 on TTM basis.
27. Is the stock's price-to-book value less than its peers' average level?
Yes. its post-IPO fully diluted price-to-book stands at 3.2 times in comparison to its peers' median of 4.5 times.