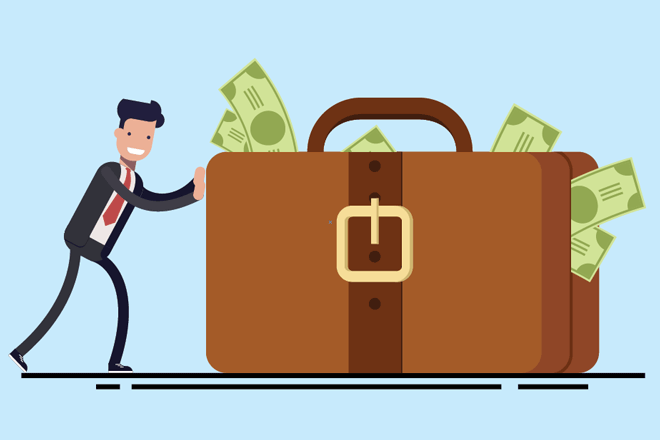 One of the easiest ways to reduce risk when the stock market appears too hot to handle is to simply book profits on your stocks and sit on cash instead (you needn't head for your mattress, you can move the money into liquid funds). But this is easier said than done because you have to answer two questions first: when to take this cash call and how much of your portfolio to move into cash.
A few equity funds in India have a built-in mandate to take cash calls in their portfolio. Schemes with this mandate usually cap their cash/cash equivalents at 30 to 35 per cent. Studying the cash levels at equity funds in the Value Research database, we find that funds that have this mandate have raised their cash positions in the last one year.
For instance, Edelweiss Equity Opportunities Fund, which can invest up to 35 per cent in cash/debt, has steadily raised its cash position from 3 per cent in September 2016 to 11 per cent by March 2017 and further to 16 per cent by September 2017. Invesco India Dynamic Equity Fund saw its cash levels dip from 26 per cent in September 2016 to 16 per cent in March 2017, only to climb back to 34 per cent by September 2017. Quantum Long Term Equity Fund has seen its cash levels rise from 13 per cent in September 2016 to 21 per cent in September 2017.
While these funds have the mandate to raise their cash levels to 30 or 35 per cent of their assets at the most, funds such as the ICICI Prudential Dynamic Plan have the flexibility to go the whole hog - the fund can move from a 100 per cent equity portfolio to a 100 per cent debt/cash portfolio. As of September 2017, the fund had 24 per cent of its assets in cash and equivalents.
So how do these funds decide when to take cash calls? While some funds use a top-down approach, where they go by the market multiple to decide on the timing, others take this call on a stock-specific (bottom-up) basis.
Quantum Long Term Equity Fund, which has been quite successful at smoothing out its long-term returns through cash calls, explains that it takes a valuation-based approach to deciding on cash levels. It cashes out of individual stocks in its portfolio if they hit the sell targets set by its analysts. It doesn't buy new stocks to replace them as long as they trade above its comfort zone on valuations.
Nilesh Shetty, Associate Fund Manager at Quantum AMC explains, "We do not take a valuation call on the market at large, but we take it on the individual stocks that we own. Given the rally, we have found many stocks in our portfolios hitting their sell limits and we have sold them. We are finding ideas tough to come by at valuations that we are comfortable with. For us to buy into a stock, it has to meet our internal bar of a 40 per cent discount to our assessment of its fair value. We look to exit when a stock hits a 10 per cent premium to intrinsic value."
Presently, Nilesh explains, not many stocks in the fund's 180-stock investment universe meet its 'discount to fair value' condition, hence, the high cash level. This strategy, while it sharply reduces the downside in a market fall and also keeps valuation under check, can also mean sitting out of some market rallies.
As Nilesh points out, "Last time in 2014, when we saw the cash levels in our fund breach 30 per cent, it took nearly a year for valuations to correct and for us to find ideas to buy." Quantum says it specifically educates its investors on this aspect when they buy into its funds.
Parag Parikh Long Term Value Fund follows a similar stock-specific approach to taking cash calls. Rajeev Thakkar, its CIO explains, "Currently, we are sitting on about 18 to 19 per cent cash, including arbitrage in our portfolio. When the market moves up, two things happen - inflows start accelerating and you may no longer be comfortable with the valuations of some of your holdings. So, you trim positions. Either you rush out to deploy the resulting cash that comes in or you wait. It is not that we don't find deployment opportunities today, but the entry valuations may not be what we really like. This is how the cash position of 19 per cent has come about."
However, investors should be careful of using cash as a risk-control strategy as it is restricted to a handful of AMCs and equity schemes in India. A majority of AMCs take the view that it is not their mandate to take cash calls on behalf of the investor. Looking at the aggregate numbers for equity funds, we find that the average cash level across schemes has barely changed in the last four years as stock markets have simply zoomed.
The average cash level at large-cap equity funds was 3.8 per cent by September end 2017, barely changed from the 3.9 per cent at the market lows of September 2013. For mid-cap funds, the cash levels were 6.8 per cent in September 2017, again barely changed in four years. Multi-cap funds have held 4 to 5 per cent in cash, with the numbers barely fluctuating with market conditions.
Vetri Subramaniam, Group President and Head of Equity at UTI AMC, clearly articulates the logic for some AMCs remaining fully invested, "Like many other funds, UTI AMC largely plays the role of a manufacturer of mutual funds. We believe that our investors have their asset allocation mapped out either on their own or through a good advisor. We think once the asset allocation is cut and dried, it is not for us to then take cash calls within the equity allocation that the investor gives us. I also think that, as an AMC, we cannot expect the investor to park all his surpluses with us and, therefore, we cannot take over all his allocation and fund-selection decisions."
As an investor in equity funds, therefore, it is important for you to understand the mandate of the scheme you are invested in. If the fund manager believes in refraining from cash calls, it is up to you to book profits if you're close to your goal or spending sleepless nights worrying about capital losses.