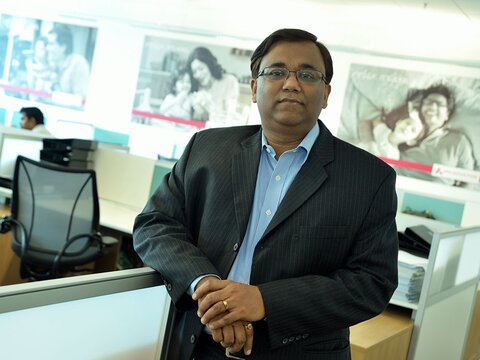 "Just because you want to gamble, the market is not obliged to give you returns." This quote may appear tailor-made for today's markets. But it was used by Chandresh Nigam in 2015, when I first interviewed him as the newly appointed MD & CEO of Axis Mutual Fund. The somewhat dry discipline of risk management is Chandresh's passion. In order to check out his take on navigating this frothy market that I decided to catch up with him again.
I dialled his number feeling a little regretful about scheduling this chat in the post-lunch hour on a sleepy winter afternoon. But Chandresh had me fully awake and struggling to keep up with him within minutes after our conversation kicked off. I started with his favourite subject - keeping risks at bay.
Chandresh had treated me to a long lecture on Axis Mutual Fund's risk-control framework two years ago. But has the fund house made any tweaks to it as markets have soared higher?
Quality bias
No, he says, while the investing process and risk controls remain the same, what Axis Mutual Fund has had to refine is the way it selects stocks. "We are seeing a shortening of business cycles and the greater vulnerability of businesses to disruptors. So we have been focusing even more on quality businesses than before."
How does he define 'quality' here? Pat comes the answer, "By high quality, I mean businesses with sustainable pricing power, engagement with customers and strong brands. We essentially look for businesses that have resilience. When a business is truly resilient, it can acquire or onboard the disruptive technology to improve operations. We are no longer in a scenario where a market leading company can claim that it will stay number one forever, everyone's vulnerable."
Dealing with disruption
Well, many of those disruptions may come from the unlisted space, isn't it? For instance, Maruti may be disrupted by people buying fewer cars as they zip about in Uber or Ola. Banks may be disrupted by Fintech. Renewable energy may disrupt listed thermal power and coal players. How is Axis looking to handle this?
"Absolutely," he agrees. "We have never invested in a thermal power or coal stock because we just don't believe they can create wealth anymore. Cars may be a slightly different proposition because even if people don't own cars, there will still be a number of cars used by the aggregators. The market is also under-penetrated."
On banks and financials, Chandresh believes that some of the leading players of today will actually turn out to be winners from tech disruption. "You see many leading banks working with start-ups are setting up in-house tech labs. It is easy for traditional banks or financial firms to acquire technology, provided they are progressive. But for fintech start-ups, customer acquisition comes at a very high cost. That's why you see some of them burning a hole in their balance sheets trying to acquire customers. Our view is that unless the new technology is so potent that customers migrate wholesale from their existing providers, there's a reasonably good model for well-established financial firms. If they can acquire the technology, it can lead to significant cost synergies and margin gains for them".
In short, for every disruption, there will be both winners and losers in the listed space.
Sticking to its guns
All this talk of quality leads me to my pet subject. Axis Mutual Fund has always been a strong votary of buying high-quality growth businesses. But with the surprise bounce-back from the value pack - metals, commodities and PSU bank stocks - hasn't the fund missed out on opportunities? I recall the underperformance of the flagship fund Axis Long Term Equity in 2016.
Chandresh isn't put off by that one. "We don't see these as missed opportunities. If a stock trading at Rs 100 goes down to Rs 50 and bounces back to Rs 100, it looks like a great return. But at Axis, we are very clear that we're not trying to buy the stock that will go up over the next year. We're trying to buy companies that will create wealth over the next five years."
"We have consciously kept these stocks outside our investment universe, because for the last 10 years or so, these (value/cyclical) stocks haven't generated much wealth. The 10-year data is striking - many high ROE companies have generated a 20 per cent CAGR, while those in the bottom quartile of ROE destroyed wealth."
As I digest this aggressive comeback, he goes on, "Yes, we were tested last year when B2C businesses where we own significant positions took a sharp hit during the demonetisation quarter. But they have made a good comeback. We are sticking to our guns."
Narrowing universe
Noticing my silence, he adds an interesting point, "Globally, market gains are narrowing. In the US, only 12 companies in the S&P 500 have contributed 90 per cent of index gains in recent years. We have found that in India typically only 25 per cent of the businesses earn returns higher than cost of capital. They have created 100 per cent of the market wealth over the long term, while others have destroyed wealth. We believe in the next few years, some companies from the quality segment will also slip and fail to create wealth. We, therefore, believe that the top 25 per cent companies by ROE are the place to be, in the face of disruption, as they will be the ones to survive," he says.
Doesn't this quality bias mean owning some of the most expensive stocks in the market, I provoke? "I see Avenue Supermarts, Gruh Finance and HDFC Bank in your portfolios. These are quite expensive using conventional metrics," I comment.
That draws a short laugh. Cautioning that he cannot comment on specific stocks, he explains, "I like the term conventional metrics. We don't really believe in looking at the current year's P/E to assess if a stock is overvalued. If a business is not going to raise capital in the foreseeable future, if it can continue growing at 20 to 25 per cent, it can remain a good buy being expensive. If we are fairly sure that a company can deliver 20 to 25 per cent growth with healthy ROE, we would rather hold it than a value stock that trades at half the PE without any visibility on ROE."
Idea stocks
As a growth investor, how does Axis stay away from the 'idea stocks' that pop up by the dozens in every bull market? "That's a great question," Chandresh exclaims. "It's true that investment ideas expand or shrink based on markets. In 2001, after the dot-com crash, I was running equity strategies and effectively all institutions used to flock only to 40 to 45 stocks. In 2007, in the bull market, the same institutions were holding 600 odd stocks!"
He explains that Axis Mutual Fund is seen to be a bit slow with acting on ideas because it has a longish process on on-boarding new ideas. "We don't allow analysts to just meet managements and put out buys. The question on sustainability of the business has to be answered," he says.
Deciding that we've gone on for too long on this quality debate, I reel out the question that I've been putting to every fund honcho. How will SEBI's new norms on fund labelling and mergers impact Axis Mutual Fund? Chandresh gives me the briefest and most cheerful answer I've as yet heard on the subject.
"We are not at all affected. In fact, once the new norms come in, we'll have so many product gaps that we may file for some new products!" he says half jokingly.
Now that Axis Long Term Equity is the largest ELSS scheme, managing over Rs 15,000 crore, is size posing a challenge? I ask.
"I wouldn't say that there is no challenge. But there are two features of this fund that help us manage them. One, fund size matters when you want to churn the portfolio often and suffer impact costs. But our churn ratios are quite low, so impact cost isn't very high. Two, ELSS money is available for three years and is retail money. This reduces sudden redemption demands. The product allows the fund manager to take a three to five-year view without worrying about short-term returns."
With mutual fund inflows reaching a tipping point lately, what is Axis Mutual Fund doing to build the capacity to manage more money? "We have added two fund managers. But with a limited range of products, we don't really need to expand the team. I think the bigger issue with the kind of flows we are seeing is that the size of the investible universe in India is still fairly small. The valuation problem is also cropping up because of this limited universe. Between promoters and institutional investors, some 90 per cent of the stock is tied up, so there is very little free float. Luckily this year, foreigners are selling and so we are seeing some buying opportunities. I really think this can be a big problem if we are at a tipping point on financial savings getting into equities."
I heartily agree that there's too much money chasing too few good stocks. He can't resist the temptation to push the quality argument here. "That's why I also think if you own quality stocks, you must sit on them. You don't want to be playing a game of musical chairs jumping from one stock to another when good opportunities are hard to come by," he adds, successfully checkmating me.
His money
Last time I met him, Chandresh had parked all his personal money in Axis funds. Has anything changed now, I quiz him? "All my money is still invested in Axis funds. I have a 50 per cent allocation to equities and a similar one to fixed income," is the reply.
During our previous chat, he's already told me about his family vacations and his love for Himalayan holidays. So I ask him what books he's been impressed with lately. His reading habits have changed, he says. "I try to read a couple of books per month. I used to read a lot of economics and behavioural finance-related books. Now I read history, more spiritual literature and self-improvement books. I feel that as you approach the fifties, it is time to pay attention to the self-improvement aspect."
I check my overheating smartphone to find that nearly an hour has flown by in this discussion. My mind is brimming with ideas now after this invigorating conversation, and all thoughts of that lazy afternoon siesta have fled.