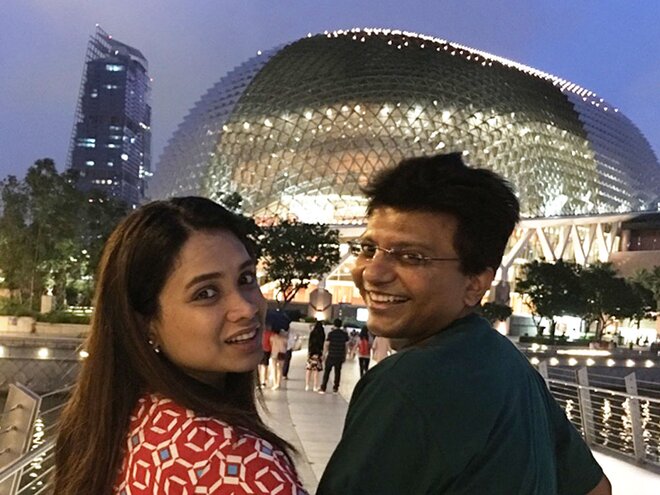 Value Research reader Hemant Jai breaks quite a few stereotypes. He began his career as a software engineer in Infosys. Discussion on stock markets may have been an integral part of his dinner table conversations at home, but episodes like Harshad Mehta and Ketan Parekh scams kept him away from the markets. Hemant is self-admittedly extremely conservative in his outlook. But life has a way of taking people to places where they are meant to be. As an investment banker living in Singapore, 40-year-old Hemant is a self-confessed fan of systematic investment plans (SIPs). He started investing in them in 2011. The credit for pushing him towards mutual funds solely goes to his wife (Reena) and that breaks a stereotype since it's the other way round most of the time. Read on to know more about his enthralling story.
Tech that
Hemant was born and brought up in a middle-class Gujarati family in Mumbai. Both his parents are retired employees of public sector banks. After completing his school from Mumbai, Hemant moved to Pune, where he graduated as an engineer in computer science in 1998. He worked as a software engineer in Mangalore and Pune but he did not enjoy his stint there. So, he decided to study further by pursuing an MBA from IIM Calcutta.
Giving advice
Post MBA, in 2002, Hemant joined Tata Strategic Management Group as a management consultant. By this time, he had already witnessed the first boom-bust cycle of his adult life - the dot-com bubble. Here, he learnt a lot about various industries such as media, telecom, dairy, chemicals, technology, manufacturing, etc. 'At a very young age, I got exposure of working with the top management. On the negative side, I found the business of giving advice phony at some level,' quips Hemant. He wanted to get into an area where his work would have a more meaningful and tangible impact on people.
This is when he decided to join investment banking. 'I joined the corporate-finance team at DSPML in Mumbai in early 2004. I finally found a job which was the perfect fit for me. I discovered that finance was really interesting and I was reasonably good at it. So, this became the perfect career choice for me,' says Hemant, who then moved to Merrill Lynch in Hong Kong in 2004 and subsequently to Singapore in 2005. At Singapore, he worked with various international investment banks.
Stock shy
Hemant had his apprehensions about the Indian stock market. Besides, he considered investing directly in stocks too much of a hassle. In terms of bad investment experiences, he recalls a couple of currency investments in late 2009. 'They went wrong and I lost a reasonable chunk of money. But then I cut my losses quickly as soon as I realised that my original assumptions were no longer true. The loss was quite painful but, as they say, life goes on,' Hemant says.
Sometime in 2014, he came across Value Research. 'My wife used the website extensively and she recommended it to me. For the first couple years, I read articles as a guest. Once I became fully convinced about Value Research's principles and beliefs, I became a subscriber of both Wealth Insight and Mutual Fund Insight magazines,' admits Hemant, who likes to travel and read in his leisure time.
Mutual funda
Hemant started a few mutual fund investments (SIPs) in 2011. 'I haven't looked back since. Within a year of starting mutual fund SIPs, I realised the power of the instrument. After that I got into it with great gusto. I have been gradually increasing my SIP amounts and selection of mutual fund schemes over the years,' reveals Hemant with conviction in his voice ringing loud.
Hemant has continued with his SIP investments since then. Patience is a gift some investors naturally have. 'I don't start or discontinue SIPs. In fact, I have only discontinued three funds since I started in 2011 because the funds were tanking. I believe that apart from the underlying product, one must review the fund house and the fund management team (and not just the fund manager). Taking a view only of the fund manager is like going by Sachin Tendulkar's skills and not taking into consideration skill sets of the entire Indian cricket team and the support staff,' says Hemant while sharing his experience.
Once you believe in the people running the show, then one must show faith in them. As an example, Hemant has both HDFC Top 200 (now HDFC Top 100 Fund) and HDFC Prudence (now HDFC Balanced Advantage Fund) in his list of funds since 2011 and 2013, respectively. 'Of late, I have noticed a lot of press about lack of performance in HDFC's funds. But I think detractors are being short sighted. I am very confident that Prashant Jain and the HDFC AMC team will deliver big for the investors in the long term. Basically, I am betting on the HDFC franchise and their track record in creating value for their investors. And if HDFC is showing faith in Prashant Jain then so will I,' he remarks.
Hemant is mostly a pure equity mutual fund investor, with debt exposure only due to a couple of balanced funds in his portfolio. He has other fixed-income investments to balance his overall portfolio. Hemant says that he has a selection of large, multi, mid and small-cap funds and sectoral funds. His longest running SIPs are in HDFC Top 200 (now HDFC Top 100 Fund), HDFC Prudence (now HDFC Balanced Advantage Fund), DSP Blackrock Equity (now DSP Flexi Cap Fund), IDFC Premier Equity (now IDFC Flexi Cap Fund), Sundaram Select Mid Cap (now Sundaram Mid Cap Fund), L&T Equity (now L&T Flexicap Fund) and Reliance Growth (now Nippon India Growth Fund).
Off the beaten track
Hemant has differed from Value Research's general advice on two counts. One, in each category of funds he has a few funds and second, he has also invested in sectoral funds.
'I believe that by having multiple funds in each category I am de-risking the AMC/fund manager risk in case he falters. I have a variety of AMCs in my portfolio. The maximum number of schemes are with ICICI Prudential, Reliance (now Nippon India), SBI and Franklin Templeton. In value terms, my highest exposure is with HDFC, Sundaram, ICICI Prudential and Reliance (now Nippon India),' says Hemant.
Hemant gives credit to his advisor for a good mutual fund experience. 'In terms of investments, initially, I was on regular plans. But by about 2015, I got the hang of the mutual fund investment space and so now I am a direct investor. I have converted all my regular plans to direct ones and I monitor them myself. And to my advisor's credit, he himself at one point recommended me to go direct, given my profile,' Hemant says.
If there was one area where he could go back and make amends, it would be investing in mutual funds in 2002. 'I had a high paying job in 2002 post MBA and so I should have started investing back then (Sensex at that time was below 3,000). But I was too sceptical of the Indian markets,' he admits.
Hemant has a philosophical take when it comes to making investments. Even in his job - where he works in investment banking and deals with large sums of money and big clients - money is always a means to an end and not an end in itself.
When it comes to taking investment decisions, Hemant says he never ignores data but doesn't decide only on the basis of it. 'The final decision is based on my personal instinct,' he signs off.
This story first appeared in July 2018.
Do you have an interesting story about how your investment journey unfolded? Share with us on [email protected]