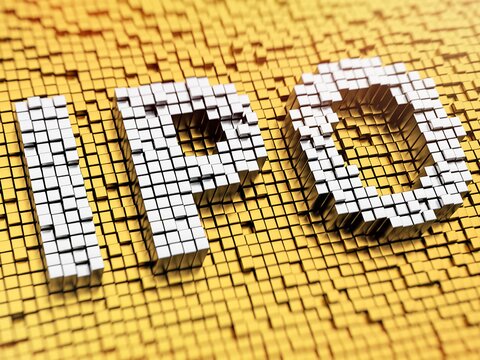 Note: This article has no recommendation to either buy or avoid this IPO. Instead, we have presented all the relevant information based on which you can make your own decision.
One more note: As regular readers of our IPO analyses would have noticed, we do not approach insurance IPOs in the same format that we use for non-financial companies. The reason is that a large proportion of the questions are irrelevant to these companies. This is partly because of the tight nature of the regulatory environment they operate in, and partly due to the complex, long-term risks that they face. Investing in Indian insurance companies is still a novel activity, and there will likely be surprises ahead that neither analysts nor investors can predict at this point.
New India Assurance was founded by Sir Dorabji Tata in 1919. As of FY17, It is the largest general insurance company in India in terms of net worth, domestic gross direct premium, profit after tax and number of branches. It has a market share of 15% of gross direct premiums. In FY17, it issued 27.1 million policies across all segments, which is highest among all general insurers in India. In FY17, its claim settlement ratio was 90.4% (including suit claims), which is the highest among the top 10 multi-product insurers.
New India Assurance makes money primarily by selling fire, motor, health, marine, crop and other insurance policies which contributed 15%, 39%, 26%, 3%, 5% and 11% respectively to its gross written premiums in FY17. Their key expenses are insurance claims and the cost of running their operations.
Industry overview
At 0.8% (gross insurance premiums as a percentage of GDP), general insurance is highly underpenetrated in India. In comparison, the global average is 2.8% and 1.8% for China in 2016. With a share of 23% of gross direct premium, Asia is the third largest market for general insurance. Whereas, India accounts for a mere 3.5% of Asia`s general insurance market in 2016.
India is one of the fastest growing general insurance markets in India with total gross premium of Rs 1.3 trillion in FY17. India`s general insurance industry grew at a rate of 18.5% in FY16, just behind the 22% growth witnessed by China.
As per CRISIL, the gross direct premium for general insurance industry is expected to grow by 15-20% CAGR over the next five years. The total premium collected by general insurers in India is expected to grow to Rs 3 trillion by 2022. Increase in foreign investment limit from 26% to 49% will further benefit the industry.
Strengths
Leader across segments
New India Assurance commands market share of 15% of gross direct premium (total premium received before taking into account reinsurance accepted and ceded) collected in FY17 which is highest among general insurers in India. It also leads in fire, engineering, aviation, liability, marine, motor and health insurance.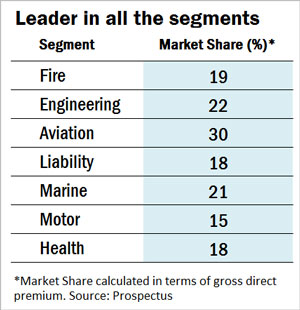 Diversification
It has well-diversified operations, with its international operations contributing 14% of total gross written premiums (sum of gross direct premium and the inward reinsurance business accepted) collected during FY17. It also made an underwriting profit of Rs 31 crores from its international operations in FY17. United Kingdom alone contributed 42% of the gross written collected from international operations in FY17.
Strong capital buffer without capital infusion
New India Assurance has a solvency ratio of 2.27 as of June 30, 2017, compared to the industry average of 1.76. This ratio measures the company's ability to pay off its claims if all of them materialize at once. The IRDAI's threshold has been set at 1.5 leaving New India Assurance with a strong margin of safety. It has successfully funded its operations without any external capital infusion for more than 40 years.
Going digital
Its digital platform contributed around 13% of gross direct premium in FY17 in comparison to 8% collected in FY15. Its increasing focus towards digital initiatives, strengthening IT infrastructure and launch of new mobile applications will further drive the share of digital platform.
Distribution network
As of June 30, 2017, NIA's distribution network in India includes more than 68,000 individual agents, 16 corporate agents, bancassurance arrangements with 25 banks and a large number of OEMs and automotive dealers. It also had a branch network of 2,452 offices across India and 28 international offices. Its agents, brokers, direct sales and bancassurance channels contributed 42%, 35%,22% and 1% respectively of gross direct premium. Agent's share of gross direct premium has fallen from around 50% in 2015 to 42% as of June 30, 2017, limiting its dependence on a single distribution channel.
Weaknesses
Higher Claims
In FY17, its net incurred claims have risen to 92.5% of net earned premium from 85.5% in FY13. It had a combined ratio of 120% even though it had the lowest operating expense ratio of 20% of net earned premium as of FY17 when compared to the top 10 multi-product players in India. Combined ratio compares the sum of claims and operating expenses with premiums. A value above 100% usually indicates that insurance company is paying out more money in claims and operating expenses than it is receiving from premiums.
Employee productivity
It generates a gross direct premium of Rs 1.2 crore per employee which is on lower side when compared to its listed peer ICICI Lombard. It generated Rs 1.6 crore per employee in FY17.
Valuation
It is priced on the higher side when compared to its only listed peer ICICI Lombard.

Concerns
Government control
Government will continue to hold a significant stake post-IPO and will have a significant influence over the company. High government intervention can lead to slow decision making and reduced flexibility. Also, from time to time, it has to participate in government social security schemes which may prove to be a drag on profitability. Often the government derives high dividend from cash rich PSUs.
High share of motor and health insurance
Motor and health insurance segments contributed 37% and 30% to gross written premium as of June 30, 2017. Generally, health and motor segments are known for high claims and any further increase in share of these segments can deteriorate the combined ratio and lead to lower profitability.
High Concentration
Maharashtra, Tamil Nadu and Gujarat together contributed 46% of gross direct premium as of June 30, 2017. Maharashtra alone contributed 32% of the gross direct premiums, which leaves it exposed to a particular state.
Where Is The Money Going
Fresh Issue
Rs

1848 -1920 Crores
Proceeds from fresh issue will be used to fund future capital requirements
Offer For Sale
Rs

7392 -7680 Crores
Proceeds from IPO will go to the Government of India
Post IPO, the Government shareholding will fall from 100% to 85.4%.
Additional Details
Price Band -

Rs

770-800
Retail Discount -

Rs

30
Offer - 14.13% of the post-offer paid up equity share capital
IPO size -

Rs

9240 -

Rs

9600 Crore
Post-IPO valuation -

Rs

63,400 - 65,900 Crore
Lead Managers - Kotak Investment Banking, Axis Capital,IDFC Bank, Nomura Financial Advisory and Securities, Yes Securities.