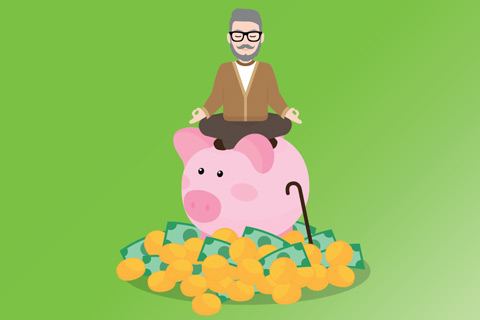 Value Research Stock Advisor has just released a new stock recommendation. You can click here to learn more about this premium service, and get immediate access to the live recommendations, plus new ones as soon as they are issued.
Investors often believe that while equity investing is complicated, debt investing is as simple as parking your money in a fixed deposit and renewing it. But debt and hybrid mutual funds, if used correctly, can help investors get to that optimum mix of safety, tax efficiency and returns.
Here are three case studies on how debt mutual funds can be used with other instruments to construct a portfolio that meets different goals.
Retiree seeking regular income
Sixty-year-old Guha is set to retire from a private-sector firm as a middle-level corporate executive in August. His firm offers no pension. He hopes to get a final settlement of Rs 40 lakh from his employer by way of EPF balance, leave encashment, etc. He also has Rs 15 lakh, at current market value, in large-cap, mid-cap and small-cap equity funds and another Rs 15 lakh in bank fixed deposits. His banker recommends investing his retirement corpus in balanced funds for tax-free dividends. Should he go for it? He would like to receive regular income and not take too much risk.
No, balanced funds would not be a good option for Guha to park his entire retirement portfolio. Balanced fund returns look good today because of a rising stock market in the last five years, but if markets slump, they can subject him to capital losses. Any hybrid fund with an equity component is a bad idea to earn regular income. He can instead consider the following.
Guha must sign up for a health-insurance plan as soon as possible to cover any medical emergencies. As Guha's first priority is to take care of his monthly expenses, he should park money in safe debt instruments first. Of his retirement benefits of Rs 40 lakh, he can invest Rs 15 lakh in the five-year post-office Senior Citizens Savings Scheme (SCSS). If he locks in before September-end, this scheme offers 8.3 per cent annual interest (credited quarterly) with complete safety of principal.
He can invest the remaining Rs 25 lakh from his retirement proceeds in income and short-term income funds to earn a better post-tax return than a bank FD. He can continue with his existing bank FDs of Rs 15 lakh. But given the low interest rates, he shouldn't lock in for more than one-two years. The bank FD portion can also double up as Guha's emergency fund. This debt portfolio, at prevailing returns, may fetch him an annual income of roughly Rs 4.5 lakh (or a monthly income of about Rs 38,000). (These amounts can vary with market rates). As he will be eligible for Section 80C tax breaks on his SCSS investment up to Rs 1.5 lakh a year, he will be outside the tax net this year.
Assuming a life expectancy of 85 years, Guha will also need investments that will beat inflation during the next 25 years. Given that we are at relatively high stock-market levels and that he is risk-averse, Guha can switch his Rs 15 lakh equity-fund investments to balanced funds, to reduce risk. Guha should not rely on these funds for his needs for the next five years.
Among debt funds, income and short-term income funds are a better bet than long-term gilt funds or dynamic-bond Funds at this juncture because interest rates in the economy have already fallen quite sharply. Given the limited surpluses with Guha, he should choose debt funds which follow low-risk strategies. This would mean selecting funds that usually maintain low average maturity (three years or less) and low exposure to bonds rated below AA. Based on Value Research data, funds such as HDFC Floating Rate Income - Long Term, ICICI Prudential Banking and PSU Debt, Aditya Birla Sun Life Short Term and UTI Short Term Income make the cut. He can divide the proceeds equally between these funds.
Given that the dividend paid out by debt funds is taxed at a flat 28.3 per cent, he can invest in growth plans with a systematic withdrawal facility to get a regular cash flow every month. He should check the performance of his funds at least twice a year or hire an advisor to do so.
Supplement to pension
Seventy-year old Sujatha is the wife of a late government employee. She receives a family pension of Rs 40,000 and has her medical expenses covered by a government scheme. Their life savings of Rs 40 lakh are invested in bank FDs. As bank FD rates have dropped sharply, she would like to supplement her income and if possible leave something to her children. Her advisor is urging her to consider corporate FDs. Would mutual funds be a better option? If so, what kind?
Sujatha already has a lifelong pension that takes care of her basic living expenses. But as the pension is fixed, she will need to plan for inflation in her living expenses over her lifetime. Her current pension and interest income, amounting to roughly Rs 7.6 lakh a year, put her in the taxable bracket. She can use debt and hybrid funds to beat inflation, earn more tax-efficient income and accumulate wealth for her children. Mutual funds would be a better option than corporate FDs because they would help her diversify across many corporate issuers in place of one.
Retaining Rs 10 lakh in bank FDs for emergencies, Sujatha can move Rs 20 lakh into income and short-term income funds. Given that we are closer to the bottom of the rate cycle, it would be best to invest in income or short-term income funds with a higher accrual element than long duration.
Based on Value Research data, funds such as Aditya Birla Sun Life Short Term Fund, HDFC Medium Term Opportunities, UTI Medium Term, ICICI Prudential Banking & PSU Debt and Axis Regular Savings are good choices. She should hold a minimum of three-four funds and invest in the growth option, preferably locking in for three years. At the end of three years, returns on these funds will be subject to long-term capital-gains tax at 20 per cent with indexation benefits.
She can park the remaining Rs 10 lakh in balanced advantage or equity-savings funds. These funds invest a third of their portfolio in equities, a third in equity arbitrage and a third in debt instruments. They are treated as 'equity oriented' for tax purposes and thus offer tax-free returns after one year. But their returns and risk profile resemble debt-oriented hybrid funds. However, given that they carry a one-third equity component, the minimum holding period for such funds to deliver reasonable returns is five years. HDFC Equity Savings Fund, ICICI Prudential Balanced Advantage Fund and Reliance Equity Savings Fund are some funds in this space to consider. The growth option is again the best bet here. With returns from debt funds and equity-savings funds accumulating instead of being paid out, Sujatha may find her tax incidence dropping by two-thirds.
She should check on the performance of her funds at least twice a year or hire an advisor to do so.
Young growth-seekers
Sachin and Saina are a working couple in their late twenties who are just now beginning to think about their long-term goals. They would like to build a corpus towards buying a home in the next ten years, the education of their two-year old daughter and their retirement. While they started SIPs in a couple of mid-cap and micro-cap equity funds a year ago, they are wondering whether they need to switch now that the markets have zoomed. They're also wondering if they need to own debt funds. They would like the investment to be hands-free.
Sachin and Saina should look to buy health insurance for their entire family while they're still young and also get individual term life policies to take care of their dependents in the event of death of one of them.
Given their preference for a hands-free investment, they should look to start SIPs in balanced funds, both towards the down payment on their home in ten years and their daughter's education in 15 years. Balanced funds will take care of both the debt and equity components of their asset allocation. The automatic rebalancing feature of balanced funds will also ensure that profits are booked on the equity portion or debt portion, if returns on either overshoot. Balanced-fund returns are also tax-exempt after one year of holding. HDFC Balanced Fund, Reliance Regular Savings - Balanced, Aditya Birla Sun Life 95 are good options. For their retirement goal, they can invest in two-three multi-cap funds through the SIP route - Franklin India High Growth Companies, DSP BlackRock Equity, ICICI Prudential Value Discovery are good options.
They can hire a financial advisor to set specific financial targets and monitor their portfolios over time.