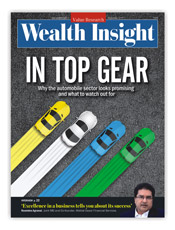 The Indian auto industry is racing ahead, presenting huge opportunities for all stakeholders and investors. However, it's easiest to make the wrong choices in such times. Read In Top Gear, the cover story of the September 2017 issue of Wealth Insight and discover how to choose the right investments.
Apart from the cover story, we have a lot more for you in this issue to help you make more profitable investments
First Page: Dhirendra Kumar: Five years out, the auto industry will undergo wrenching changes arising from electric, self-driving vehicles being offered as a service. Investors should prepare themselves for disruption in many established businesses
Interview: "Excellence in a business tells you about its success". Read a landmark interview with Raamdeo Agrawal, Joint MD and co-founder, Motilal Oswal Financial Services
Special Feature: 70 business events that transformed India. 25 largest companies founded before 1947
Classroom: Valuations can be hard to understand. Here's a primer.
Vis-a-vis: Compare how the two leaders in gold monetisation, Manappuram Finance and Muthoot Finance, stand in their business
Main Street: Saurabh Mukherjea writes 'Running the show', How India's political framework and recent government moves could result in an increase in the political influence of large corporates
The Chartist: Devangshu Datta on Cryptocurrencies: Bitcoin and Ethereum, are becoming serious investment options, but their future course is not without challenges
Offbeat: Sanjeev Pandiya: Against the widely held view that economics is a science, there is ample evidence that points at its inadequacy
Generally Speaking: Vivek Kaul writes that in the Indian e-commerce space, Flipkart and Amazon are likely to be the survivors, while Snapdeal will become redundant
Stock Ideas: Read about these investment ideas that you can use now:

Quality stocks available cheap
Attractive blue chips
High dividend-yield stocks
Discount to book value
Reasonably priced growth stocks

Stock Analyst's Choice: Our regular scorecard of the stocks we've recommended since 2011 and their performance.
Click here to subscribe to the printed version, or buy a digital subscription (PDF+online reader) instantly. You can also buy a digital copy of this issue without subscribing.