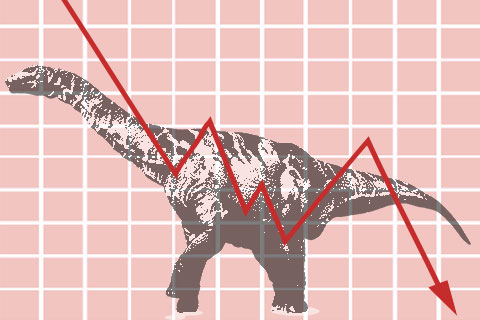 There was a time when dinosaurs ruled the planet. Not only were they the largest organisms of their times, they were also most widespread. Yet they are extinct today. No one could have overpowered them, yet they vanished. We use the term 'Dinosaurs' for companies which were once dominant in their areas but have now succumbed to changing times.
Most of the companies in this category were the first movers in their industries and had monopolistic positions thanks to the licence raj, but they were also arrogant enough to overlook the winds of change. They did not innovate; they did not improve their products; they did not understand the changing dynamics of their markets. They just sat down and watched their market share getting usurped by new, more innovative players. We assess six Dinosaurs to see what led to their collapse.
Aptech
Founded in 1986, Aptech is into computer education, which was a very specialised course at that time. But soon many colleges and schools started to offer computer education. Since people prefer a degree to a diploma, which Aptech offered, the company lost its appeal. Moreover, it lagged behind in terms of quality of curriculum. It missed the opportunity to become a niche player in computer education and became a generalist instead.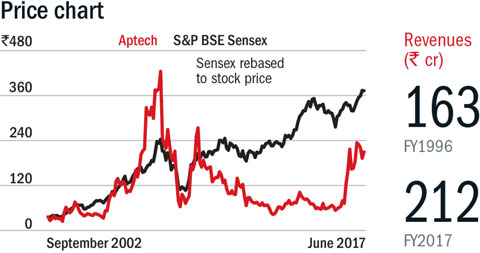 Hindustan Motors
Hindustan Motors, a C K Birla group company, started its operation in 1958. Its landmark car was the Ambassador. The Ambassador thrived in India for over four decades and became a status symbol. Since the company was shielded from the entry of foreign carmakers, thanks to a closed Indian market, it garnered about 70 per cent market share. But once Maruti entered the market, HM started to feel the heat. It failed to keep the Ambassador brand alive. In 2014, when the manufacturing of the Ambassador finally stopped, it had sold only 2,200 units.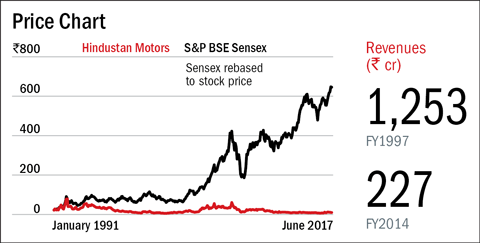 HMT
Hindustan Machine Tools (HMT) was set up in the 1970s in collaboration with Citizen, a Japanese watch maker. HMT developed a very good technical base and produced good-quality products. Before the 1990s, it had a massive 90 per cent market share. But what it lacked was the style and variety in its products. Then came Titan from the Tata's stable. It took the market by storm. It offered what HMT was lacking, viz., variety of designs. HMT did not realise that watches were no more meant for just time keeping but had become an ornament.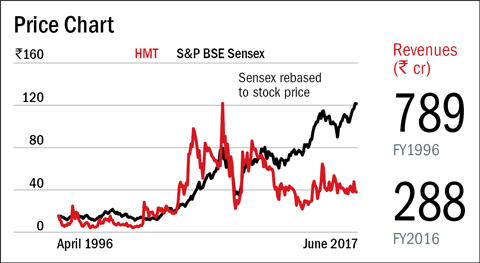 Kinetic Motor Company
Kinetic Motors was a joint venture between Kinetic Engineering and Honda Motor Company of Japan. In 1988, Honda exited the joint venture. After Honda's exit, things started getting worse. The company lost its appeal and failed to innovate. Once known for the Luna, it sold off its plants to Mahindra and got merged with the parent Kinetic Engineering. A few years later, the company ceased to exist. It had a market cap of just Rs20 crore when it last traded.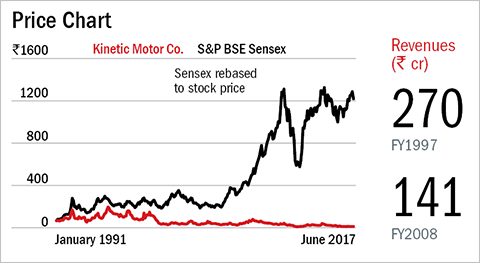 MTNL
MTNL, a public-sector enterprise, failed to change itself with time. It failed to adequately invest in its infrastructure to enhance its coverage and service quality, despite having a huge cash pile of around Rs4,892 crore in 2009 and being debt-free. MTNL, which now has negative net worth, until 2010 used to generate huge free cash flows. Operating in only two major metro cities, MTNL had 28,877 employees as on December 31, 2016, while Airtel, which has a pan-India presence, operates with 22,815 employees.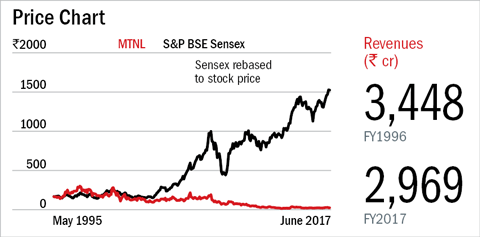 Premier
Premier made the old iconic car Fiat 1100D or the Premier Padmini. This model was first launched in 1973 and remained the same till 1998, without many changes. Before Maruti 800, it was the favourite car of the upper middle class. After its demise, the company now manufactures a lesser known car RiO, which has failed to take off. The company also manufactures CNC (computer numerical control) machines but this division has frequently faced quality issues and customer complaints.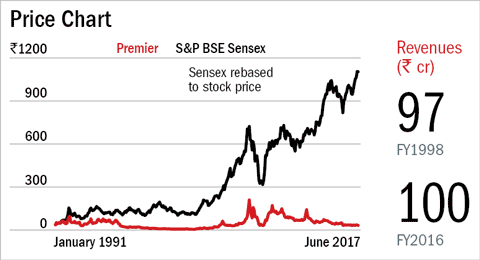 How to avoid dinosaurs
It is easy to look at the past and point at the companies that failed. When it comes to the present, it is difficult to figure out what company is on the road to extinction. One way you can spot future failures is by finding companies which are not changing with time.
Most of the examples discussed above did not introduce a new product or make improvements to their existing product line for decades. Their volume sales declined consistently but they did not put in effort to build up new capabilities. The balance sheet is a good indicator of future failures. Despite having resources, if a company doesn't incur capital expenditure for long periods, that could be a sign of trouble.
Another cue is a lack of passion in the management. How do you spot a management that is passionate and has hunger for growth? Consider Bajaj Auto and Eicher Motors, the manufacturer of the Royal Enfield. Royal Enfield has kept its brand lively by introducing new variants and new features. It has held onto its niche of high-power bikes and originality of concept. Similarly, Bajaj has focused on constant changes to its bestselling model Pulsar. It kept innovating it, even though it was already doing well, and never grew complacent.
Also look for businesses that are coming up with innovative ideas and those that have remained relevant over time. Titan is one such example. It started with manufacturing watches in 1980s and took away the market share of HMT. It also sensed that the watch segment will have limited growth by the 1990s and, therefore, it ventured into the jewellery market through its Tanishq brand. It did not stop there. It captured the youth market by introducing its new brand Fastrack in the 2000s. Guess what, it is now testing a new market: that of sarees.