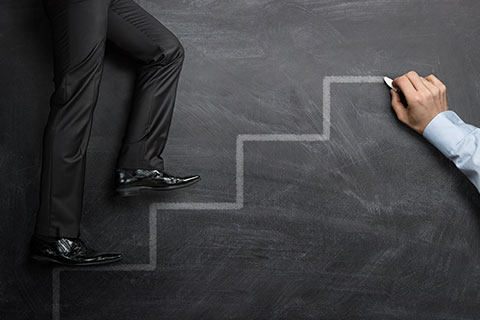 For the third consecutive financial year in FY17, mutual fund investors have kept faith in equity funds. Equity-oriented funds have attracted net inflows of over Rs 1 lakh crore in the just completed fiscal year on top of over Rs 90,000 crore in FY16 and over Rs 80,000 crore in FY15.
Retail investors in equity funds deserve praise for displaying a great deal of maturity this time around. They have continued to commit new money to equity funds through sideways or falling phases. They've been increasingly opting for SIPs rather than lump-sum investments. And during market corrections in the last three years, they have shown no inclination to exit their investments in panic.
But having managed to convince retail investors to put their faith in their professional skills, Indian AMCs now need to act in a mature fashion, too. If they feel that the stock market or any segment of it is getting overheated, they need to send out clear warnings to investors so that they can take appropriate portfolio action.
Signs of froth
In the recent weeks, many top honchos of the mutual fund industry have given interviews that caution us subtly of market valuations. A few warn of overheating in mid- and small-cap stocks. Others talk of limited deployment opportunities. Yet others stress the need for investors to have a minimum five-year horizon while investing today.
The truth is that most seasoned investors in the market now recognise that Indian stocks are in an expensive zone.
Signalling caution
Given this situation, it is time that AMCs stopped issuing carefully couched warnings to investors through the media and signalled their views through actual action. AMCs need to convey to investors that any investments made in equity funds at this point in time carry a higher risk of capital losses. This signal can be disseminated in three different ways.
One, AMCs can shield investors by restricting new inflows into their schemes. Globally, it is the best practice for popular mutual fund schemes to 'soft close' or 'hard close' the fund to new investments when market conditions, size or the availability of opportunities pose a challenge.
In a 'soft close', a fund seeks to warn off investors by imposing higher entry loads (loads are banned in India), hiking minimum subscription limits or restricting certain kinds of flows. A soft close may be followed by a 'hard close'. That is, the scheme completely shuts its gates to all new investments when the fund manager feels it is necessary. In India though, the instances of AMCs saying no to new investors are few and far between even after sustained bull runs.
In the last few months, a couple of funds in the small-cap category alone have shut their doors to new investments. SBI Small & Midcap Fund shut its gates to new investors in 2016. In February 2017, with the assets of DSP Blackrock Microcap Fund nudging Rs 4,800 crore, the AMC announced that it was suspending all new purchases in the fund.
Two, AMCs can signal that the markets are expensive by booking profits on some of their holdings and paying out one-off dividends to their investors so that they can lock into recent gains. After the market crashes of 2000 and 2008, schemes that declared large dividend payouts to their investors from the profits booked on IT and infra stocks managed to best protect their investor returns.
The big advantage to this method is that the fund manager can zero in on the overvalued sectors or companies in the portfolio and take selective profits. This will work better than investors redeeming their units and making a wholesale exit from the market.
Under normal circumstances, dividend declarations will benefit only dividend-option investors and not growth-option holders. But AMCs can allow growth-option unitholders to opt for such payouts on a one-off basis, citing valuations. Or at least communicate the rationale for the dividend payout to these investors so that they can take corrective action.
Three, AMCs can accept subscriptions but not invest them immediately in over-heated markets. They can keep the powder dry by owning larger cash or debt positions in their equity schemes, awaiting a correction. A handful of equity schemes in India have specifically taken on the mandate to do this - Quantum Long Term Equity, ICICI Pru Dynamic Fund, Parag Parikh Long Term Value Fund - for instance. But most equity-fund managers shy away from such cash calls and stick to the belief that it is not their job to make judgements on market valuations.
Two factors seem to deter Indian mutual funds from taking preventive action to guard against steep market falls. As AMC fees are linked to AUM, restricting flows directly caps the management fee that the AMC can earn from the fund. It can also send out negative signals to existing investors in the fund, prompting them to pull out. Large dividend payouts also have much the same effect of reducing AUMs. Cash calls can weigh down a fund's returns in a runaway bull phase, and push it to the bottom of the league tables compared to other fully invested peers. If the timing of dividend or cash calls proves wrong or premature, then fund performance will suffer relative to the category.
However, despite such constraints, it is time that Indian AMCs thought more carefully through their communication strategies for runaway bull markets. It has taken over two decades for Indian retail investors to gain confidence in mutual funds as an investment vehicle for the long term. Seasoned investors have put faith in equity funds despite some hard knocks in previous bear years such as 2008 and 2000. For them to continue their recent love affair with mutual funds, they need to have a better return experience with their investment this time around.
If the fundamentals of the market don't improve, AMCs will need to take the brave call of giving up some of their short-term gains in the interest of building a better long-term record. Fund houses that manage this difficult task will be the ones that stay put for the long haul.