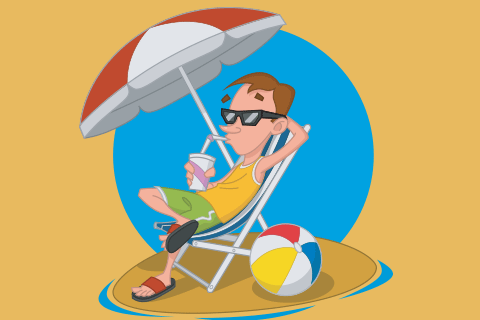 While the aggregate numbers presented above suggest that it isn't the end of the world if you invest at a market high, it is very important for you to select the right funds when you're investing in a sizzling hot market.
The return divergence between the best- and worst-performing equity funds is much higher when you measure performance from market peaks. For investors who bet a lump sum on January 8, 2008, in the large-cap category, the top-performing Quantum Long Term Equity Fund has delivered a 12.1 per cent CAGR till date. Another impressive performer, HDFC Top 200 managed a 9.9 per cent CAGR. Birla Sun Life Frontline Equity, UTI Equity and Franklin India Flexicap got their investors to 9 per cent plus over twice the Nifty 50 return in this nine-year span.
At the other extreme, though in the same category, JM Equity Fund managed a mere 0.6 per cent CAGR over the nine years from the peak, Taurus Bonanza managed 1.7 per cent, HSBC Dividend Yield and Dynamic barely managed 3 per cent and Taurus Starshare delivered a less than 4 per cent CAGR. All passive index funds, without an exception, figured in the bottom two quartiles of returns if one invested at the peak (see the graphic, 'Funds that delivered...').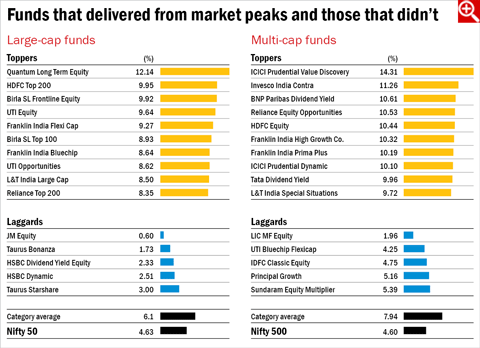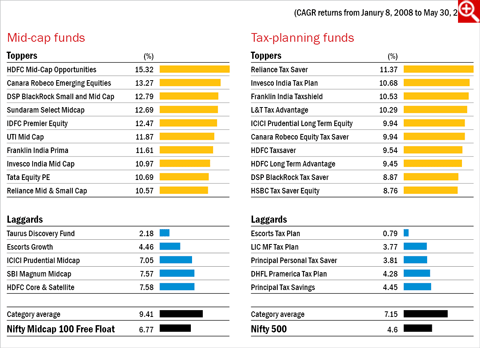 There were yawning gaps between the toppers and laggards in the other equity categories, too. HDFC Midcap Opportunities (15.3 per cent CAGR from peak to peak), CanRobeco Emerging Equities (13.3 per cent) and DSP BlackRock Small and Midcap (12.8 per cent) were the mid-cap toppers which easily got their investors to a double-digit return even with an extremely unfavourable starting point.
But the laggards - Taurus Discovery (2.2 per cent), Escorts Growth (4.5 per cent) - managed only single-digit returns and lagged behind the index. In multi-cap funds, the toppers - ICICI Pru Value Discovery (14.3 per cent), Invesco Contra (11.3 per cent) - made more than twice the returns that the laggards did (LIC Equity at 2 per cent, IDFC Classic Equity at 5 per cent).
One common trend across equity categories is that passive index funds have trailed active ones very sharply if you started off at a market peak. Of the 39 actively managed funds in the large-cap category, 35 beat the Nifty 50. In the mid-cap category, 26 of 28 funds beat the Nifty Free Float Midcap Index. Active mid-cap funds averaged 9.5 per cent compared to the Nifty Midcap 100 (Free Float) returns of 6.7 per cent. In the small-cap category, all the funds beat the Nifty Free Float Smallcap Index. Active small-cap funds managed a 10.9 per cent return, earning over five times the 2.1 per cent earned by the index. Funds with a multi-cap mandate also managed significant outperformance of their benchmarks. As opposed to the 4.6 per cent CAGR from the broad-market Nifty 500, multi-cap funds averaged 7.9 per cent from peak to peak. Thirty-five of 43 funds in this class beat the Nifty 500. Tax-planning funds, which are also multi-cap by mandate also delivered 7.1 per cent.
Three lessons here. One, the nature of the funds that have emerged as toppers suggest that value-oriented funds and valuation-conscious managers deliver a far better return experience for investors who invest at a market high than pure growth chasers. This is probably because value funds usually prefer stocks that aren't caught up in market momentum. They are therefore less susceptible to a correction as well.
Two, if you've made a mistake and picked a fund that loses its shirt in a market crash, don't hesitate to switch to a better fund as soon as possible. Our behavioural traits often hold us back from selling the worst loss makers in our portfolios because that would be tantamount to admitting our mistake. But fight that trait. Switching to a better performer makes a lot of sense even at the bottom of a bear market because a good fund improves your chances of participating in a rally.
Three, if you have a yen for passive investing, you better get your timing right. In India, passive funds subject you to a worse return experience from market highs than active funds.
There's a good explanation for this, too. Because most index funds in India track market-cap-based indices such as the Sensex and Nifty 50, they end up having a high weight in momentum stocks (only stocks with momentum make it to the top of market-cap rankings in a bull market). When the bull run finally gives way to a bear phase, the indices end up featuring the most overvalued and over-owned stocks in the market. These are the most vulnerable to correction.
Of course, the final lesson is that SIPs are always safer than lump sums when investing at new market highs. So even if you have won a lottery or got a big bonus from your employer, park the windfall in a liquid fund and deploy it through a 12-month SIP if the market's sailing high.