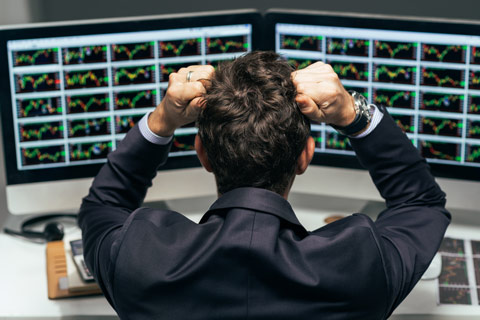 With the all-powerful GST council in its 19th meeting deciding to increase the rate of cess on cigarettes in order to increase the revenue, Tuesday marked a bad day for cigarette stocks and shareholders. Shares of Golden Tobacco fell by 1.3%, but that was the smallest drop among cigarette makers. The ITC stock dropped by over 12%. VST Industries fell 8% and Godfrey Phillips India declined over 5% by close of trade .
Why did the stocks plummet? The council's move increases the tax burden for the industry by Rs 5,000 crore and hence companies would need to take a price hike of 10-12%, which could lead to drop in volumes and perhaps profits.
Investment experts were quick to adjust their expectations from cigarette companies. ICICI Securities said that post the revision in rates, it is factoring in 1.0% volume growth for both FY18E and FY19E for ITC.
"Further, to pass on the tax burden, we estimate that ITC would have to take 12% and 8% price hike for FY18E and FY19E, respectively. Our revenue estimate is, thus, getting revised marginally upwards by 2.2% for FY18E and remains flat for FY19E. However, with increased tax incidence, our PAT estimates are getting revised downwards by 13.6% and 14.6% for FY18E and FY19E, respectively. In a scenario where volume growth would continue to remain under pressure, we assign lower multiple to cigarettes business of 30x against 35x earlier," analysts Sanjay Manyal and Tejashwini Kumari said.
Since the council has raised the specific cess on cigarettes in all categories below 75 mm length, the product mix for companies have come to the fore. For instance, VST is currently at 50:50 for below 65 mm: above 65 mm category. Still, some price hike would be necessary. Due to sharp increase in the tax incidence, analysts also expect VST to clock lower volumes for FY18 and FY19.
Angel Broking feels that the government has indicated that the GST rates announced earlier led to about Rs 5,000 crore windfall gains to the cigarette companies. "...(now) has unanimously reversed the same. This will impact the earnings of the cigarette companies as companies will either absorb the tax impact or see some drop in volumes if they hike the prices," said the brokerage.
Government's move to hike taxes to more than pre-GST levels clearly underlines its negative stance on the sin sector. Finance Minister has mentioned in his speech that the government proposes to reverse the windfall gain being garnered by cigarette companies. Even if this policy gets partially rolled back, uncertainty would still loom large over the taxation policy, says Edelweiss Research's Abneesh Roy.
With per capita consumption being 1/18th of China's, cigarette opportunity in India remains attractive over the long term. However, negative surprise on taxation front coupled with uncertainty is expected to keep cigarette stocks under pressure.
Not just retail investors, swinging fortunes of cigarette stocks impact mutual funds too.
According to Value Research data, mutual funds have invested over Rs 16,500 crore in ITC alone spread across over 375 schemes. The five biggest ITC holdings (in value terms) are in SBI ETF Nifty 50, Birla Sun Life Frontline Equity Fund, HDFC Top 200 Fund, Kotak Select Focus Fund Regular Plan and SBI Bluechip Fund. In terms of percentage of assets, ITC holds between 10-40% of Reliance ETF Dividend Opportunities, Reliance ETF Consumption, Edelweiss ETF - Nifty Quality 30, ICICI Prudential FMCG Fund and SBI FMCG Fund.
Shares worth Rs 691 crore of VST Industries are held by over 20 mutual fund schemes. HDFC Mid-Cap Opportunities Fund, HDFC Balanced Fund, DSP BlackRock Micro Cap Fund, DSP BlackRock Balanced Fund and IDBI Equity Advantage Fund hold the most of VST shares in value terms.
Mutual funds also hold less than Rs 60 crore worth shares in Godfrey Phillips India.
Thankfully, MFs don't hold any positions in Golden Tobacco.