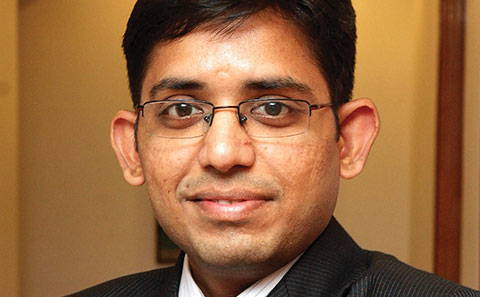 It's hard to say goodbye when the party is in full swing. And no one knows this better than Indian AMCs, which have been trying to convince investors for the last two decades that equities are the best place to be. Now, with three years of bumper returns behind them, the trickle into equity mutual funds is turning into a flood. Not many AMCs would be willing, at this juncture, to say no to the gush of inflows.
But DSP BlackRock Investment Managers took this difficult call in February. It took the rare step of gating DSP BlackRock Micro Cap Fund, arguably the most popular of its schemes, to all new investments - lump sums, SIPs and STPs with effect from that month. Only already-committed SIP investors are allowed to carry on investing in the fund.
This is why I thought this was a great time to catch up with Vinit Sambre, ace micro-cap stock picker and the driving force behind the fund's stellar record. Calling him bang in the middle of lunch time, I spent a good 45 minutes chatting about the state of the markets.
I dived into the conversation with a direct question. While stopping inflows into DSP BlackRock Micro Cap Fund, the AMC took the view that an expanding size was making it difficult to build new positions. But aren't valuations of micro-cap stocks worrying, too?
Vinit doesn't hide behind euphemisms and gives a frank reply. "Yes, right now, valuation is also a concern as it is impacting our ability to find new ideas. If we could find ten ideas two years ago, we can find only two now. There continue to be many businesses we like, but at the price at which they are quoting, they are factoring in all the growth for the next two years. We feel that valuations are stretched. Actually, people have gone slightly crazy in this space. Strong returns in small caps have convinced many people that this is the only way to make money. Therefore, there's just too much money chasing good micro caps."
Irrational exuberance
That's good. But what will he and his AMC do if micro-cap stocks never correct and keep making new highs? I provoke him.
That draws a hearty laugh from him and he assures me that it is unlikely. "From my experience of market cycles from 1998, there is always a tipping point. You don't realise it in advance. In January 2008, euphoria was at a high and the fund industry drew in record money. Who could predict the turn? Whenever there's a prolonged positive trend in the market, optimism builds up and eventually people lose track of rationality. I personally am very uncomfortable when stock prices move up without a pause.
None of us can claim to know or foresee all the adverse events that can affect a business. In over-priced stocks, the price you pay for such unexpected shocks is very high. I believe that this is not going to be a one-way street. At some point rationality will set in. It is our job not to give in to irrational exuberance."
Supernormal returns
Vinit believes that for investors who have made a lot of money and need cash, there's no harm in taking some profits but reassures me that the portfolio they own is strong as ever. "We have shut the fund for fresh inflows but we have not lost confidence in the companies that we have invested in and are quite positive about their ability to deliver."
Small-cap equity funds have delivered a 30 per cent CAGR in the last five years, while large-cap funds have managed less than half that return. Is this kind of Baahubali show from small-cap funds sustainable? Shouldn't returns normalise?
Vinit promptly agrees, "Yes, I too feel that the performance gap that small caps have displayed in the last three years is out of proportion. I would agree that the returns would have to revert to normal. People also keep asking me if the small-cap category itself has the potential for the long term. My personal feeling is that the next one year will not be as remunerative as the last few years. But if you stretch the holding period to over five years or more, small and mid caps do have the potential to outperform. The size of these businesses itself offers potential for higher growth."
Noise versus ideas
How does he deal with the flood of 'micro-cap' ideas coming at him from all directions? Every day, I receive tens of SMSes about obscure micro-cap stocks that will multiply my money. So what does Vinit do when he is bombarded with so many ideas?
"Yes, there are dozens of new ideas floating around. However, unless we see a track record of the management over many years, we do not look at these ideas. On many of the ideas popping up now, we know that the past track record isn't great. We try to avoid these. In fact, increasingly, we are becoming more selective in meeting the management of companies. I am consciously trying to meet only those companies that align with our investment philosophy. It's very important to tune out all this noise because, otherwise, you will end up spending a lot of time on ideas which will take you nowhere," he says.
When it comes to micro caps, people go ga-ga over themes - digital India, microfinance. So when Vinit and his team are picking stocks, do they first identify themes and then deep dive into stocks?
Vinit refutes this. "We prefer a bottom-up approach. We first identify good businesses and then see if they are beneficiaries of promising themes. We've found that the themes that spring up in bull markets often fade out in the long run. Our logic is that if a company has performed when the theme was out of favour, then it will certainly deliver when the theme is in vogue. Such stocks will not fall off the roof because the theme failed to take off as the base business is still there. Having said this, today the government is implementing many reforms which can see structural changes in the economy such as Digital India, affordable housing, which do offer opportunities."
Talking of themes, is the tide turning in the market, from a mad chase for 'growth' stocks to 'value' buys? Vinit thinks that value-oriented stocks have only started delivering in the last six or nine months. But "I don't look at stocks from a value or growth filter. To me, value investing works only if it is accompanied by some kind of turnaround in the business. Take PSU banks, which have been 'value' buys for a long time in the conventional sense. The stocks have started to perform only as people began believing that incremental NPAs were declining, slippages were reducing and profit performance was improving. It happened from mid-FY16 onwards. Or take metal stocks which offered deep value last year. It was only after metal prices started rising (due to the minimum import price, Chinese and US outlook, etc.) that the stocks began performing. Value stocks also need the help of momentum. We try to play such stocks when we see good valuations, combined with an improving outlook."
No fairy tales
The micro-cap and small-cap space is a happy hunting ground for price rigging, rumour spreading and operator activity of all sorts. So how does Vinit navigate this minefield?
He simply ignores all this, is the surprising reply. "I find that operator activity has an impact on the stock price only for the short run. In the long run, it is always earnings that drive performance. An operator can sustain a stock for three months, six months or nine months. But ultimately it requires the backing of earnings. During the 2000 tech boom, one or two big operators were highly influential and could single handedly drive stock prices. Today the market is much more diversified. You hear of many names, but there's no one jockey who can propel prices. Even in 2000 though, when the bubble burst, only companies that had sound fundamentals survived," he argues.
In fact, Vinit & Co. don't even look at ownership patterns while selecting stocks.
"Even if we find a stock with no institutional holdings at all but with a good business, we buy that stock. Similarly if we find a good company, but the shareholding shows a few big market names owning it already, we don't get bogged down by worries about the large investors dumping the stock. If they dump it, good for us, we can buy more of it!" he says nonchalantly.
Crunching balance-sheet numbers is one thing. But how does one prepare for the sudden governance shocks that some Indian managements deliver to their investors? You suddenly find the great-looking numbers are cooked up, I quiz Vinit.
"We have found that we cannot rely on third-party research for a take on the management quality. You can use data or financials from such sources but ultimately you cannot go by their recommendation on the management. Personally, I prefer to see how managements have actually behaved over six or seven years before betting on them. We do our own meetings. We have been caught on the wrong foot a couple of times in the past but we are very quick to correct such calls."
His money
After being totally candid with his views on markets and micro caps, one subject that makes Vinit reticent is talking about his personal portfolio. What about debt investments? I probe further, not giving up. "I don't look for debt. For any person of my age, equity is the way to go," he says, passion returning to his voice. "People look at the equity asset class only with the perspective of how much returns it can make in the shortest possible time. But I think you need to look at it differently. You should look at equity investments as supplying capital to a business that can create wealth over a 10- or 20-year time frame. In India, there is so much wealth being created through entrepreneurship and the opportunities are immense.
As an investor you need to realise that you're not doing any hard work. The hard work is being done by the entrepreneurs and management. All you need to do is to identify the right businesses. Once we realise that equities have this kind of potential, then people will allocate money to the right businesses and not get swayed by factors such as quarterly numbers."
Surely Vinit must be a bookworm? He admits that he did bone up on all the investment literature initially. "In my initial years, I read all the investment greats - Peter Lynch, Warren Buffett. I think Buffett's writings are a very important foundation for any investor. Lately, I have also started reading spiritual books to prepare for life after, say, 60 years," he says.
I ask him about the cult following that Buffett gets nowadays and how people mirror all his investment moves. Is that the correct thing to do?
"When you admire individuals, you need to take the best of their teachings alone. Then you also need to marry their principles to take a holistic view of anything you're buying. Just because Buffett is buying airline stocks, you can't blindly follow him. I think having a mind of your own is very essential in investing. Ultimately, my objective is to have my own style of investing, like Buffett or Lynch."
Well, he's certainly displayed a mind of his own in signalling caution on micro caps, when they're topping the popularity charts.