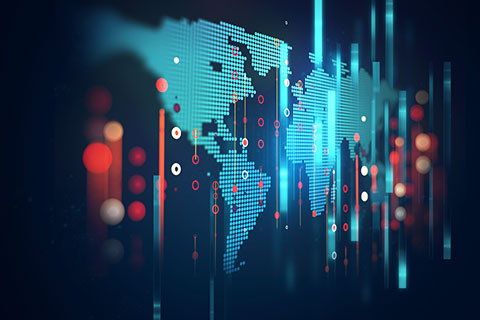 Investing in sector funds is like a rollercoaster ride. They can generate extraordinary returns if bought just ahead of a turnaround, but poor results at the top of a cycle. IT sector funds, in their good years, have delivered between 20% and 50% gains, and are popular with some investors. Equity funds have investments worth over Rs 44,600 crore (or 6.68%) in this industry alone -- making information technology (IT) the third most important bet after banking and finance. But if stock markets these days are on a high, IT sector stocks are suffering from a hangover.
A trifecta of problems has hit investor interest in IT services companies -- the U.S. visa issue has implications for cost, automation poses a risk to low-skilled employees, and pressure in the traditional business verticals has hard lessons for management. Consequently, valuation multiples have compressed for IT stocks in India. Fund houses are responding by merging or rejigging the fundamental attributes of IT sector funds.
Adopting change
Indian software companies started life by maintaining legacy IT systems for western companies in the nineties and then graduated into application development in the years following Y2K in 2000. Over the last 10-15 years, developing IT applications based on architecture and methodology prepared by consulting firms has helped Indian tech companies emerge as the dominant 800-pound-gorilla of the global IT services industry, with serious reputation in terms implementing technology.
Indian firms like Infosys, Tata Consultancy Services, Wipro and HCL Technologies have perfected the art of industrializing the service factory model of hiring and training IT associates in large numbers to provide cheap offshore resources. Their next level of growth, however, would depend on making an existential choice between remaining offshore-outsourcing-specialists and choosing to move up the value chain to becoming genuine consulting-led partners like Accenture, IBM, Capgemini, etc. The visa issue in the US can be a trouble, because hiring fewer low-cost Indians and higher number of high-cost Americans might dilute margins for IT companies.
These challenges have meant that Indian IT stocks have been quite sluggish. In 2017, year to date (upto June 27), the Sensex and the Nifty have rallied 15% but Infosys is down 8%. Returns of most IT sector funds are in the negative. However, returns from TCS, HCL Tech and Wipro have been in the green.
So what does all this mean for IT sector funds? The views are diverse. Some fund houses believe that opportunities in the sector are dwindling.
It has been announced that DSP BlackRock Technology.com Fund will merge into DSP BlackRock Opportunities Fund with effect from July 28, 2017. The fund house has reasoned that the current state of the technology sector "restricts" the investment universe to just legacy technology companies. This, it feels, is 'unlikely' to create significant long-term unit holder value. A grim outlook indeed.
Franklin Templeton Mutual Fund has changed certain scheme features of Franklin India Technology Fund, effective from May 29, 2017. While the fund earlier invested primarily in stocks of companies operating in information technology sector in India, it now invests in stocks across market capitalizations in Indian as well as global markets which are expected to benefit from the development, advancement and use of technology. This widening of the universe for a fund that was set up in August1998 clearly signifies that fund managers see limited opportunity in domestic software firms and would like to spread their wings.
Where IT stands
But a few take a contrarian view. "There is no dearth of investment options in the IT space. In fact, we see this sector as a contrarian pick as we are positive on this space from a three to five year perspective. The current slowdown, in our view, is in line with consolidation seen across several sectors globally, triggered by technological advancements," says Chintan Haria, fund manager and head of products & strategy, ICICI Prudential AMC.
Haria is clear that investors in IT sector funds must not be impatient. "When it comes to investing in a sector fund, the investment horizon depends on the outlook of the sector. We believe IT is one sector which offers attractive valuation both on price to earnings and price to cash flow basis, when compared to the broader market, over three to five year period," he added.
Foreign stocks ahoy
Anup Upadhyay, Fund Manager, SBI IT Fund says that while some headwinds partly restrict the investment universe in stocks listed in India, the fund has chosen to expand the universe by investing in similar companies (such as Cognizant) that are listed in US. Franklin Templeton MF already has investments in Cognizant and Make My Trip.
"While new technologies and changing regulations create a problem for the industry in aggregate, we expect a small set of companies to gain market share at the cost of others. These companies will post attractive growth numbers and will allow value creation for investors. Every new wave of technology leads to a change in growth leadership. For example: the opening up of infrastructure management opportunity to Indian vendors during the troubled period of 2008-2009 allowed HCL Tech to grow fast," says Upadhyay.
The SBI IT Fund is focusing on spotting those IT companies that are aligning themselves to new technologies and regulatory changes. "Companies that are entering the right product partnerships, companies that are willing to bear short term pain for opening up avenues of long-term growth will gain market share from others," Upadhyay added.
Cash with companies
IT services companies always have large amounts of cash which has been an attraction for investors. The Indian Tier-1 IT firms generated substantial pools of capital over the past decade as the industry grew at over 30% and earned exceptional margins upwards of 25%.
"Cash is important. IT companies with large amounts of cash probably have a better chance to transform. From an MF investor's point of view, an IT sector fund will go through up and down cycles. If you remember, resources and oil & gas were not doing great two years back. From our perspective, India is a meaningful player in the digital space. Artificial intelligence (AI), and cloud are relevant, and Indian IT companies will play a role in it. To write them off completely is not right," said Sonam Udasi, fund manager of Tata Digital India Fund launched in Dec-2015.
Udasi accepts that most legacy technology companies are mature businesses. "But several legacy technology companies are making reskilling efforts. If you look at the stock universe, 80% is legacy. Markets have punished the slow change. The valuations today reflect that. Therein lies the opportunity as well," argues Udasi, who has 19 years of expertise in equities research.
Haria of ICICI Pru AMC says that companies with strong balance sheets, proven and sustainable advantages with wide clientele are the ones that are likely to do well. "The biggest clients for several Indian companies are US companies which are primarily spread across three sectors - retail, energy and banking. Interestingly, all these sectors are currently reasonably doing well," he adds.
Clearly, the road ahead for IT sector funds is not a straight one but it could be worthwhile if investors can stomach the risks.
You can find the returns, rating and other details on the available IT/technology funds on this link.