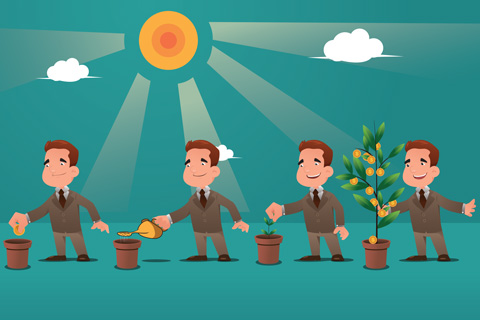 In just a matter of twelve months, some things can change in a big way. Take Systematic Investment Plans (SIPs) of mutual funds as an example. Investors are joining the SIP band-wagon in an attempt to create long term wealth by remaining disciplined and staying the course through market highs and lows. As a result, mutual funds raked in Rs 4335 crore through the SIP route in March, and nearly Rs 44,000 crore in past twelve months.
The SIP revolution has two key drivers. One, distributors and independent financial advisors are aggressively selling SIP of mutual funds to clients. Two, the declining interest rates have reduced the real returns for debt investors, thus compelling them to consider other options.
This is why over a 12-month period the monthly SIP book has grown 38%, from Rs 3122 crore to Rs 4335 crore. Currently, Indian mutual funds have about 1.35 crore (13.5 million) SIP accounts through which investors regularly invest. The option to invest a fixed amount at fixed intervals, instead of making a lump-sum investment, makes SIP similar to a recurring deposit (in post office/bank).
Month SIP Contribution
Crore( Rs)
Mar' 17
4335
Feb' 17
4050
Jan' 17
4095
Dec' 16
3973
Nov' 16
3884
Oct' 16
3434
Sep' 16
3698
Aug' 16
3497
Jul' 16
3334
Jun' 16
3310
May' 16
3189
Apr' 16
3122
Source: AMFI
Data shows that the MF industry has been adding about 6.26 lacs SIP accounts each month, on an average, in the current financial year, with an average SIP size of about Rs 3,200 per SIP account.
'We have come far from days when mutual funds was considered a difficult subject to understand for most investors. Today, the mutual funds industry has around 1.2 crore investors committing around Rs 4000 crore as equity investment through monthly SIP alone. Despite the volatility that the market saw in the last few months, the steadiness of the retail investors instills confidence and gives much hope,' says Nilesh Shah, Managing Director, Kotak Mutual Fund.
Experts also believe that since Indian equity markets have seen a sharp rise (up 12.3% year to date), the SIP-way is the best route to invest given that some volatility may be up ahead. ICICI Securities MF analyst Sachin Jain notes: 'The medium term outlook for the market remains positive. However, given the sharp run up in the last few months, some profit may be expected. Investors should avoid lump sum investment at current levels and use any sharp correction as a buying opportunity. Investors should continue with their SIPs as any volatility in the markets, going forward, is likely to benefit over a period of time.'
With over Rs 4,000 crore coming in every month through SIPs of various mutual funds, this has also strengthened stock market participants' belief about how local inflows can stabilize even a turbulent situation. 'A historical comparison of inflows into MF (as a share of India's market cap) vs. the Nifty's YoY movement suggests the pace of flows may be running ahead of market returns. SIP have given investors confidence these flows are sticky, as these are 'commitments' to invest regularly (typically monthly),' say Gautam Chhaochharia, Head of India Research, UBS Securities India Pvt. Ltd & Ms. Sanjena Dadawala, Analyst, UBS Securities India Pvt. Ltd.