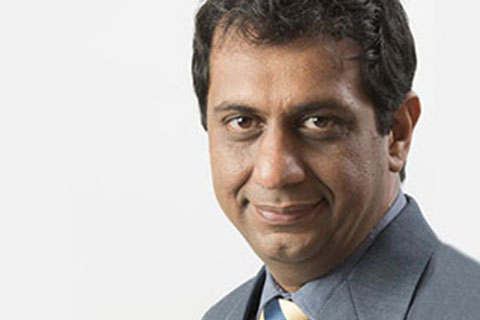 It took a couple of tries for me to get the time for a long conversation with Manish Gunwani, Deputy CIO - Equity, ICICI Prudential AMC. I thought the interview was best done over the phone. The quiet Manish is quite happy to hover in the background whenever one visits the ICICI Prudential AMC headquarters, where other top managers are all expressive folk - be it the exuberant Nimesh Shah or the thoughtful Sankaran Naren.

But I found Manish to be a very straight talker when I caught up with him just after the BMC elections. The Nifty was just short of the 9,000 mark, and I asked him how come the markets had recovered so quickly from the demonetisation shock. The December quarter results for the first 1,700 companies showed sales growth of 9 per cent and profit growth of nearly 30 per cent.
Defying demonetisation
So, what contributed to this blockbuster performance?
Manish answers that multiple factors were at play. "One, 40-45 per cent of the companies in the Nifty derive their revenues from global operations and don't strictly connect to the domestic market. The recovery in commodity prices has helped them. Two, many companies, in consumer discretionary sector for instance, have benefitted from a shift in market share from unorganised to organised players. Three, October was a very good month for consumer firms, though November and December were muted, and this has lifted quarterly results. Some companies have also likely filled their dealer pipeline with inventories."
For a long time now, the stock market has been galloping while corporate earnings have grown sluggishly. So, does the December quarter signal the beginning of an earnings upgrade cycle?
Manish is a little cautious on that. "I believe so, especially because earnings are coming off a low base for several years. We think FY18 should see a 15-20 per cent earnings growth. But this is not unexpected by the market," he says, hinting that valuations are already factoring that in.
Waiting still
Many investors waiting on the sidelines have been surprised by the lack of a big correction in the market. Despite FII selling, domestic flows into mutual funds have held up the market. So does this mean that we are going to see a higher floor for the Sensex from now on? Manish doesn't give the obvious answer: that this is the beginning of a 'new era' for the Indian stock market.
"The truth is that these flows tend to be somewhat volatile and I wouldn't like to bet on them. Yes, structurally, we are moving into a lower-inflation economy. This would mean a higher proportion of financial assets, as opposed to real assets. But this does not mean that there will be no blips in mutual fund flows. I think we would be better off preparing for some volatility in flows, rather than assuming that everything will be fine," he cautions.
I know many investors who were waiting for a correction to invest and never got that opportunity, I comment.
That draws a good laugh from Manish "My experience is that people say they are waiting, but when the correction comes, no one buys! You got a 10 per cent decline in five days and still people didn't buy. They are too scared. You might as well try to conquer your market timing instinct through SIPs."
So, what stocks did his funds buy during the correction, I ask slyly. He says he didn't buy as aggressively as he would have liked. "We bought consumer-discretionary stocks, not very aggressively because valuations corrected from very rich to fair but not to distress levels. Auto, cement stocks have seen very sharp P/E expansion in the last five years. So even after the correction, valuations did not come down to distress levels," he rues.
Given that Manish manages the equity portion of ICICI Pru's popular dynamic-allocation fund, the Balanced Advantaged Fund, I ask him whether the fund has a high cash position or is fully invested in equities.
"The fund can swing the equity allocation between 30 per cent and 80 per cent. We are roughly at the mid-way point now, at about 50-55 per cent. Our view on valuations is that the market is neither too expensive, nor too cheap. On a price-to-book-value basis, the market remains quite reasonable."
But Manish does see one change in trend. He thinks mid-cap stocks may now find it difficult to beat the Nifty. "In the last three years, the outperformance by non-Nifty stocks has been very high relative to Nifty stocks. I think that may not continue. I expect some convergence.
I think the alpha from mid- and small-cap investing may not be very high."
Value is back
I decide to get slightly 'personal' by asking something I have been curious about for a long time. I know Manish is a growth-style stock picker. But with value stalwarts like Naren around, how does Manish convince the rest of the team about his more expensive buys?
Manish fields that one neatly. He does not believe in pure growth investing but only in growth at a reasonable price. "I am not a very conceptual investor who will buy a stock at a 100 P/E or something," he says.
Then he explains, "What can I say? Every fund manager is essentially weighing three attributes in a stock: business, management and valuation. Growth or value depends on what relative weights you would give. So, I would give higher weights to business and management while my colleagues would give a higher weight to valuations. Different strategies work at different points in time."
So, now that growth investing has had a good run for the last seven or eight years, will good times for him last?
Manish is frank enough to admit the cycle has already been turning. "In 2011 to 2015, growth investing really worked. But from 2016, we have seen a strong revival of value investing. Metals, utilities, oil and gas were the most-hated sectors at the beginning of 2016. They have outperformed globally as well as in India in the past year. Typically, when earnings or GDP growth accelerates or decelerates suddenly, growth stocks take a hit. These are the periods when value outperforms."
He gives the example of retail-facing versus corporate-facing banks. Between 2011 and now, retail bank stocks hugely outperformed. But Manish thinks that if credit growth in the banking system comes back faster than people think, say to 15 per cent, then PSU banks and corporate banks could outperform retail banks.
Good companies vs good stocks
But a good number of Indian investors argue that valuations don't matter for solid businesses that deliver steady growth, I argue. I have had this argument with many people myself.
Manish says, "I would be sceptical of that argument because a big correction can shake that view. Just because you buy a good company does not mean you will certainly make money. If you had bought a leading FMCG company's stock in 1994, that price didn't come back until 2008. Another FMCG major never made money between 2003 and 2008. As a growth investor, I have no illusions that good companies are always good stocks," he says, making a valid point.
This whole conversation tells me that Manish isn't like the other growth devotees I have met who believe that no price is too high to pay for 'quality' companies.
EPS = Price
So far, I am quite impressed by Manish's willingness to call a spade a spade and not hide behind politically correct statements.
I ask him what filters he uses to select stocks, fully expecting the usual spiel about durable moats, ROEs, corporate governance and managements that treat shareholders well, etc.
But Manish is straight-forward. "For me, more than screeners, the one aspiration I have is to identify a business where the stock price can become the EPS many years later," he states.
"I think this approach converges both growth and value. Sometimes when you buy a stock which is deep value, there is an event which unlocks value and the price and EPS can converge. Just to illustrate, if you look at one of India's largest paper companies, the stock used to trade at Rs 80 a few years ago. Today, it's trailing 12-month EPS is nearly Rs 40. When we bought a Hyderabad-based pharma company in 2010, its stock price was Rs 70 or Rs 80. Today, the EPS is already at Rs 20."
The magic of stock price turning into the EPS can happen with both value and growth stocks, says Manish. If you buy a growth stock, the earnings should compound so strongly that the current price becomes its EPS. He cites the example of a prominent financial-services company which has lending and insurance businesses. Its stock traded at a price of Rs 700 a few years ago but now reports an EPS close to Rs 150.
But Manish admits that this idea is "highly aspirational and happens only in rare cases."
That evokes some painful memories for me. I have owned some of the named stocks in the past but have lost out on their huge upside because of my hurry to book profits, I tell him morosely.
Manish agrees, "One does need Warren Buffett kind of investing to wait for a stock's price to become its EPS." But he qualifies that booking profits is not always a bad thing. "I am not one of those people who says you should stop monitoring your stocks. You should monitor them and sell if there is a fundamental change in the business. You will see a number of good companies reach a price point where further returns will simply fail to accrue," he says, making me feel a little better.
No macro calls
Okay, getting down to business, how has Manish managed a 450 basis-point outperformance of the Nifty over five years with such a pure large-cap fund like ICICI Pru Focused Bluechip?
Manish says the fund's tight discipline helps. "In this fund, we have constrained top-down calls by saying that we will not deviate a lot from the benchmark on the sectors we own. So if banks make up 30 per cent in the index, we will not own less than 25 per cent or more than 35 per cent in the sector in this fund."
His belief is that macro indicators, like economic growth, oil prices, interest rates and rupee, are very hard to predict. "We try to control the role of these in the scheme's performance by constraining top-down calls. Within each sector, we try to find stocks that offer the best risk-reward equation. In the short term, funds that take big top-down calls do outperform, but this is hard to sustain in the long term," he observes.
His money
I decide to take the plunge on the personal-money stuff. What are the big investing mistakes he has made in the last 20 years and what did he learn from them?
"Too many of them actually," says Manish. But he doesn't evade the question. "I think I made a lot of mistakes in the 2003 to 2007 bull market. I bought a fertiliser stock, hoping that the pricing in the sector will be decontrolled but that never happened. That told me that betting on regulatory changes is always dicey in India. These regulated sectors can tire you out before you can make money on them!"
His second mistake was owning a newspaper stock, which did deliver on earnings, but the stock price never appreciated. "The learning for me is that if you bet on a sector that is not doing well globally, you are swimming against the tide. Even if the EPS materialises, the re-rating for the sector remains elusive. Because India has such large investments from foreign investors, you cannot hope to defy global perception about a sector," he muses.
"What drives P/E is the most difficult call in stock-market investing. Sometimes people are willing to look ten years down the line; sometimes they aren't willing to give the company even one year," he admits, neatly articulating the most-frustrating problem for most equity investors.
How he allocates
What's his asset allocation? Well, Manish says he is an out-and-out 'equity guy'.
"Most of my money is in ICICI Prudential's equity funds. I do invest quite a bit in the funds I manage. Not investing enough in debt has hurt me in the last two years," he says. "But as a salaried employee, my PF gets invested in fixed income. I also consider my real-estate investments to be fixed-income investments. Whenever I have a surplus, if the market looks frothy, I put it in Balanced Advantage Fund." He hardly ever churns his fund portfolio.

We chit-chat a bit about Manish's two homes at Mumbai and I discover that this fund manager is a 'Madrasi' at heart. "I don't look at Mumbai as my home city. I am a Sindhi by birth but thoroughly South Indian in my habits. I was born and brought up in Hyderabad. I studied in Chennai and Bangalore," he says sounding quite wistful about his IIT Madras and IIM Bangalore days.

"The best days of my life were in Chennai, where I used to play hockey and football for my hostel and also table tennis and cricket."

What does he now do to unwind? I ask. Manish admits, "I like sports a lot. Right now my fad is badminton. My fads keep changing. I am a jack of all trades."
ICICI Prudential's corporate communications head, Adil Bakhshi, chips in, "Don't believe him. He is just being humble. He bats and bowls very well and is part of the ICICI Pru cricket team," he adds immediately, Whatsapping me a picture of Manish holding a trophy. "By the fairly low standards of our in-house tournament, I can bowl also," laughs Manish.

Well, flexibility and humility are great qualities to have in the stock market. That's probably what has made Manish's funds adapt to and weather every market cycle with such equanimity, I reflect, winding down our conversation.
I look at my phone and congratulate myself for making ICICI Prudential's silent star talk to me for 55 minutes!