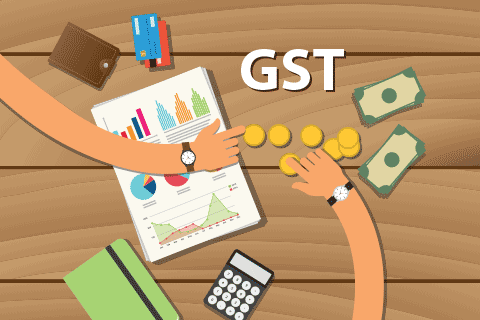 Stock markets love 'new' and if it can also be called 'reform', then they are in raptures. As India moves towards the last leg of implementing a goods-and-services tax (GST), the investment community is busy writing a dirge for 'unorganised-sector' participants in the economy and building an investment theme around industry consolidation. Is India's self-employed entrepreneurial class really about to roll over and die?
Shadow economy exists everywhere
Estimating the size of the shadow economy is a non-trivial task. Multiple methods of estimation invariably yield varying results. Cultural factors, methodology adopted and timing of the study can make cross-country comparisons difficult. A paper, published by Institute of Economic Affairs (IEA) in 2013 and authored by F. Schneider and C. Williams, titled "The Shadow Economy" examines this problem. The paper says that a country like Germany – that implemented value-added tax (VAT) in 1968 – continues to have a shadow economy that has remained in an estimated 15 per cent range for decades. Countries like Italy and Greece do much worse, though they are all part of the EU, which has adopted VAT. Clearly, adoption of a VAT, which is what GST is supposed to be, is no deterrent to a shadow economy.
Shadow economy is not only for tax avoidance
While tax avoidance can be a powerful motivator for keeping economic activity off the books, it is not the only one. For example, farming-related activities are not taxable in India. However, farmers prefer cash over banking transactions. Cash dealings are simple and ubiquitous. The fact that some services come cheaper if you do not insist on a receipt and pay in cash is a huge added benefit. Where tax avoidance is the motive, shadow economy can arise out of both – unreported work or under-declared income (see the diagram).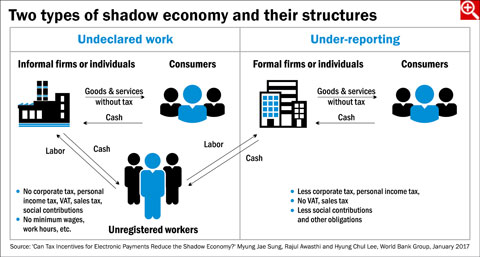 In off-the-book transactions, both the buyer and the seller benefit – the first from lower prices and the latter from lower costs. Untraceable cash transactions are a key to shadow economies.
Traceability of transactions
Tax-administration officials would ideally like a complete trail of every transaction that happens in the economy. Unfortunately, without adequate incentives, it is of no interest to almost any other economic player.
GST is designed to allow linkages to be drawn between buyers and sellers and build an auditable trail of the entire transaction chain. Several loop holes remain. These are as follows:
A transaction chain that remains completely off the books will continue to remain so and will provide cheaper products to end users – an economic advantage that is hard to beat.

In B2B transactions, both the buyer and the seller are required to participate in the audit trail. At least there is a possibility that this would make off-the-book transactions more difficult. In B2C transactions, this is not the case. Here, since the buyer does not disclose his identity, especially for cash transactions, it is easy to suppress the 'value add' component.

Inputs that are imported can easily be under-invoiced – much as they are currently. This will continue to lead to tax evasion to a large extent.
Reducing shadow economy appears to be a problem of the use of cash (and therefore untraceable) transactions.
Penalties don't work; incentives do
Many approaches have been attempted globally to reduce the size of cash transactions. These include restricting the size of transactions, disallowing expenses incurred in cash by small businesses and self-employed professionals, and offering incentives for the use of non-cash payment mechanisms. The one result that stands the test across countries is low tax rates.
A successful experiment that is worth examining is an approach adopted by Korean tax administrators. Described in detail in a World Bank paper, it involves a tax credit to the purchasers of retail services for adopting electronic-payment mechanisms and submitting transaction data to tax authorities. With this approach, the issue of 'loop closure' that remains unsolved in GST/VAT implementations gets taken care of to a large extent. As described in the paper, electronic payments make up 88.9 per cent of private final-consumption expenditure in 2015 in Korea. This is no mean achievement.
A flawed tax
A proper implementation of GST would have reduced taxes, reduced effect of tax cascading and created a single market across India. With a low single rate, it would have made tax compliance better, raising prospects of tax buoyancy. The current plan fails to do any of these. Except for creating a single market, GST will retain complexity. It has two taxes – central and state – that are not fungible and four proposed slabs. It will require interaction with tax authorities and will be dependent on their interpretive powers. In other words, it will be open to corruption. The tax rates proposed are so high that they will fuel inflation and reduce tax compliance. Most annoyingly, fuel, the most heavily taxed commonly used item will remain outside the remit of GST. In short, GST is set up for a disappointment.
India's entrepreneurs have time and again shown that they know how to beat the system. To assume that business relationships and networks built over years would suddenly fail to adapt to a tax-rule change – one that has been broadcast over years – and collapse is too naive in my view. If one has to bet on India, the story has to be of the unrealised potential, not only of the organised taking a greater share of the pie.
Anand Tandon is an independent analyst.