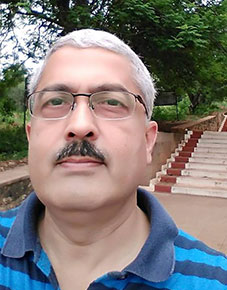 Born and brought up in the Silicon Valley of India, Bengaluru, Subbu Subramaniam, 55, is a classic example of a conservative investor with a modern outlook. After he left the software industry in 2005, interest from fixed-income investments has been his primary source of income. But after living a year on fixed income only, he was drawn towards the world of mutual funds. 'My son's education abroad is entirely funded by returns from my equity-fund investment,' says the proud father and a long-time reader of Value Research. Here is his fascinating story.
Keeping education in high regard
A Bengalurean by birth, Subbu graduated in mechanical engineering and is also a postgraduate in management. His wife is a teacher and they have two adult children, who are at present studying. Education has always been important for the Subramaniams. 'Academic excellence was held in high esteem in our family and I did not disappoint anyone. My father and mother are no more, but they inspired us in their own individual way. Father was a quick decision maker and was highly action centric. Mother was a slow decision maker but process and detail centric. These two opposing forces were reconciled by us children in our young minds since we could see value in both,' recalls Subbu.
Beginning his career as an engineer, Subbu's entry into software industry happened when software-engineering revolution was taking shape. Like a duck taking to water, his software skills launched Subbu into the software-development area. 'The profession left a mark on me in areas like methodical approach, detail centricity, reading large volumes of documents and taking the gist out of it etc.,' he says.
First investment
His first investment was the 6.5 per cent RBI tax-free bond during 2005. The motivation was very clear. Subbu at that time was working almost round the clock for nearly two decades and getting old. 'I was out of shape physically, though very alert mentally. It was time to figure out something else to do. The financial safety and security on my savings was paramount until I figured out what next to do,' he remembers.
The RBI bonds did just that. Without a second thought, Subbu invested his entire corpus in a phased manner into those bonds. Regular guaranteed income was the need of the hour, since he had decided to quit the software-engineering field for good.
Saying hello to mutual funds
One fine day in early 2006, he came across Dhirendra Kumar talking about mutual funds on a news channel. Soon, he started reading every page on the Value Research website. "I followed the magazine as well as Dhirendra's TV interviews like a hawk," he admits.
About the same time, i.e., after about a year of living on the quarterly interest from RBI bonds, Subbu realised his ignorance. He got in touch with a small wealth-management firm and set up an investment plan. They apprised him of a few funds selected on the basis of his risk profile. HDFC Equity, DSP BlackRock Equity, HDFC Prudence were the recommendations then. 'Out of this, I have exited HDFC Equity over the last couple of years but I continue to hold the other two. All three have given high double-digit returns,' the investor says.
His current mutual fund portfolio consists of 80 per cent equity and 20 per cent debt. Importantly, his monthly expenses are funded by good-old bank FDs. Subbu has no SIPs, probably because he is well past his corpus-accumulation phase.
The Subbu formula
Is there a methodology Subbu follows? Apparently, he has his own ways. First, he has a few long running equity funds giving 15 per cent or more thanks to regular investing and holding over the years. Second, he has a few new equity funds in which he does lump-sum investments as part of rebalancing. Third, he always tries to have extra money in the bank account to take advantage of sharp market corrections. 'Had I known this pre-Lehman/subprime, I would be five times richer today. The corrections in the last couple years have tested that,' Subbu quips. Lastly, he keeps his eyes and ears open on trends as well as individual fund rating and portfolio changes from time to time. 'The VRO database is a big help here,' he says.
Investing through a good professional wealth-management firm is a great idea for those whose entire time goes in making money, Subbu says. For those who are not so busy, it's best done by themselves. The systematic transfer plan and systematic investment plan are of great help in general. 'The bias towards NFOs and certain AMCs among wealth-management firms is real. These are not bad experiences but realities one has to understand,' he shares.
The evolution of an investor
Buying into NFOs in his early years of investment 'career' was absolutely emotional. 'The offer brochures are so wonderful,' he says, with a glint of sarcasm.
Subbu is not a real-estate bull and this is not without a reason. 'I purchased two pieces of land, thinking that they are a great investment. The reality is that it takes about two decades for land to give decent returns, assuming there are no hassles in title litigation and developer delays,' he says. He also finds products like non-convertible debentures (NCDs) opaque, after he had disappointing experiences with them.
Just like in the real world, fund investments also have their ups and downs. Recounting his bad experiences, Subbu talks about the time when he lost about 10 per cent of his capital in a debt fund in 2007. 'A bank FD gave more than 10 per cent interest those days. It (the debt-fund loss) came as a shock. I never thought that one could lose money in debt funds,' he says.
But it is interesting to note that one bad experience never changed Subbu's behaviour. His expectations were pretty reasonable - beating FD rates by 5 per cent for taking risk - on the whole, he says. 'In this sense, I have had no bad experiences, strictly speaking,' he notes.
Slowly he has now taken over managing his money from the wealth-management firm. He moved everything into direct plans of the same fund. 'Being aware of what is happening in the economy is important to be successful on one's own,' Subbu advises.
Investment advice
A hands-on investor today, Subbu says that he wishes to have about five funds in his long-running portfolio. 'The biggest allocations from which I am in the process of moving away during the last year or two are HDFC Equity, UTI Opportunities, DSPBR Equity, HDFC Top 200. The new entrants into which I am moving into over the last two years include Quantum Long Term Equity, PPFAS Long Term Value, HDFC Midcap, Franklin High Growth and the Smaller Companies Fund,' he shares.
Subbu says there is almost nothing he has learnt that's not already available in various articles and books. Still, the most difficult thing is the guidance 'to figure out what applies to one's current situation and what does not. For this, one needs an advisor or a mentor initially to acquire the ability to separate the wheat from the chaff,' he signs off.