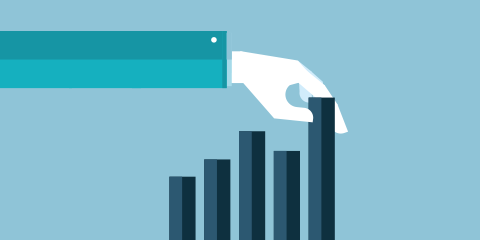 It is a common perception that value investing doesn't work in India and that the growth style beats it hands down. But with investor assets worth over Rs 21,500 crore, value funds have fared quite well in the last five years, with an average CAGR of over 20 per cent. This outperformance shows that these schemes continue to benefit from 'buy low, sell high' mantra that value investing entails.
Savvy investors throng towards value-styled schemes when market valuations are perceived to be high. We studied ten value-styled schemes. With these funds' portfolio P/Es ranging from 16 to 18 times, it is clear that most value funds have stuck to their mandate and gone for low P/E or price-to-book value stocks. The Sensex trades at 22 times price/earnings.
Short-term performance
Equity markets were highly volatile in the last one year. With many international events, like Brexit and Trump's win, taking a toll on the markets worldwide, the Indian market suffered as well. Funds like Tata Equity PE, Quantum Long Term Equity, Franklin Templeton India Growth, etc., outperformed the market by a wide margin. Even the worst-performing value fund (Parag Parikh Long Term Value Fund) during this period matched Sensex's returns.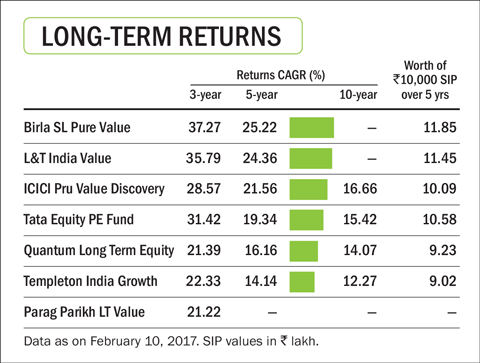 Long-term performance
Value funds have emerged victorious even in the long term, when compared to the market. Only seven of the ten value funds have at least a three-year track record. Their three-year average returns stand at a healthy 28 per cent, while the Sensex returned just 13 per cent over this time period. A look at the average of five-year returns of six value funds tells us that the returns stood at a healthy 20 per cent per annum. The Sensex, on the other hand, returned just 11 per cent per annum over five years. An SIP of Rs 10,000 per month in a value fund over five years would have returned between Rs 9.02 lakh to Rs 11.85 lakh. Such an SIP in the Sensex would have left you with only Rs 7.47 lakh.
Clearly, it pays to stick to value in the Indian market over the long term. While value funds may not always beat growth funds, they are still a safer way to profit from equities.