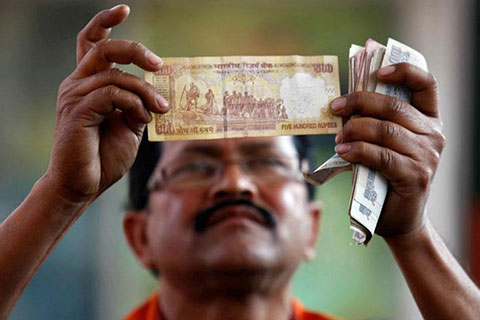 No doubt demonetisation has created substantial near-term uncertainty for India Inc., with the stock market yet to correct sufficiently to adjust for this event.
But every such disruption also brings with it opportunity. In fact, it is during times of maximum confusion and earnings volatility that fund managers and investors get their best opportunities to buy great stocks at reasonable prices.
Let's not forget that if demonetisation succeeds, the following can be the positive spin-offs for the economy and listed firms after the pain.
One, if the government manages to mop up a windfall from declarations of unaccounted money, this can substantially shrink the FY17 fiscal deficit. In the upcoming budget, this can allow the Centre to cut tax rates, roll out additional rural stimulus measures or invest in sorely needed infrastructure upgrades in sectors such as roads and railways. Cues on this will be available as early as December 30.
Two, if a substantial portion of the withdrawn currency does not return to bank coffers, there is a possibility of the RBI receiving a one-off boost to its reserves from the cancelled notes. While there is a debate on how such cancellation must be accounted for, one possibility is that the reserves can be used to recapitalise PSU banks, a big positive for this beaten-down sector.
Three, demonetisation and the excess liquidity it has unleashed is likely to reduce retail inflation and lead to a structural decline in interest rates in the Indian economy. In fact, the event itself has already triggered a 60 basis-point fall in market rates, with the RBI likely to be in an easy-money mode. This can result in significant savings in interest outgo for working-capital-intensive businesses. While large corporates on the brink of bankruptcy may not see their interest costs fall, those with an interest cover of two-three times and a sustainable business will certainly receive a profit boost.
Four, with non-compliant smaller and unorganised players across sectors (be they FMCGs or appliances or services) forced to pay taxes and 'formalise' their business, they may no longer be able to compete with listed players mainly by skipping tax dues. This could lead to the listed, branded players in FMCG and small consumer appliances gaining market share, at the expense of the informal ones.
Finally, if the move brings about a behavioural change among taxpayers and widens India's personal income-tax base, which is at a measly 1.9 crore taxpayers, the Centre's tax collections can see a structural improvement. That can not only trigger personal and corporate tax cuts but also help step up government spending on infrastructure upgrades. That's great news for PSU giants in capex-heavy sectors such as steel, construction, metals, power and power distribution, and private capital-goods suppliers to these sectors.