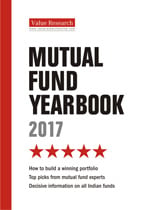 The 2017 edition of Value Research Mutual Fund Yearbook is finally out. You can buy the print version for ₹795 and the digital version for ₹695.
The Yearbook is a unique and invaluable guide to mutual fund investing in India. It's a complete package which gives you all the inputs you need to build a portfolio suited to your needs:
A set of hand-picked funds analysed by Value Research analysts to build your investment portfolio

Select funds based on your risk tolerance and investment goal

Verify the performance of your existing funds and of new funds that you may wish to invest in

Learn to build a winning portfolio depending on your financial goals

Tune different portfolio for different financial goals

See how to monitor and analyse the progress made by your investments
Click here to buy the print version or digital copy (PDF+online reader).