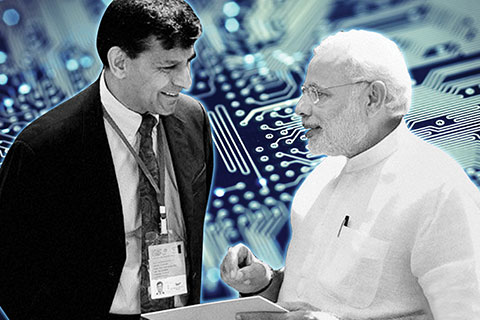 In my first column in 2016, I had highlighted that the election of Modi (M), the appointment of Rajan (R) and the advent of technology (T) set off a rapid change for India Inc as (1) an unconventional PM called time on the traditional model of subsidy-funded consumption growth and crony-capitalism-driven capex growth in India; (2) a gutsy RBI governor brought about multiple policy changes to radically increase competition in the financial-services sector; and (3) technology lowered the barriers to entry into B2C sectors such as lending, consumer goods and auto.
Whilst the M+R+T resets have been disruptive in the short run, the range of policy decisions triggered by Modi, Rajan and technology are gradually transforming access to 'end-markets', 'capital' as well 'physical infrastructure' from a long-term perspective.
India has historically been a supply-constrained economy, mainly owing to the existence of barriers that prevent easy access to the three basic inputs of production, namely, capital, labour and technology. The MRT resets have been disruptive in the short run as incumbents are forced to deal with an inorganic rise in competition and/or a breakdown in the old ways of doing business (which was largely centred on leveraging political connectivity). Despite the short-term pain triggered by the MRT resets, these resets have inadvertently triggered a silent revolution that is likely to transform access to end-markets, capital and physical infrastructure.
Firstly, the advent of e-commerce in India and the potential implementation of a single goods-and-services tax (GST) hold the potential of transforming access to end-markets for producers of goods as well as services in India. One of the main reasons responsible for the small scale of operations of Indian firms has been the high cost of access and creation of pan-India distribution networks. The advent of e-commerce has helped producers find an inorganic solution to this problem as sellers have the option of simply tying up with one or more e-commerce majors and thereby creating access to the whole of India overnight. Concomitantly, manufacturers and retailers across India are increasingly moving towards selling products online, as the number of Indians with access to the internet rises systematically. On the other hand, the introduction of the GST will ensure that indirect-tax structures are common and uniform across the country. This will eliminate 'tax risk' or make the entire country tax-neutral irrespective of the choice of the geographic location of business operation.
Secondly, three powerful sets of changes underway in India are dramatically transforming 'access to finance' in India, namely, (1) improvement in access to capital for small and medium enterprises (through schemes like MUDRA and credit being extended by e-commerce majors); (2) improvement in access to consumer finance (through schemes like Pradhan Mantri Jan-Dhan Yojana and lenders competing to provide retail credit); and (3) system-level improvements in the lending landscape in India owing to increased competition 'amongst banks' and 'to banks' (from NBFCs, corporate bonds and other financial-technology-driven sources). These changes will help democratisation of credit and will also help in lowering the overall cost of debt in India.
Thirdly, even as India has been naturally endowed with an abundance of factors of production - physical raw material as well as labour - India has in the past failed to exploit the potential of this endowment owing to problems associated with physical connectivity. The central government's spending on roads and railways (including on-balance-sheet as well as off-balance-sheet funding) has risen significantly under NDA II as compared to the spending under UPA I and UPA II. The Modi-led NDA administration's focus on improving physical connectivity (via roads, railways, airports and waterways) holds the potential of dramatically improving mobility of labour as well as raw materials.
The three transformations in access are likely to trigger a U-shaped recovery in India over the next five years. Firstly, the combination of superior physical infrastructure and tax reforms like the rollout of the GST system (expected in H2FY18) is likely to boost access to end-markets as well as inputs. Cross-country experience suggests that improved market access and easier access to inputs boost productivity in a gradual manner, thereby suggesting that the growth pattern in India is likely to follow a U-shaped pattern.
Secondly, cross-country experience suggests that greater competition 'amongst banks' and 'to banks' is likely to drive lower lending rates. This is likely to result in a reduction in the cost of debt capital in India. The lowering of the cost of debt and the democratisation of credit access appear likely to add to consumption growth in the short term. However, the lower cost of debt capital is likely to boost investment growth only once capacity utilisation levels begin rising two-three years out.
Saurabh Mukherjea is CEO - Institutional Equities at Ambit Capital and the author of The Unusual Billionaires.
This article first appeared in the November 2016 issue of Wealth Insight.