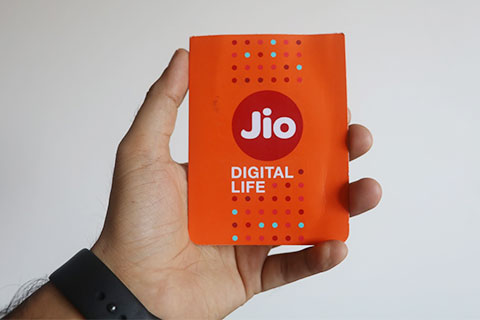 Battered and bruised, telecom stocks on Thursday got another jolt after Reliance Industries said its telecoms unit Jio will lengthen its free data service for all new and existing customers till March 2017. The announcement which was made in the second half of the trading session was met with approbation from existing RJio subscribers, and dejection from investors in Idea Cellular (down 5.93%), Bharti Airtel (down 1.66%), Reliance Communications (down 5.05%), and Tata Teleservices Maharashtra (down 2.06%).
Reliance Industries CEO Mukesh Ambani's speech in September 2016 at the company's 42nd AGM had delivered the first shock to investors in listed telecom operators. He announced Reliance Jio's plan to offer competitive data tariffs (including free data till 31st December) and free calls to seize market share from rivals. On Thursday, Ambani extended the free data offer to 31st March 2017 in a live feed on YouTube. He also added that Jio has already crossed 50 million customers in the three months since the launch on September 1st.
"RJIO seeks to mould consumer preferences towards using a high amount of data by selling high volume data packs at reasonable pricing, and leveraging its data capacity advantage. This will likely result in higher subscriber retention even when services become paid," said Edelweiss analysts. The company's subscriber base grew faster than the March 2017 target projected by Edelweiss of 40 million, growing to over 50 million subscribers in less than three months; a pace fater than Facebook, Skype and Whatsapp. "We have raised our FY17 estimated end subscriber forecast to 75 million. Following theconclusion of RIL's ongoing mega capex, we expect Free Cash Flow to turnaround and Return on Equity to rise," Edelweiss analysts said.
Bharti Airtel continues to be a popular stock in mutual fund portfolios. Find out which schemes hold shares in Airtel, Idea and Reliance Communications (and in what quantity) by using our 'Who Owns What" tracker. BNP Paribas Mutual in an interview to Value Research a couple of months of ago said that "…the free voice and data being announced for 3-4 months is expected to disrupt the investment view taken based on an economic rationale. This is key challenge the industry is going to face till the 'free offer' lasts. There can be no answer to free services in any economic activity and so much so in this case of launch by the new entrant."
Before Jio's Thursday announcement, market experts expected that eventually, rationality may prevail and the free offer will be rolled back. Jio's aggressive service offerings have forced incumbent players such as Idea, Airtel and Vodafone to match rates and increased data consumption across customer segments. Second quarter earnings have already shown the stress on telecom earnings. "Telcos focused on volumes in 2QFY17 (especially on data) as a response to the R-Jio threat and to push the plateauing data penetration levels in the country. As a result, realizations took a sharp hit, impacting overall data revenue delivery; voice revenues were also weak (seasonal weakness)," Kotak Institutional Equities said.
Analysts had already cut wireless EBITDA (Earnings before Taxes, Depreciation and Amortization) estimates for Airtel and Idea as they got hit by ARPU (Average Revenue per User) compression and a sharp drop in margins. It remains to be seen if further downward revision happens after the free offer extension.