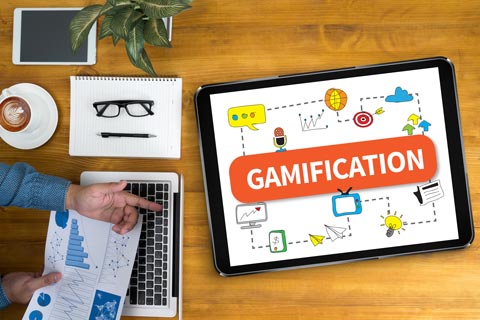 Mutual funds have long used fictitious or comic characters to communicate the benefits of investing. Tata Mutual Fund's Suppandi meets Professor Simply Simple, and SBI Mutual Fund's Fund Guru are some examples. Now, the fund industry is trying to use games as a means of inculcating good behavior in MF investors. There have been a quite a few recent attempts to use 'gamification' in the online investing space in India.
Gamification is the process of taking something that already exists, investing for example, and integrating gaming mechanics into it to make it more interactive and engaging. Game designers use data-driven techniques to engage players (investors) and motivate actions that add value to a business (MF industry).
DSP BlackRock Mutual Fund has launched a new gamified investor education website. The platform aims to demystify financial concepts, introduce retail investors to investment planning and empower them to manage their own wealth. The company hopes that new investor education portal will enhance DSP BlackRock Mutual Fund's existing investor education programs. This platform uses games to enable investors to learn various aspects of personal finance in a way that is relevant and engaging, in a self-timed and self-guided manner.
"As users consume content, they will encounter quizzes, unlock badges, earn points and track their progress against other users. Additionally, users also have the option to access and process content sequentially or as per their own interest. This platform works across desktop, tablet and mobile devices seamlessly," the company said.
Aditi Kothari Desai, Head - Sales, E-Business and Marketing at DSP BlackRock Mutual Fund said, "A large and ever increasing number of Indians are now earning their own income. At this time, the right investing knowledge, presented in an interesting and meaningful manner, can help them learn how to grow their wealth. But how do we get to the largest number of people possible in the most effective manner? This is where digital comes in. We decided to build this robust e-learning website to allow users to consume our new content as they want, when they want it. Using our new portal, we can target one crore potential and existing investors."
FundsIndia, an online investment platform, has also launched gamification features. 'The availability of smart digital tools helps new investors deal with investments in a seamless and scientific manner. Our goal is to make financial markets accessible for everyone and encourage good investment behaviour among individuals in a healthy and competitive manner', said Nilakantan Rajaraman, data scientist, FundsIndia.
The distribution platform's gamification initiative ranks investors among their peers, in an instant financial health checkup, so that they know where they stand among other investors similar to them. Investors will be able to see this on their dashboard in the form of their 'Peer Ranking'. Apart from the score, the new feature allows investors to earn badges. Positive investing behavior will earn investors badges, recognizing their efforts toward disciplined investing. Frequent redemptions, non-systematic and sporadic investment practices that suggest investors are trying to time the market instead of being disciplined, are some of the factors that may result in scores trending down.
Last year, an Assocham paper recommended that deploying technology "to build gamification models for customer engagement" would resonate better with the young and technologically savvy customer base.
Many Indian fund houses and platforms are currently working on using this ploy to score big, at least four industry executives said. Over the next 2-3 months, many of them will launch their independent initiatives.
Globally, gamification arrived much earlier. In 2011, CapitalOne did a promotion inside some Zynga games, and credit card issuers have been running sweepstake-like promotions for years. Since the early 2000s, Visa had been running contests in which cardholders would be entered into lotteries every time they used their cards, for huge prizes. More recently, SaveUp and Mint.com have used games to bring in user accounts from hundreds of financial institutions. Intermediary firm, Bobber Interactive, also created GoalCard - a Facebook-linked debit card that lets users play games with friends to win rewards points.